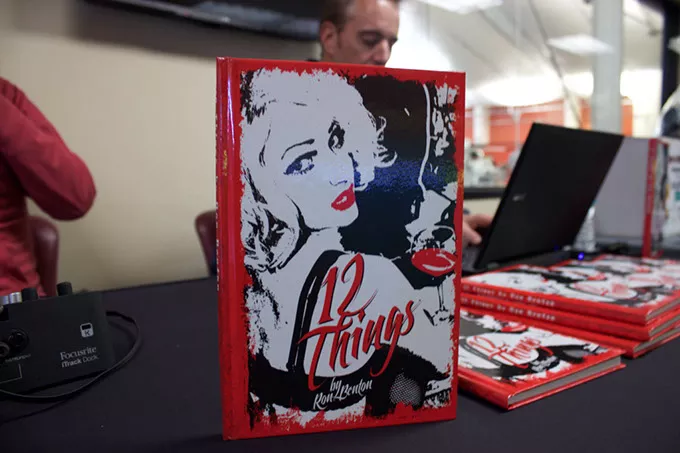 He's not married, and he isn't a relationship expert.
In fact, he's a self-described "lifelong dater" and "clueless about relationships."
Ron Benton, aka Spinozi, is a longtime local morning personality for The Sports Animal on 98.1 FM and the afternoon host at classic rock station 96.9 BOB-FM.
When he's not on-air, he's wooing females. And by the looks of the pictures in his book, he's doing it quite a lot.
The quirky, funny guide 12 Things is a quick study at just over 100 pages. Each chapter opens with a picture of an ex. "Don't worry; I didn't print anything that would embarrass my mom," joked Benton. "She approved them all."
What follows is easy-to-read guidance about everything from bubble baths to flower bouquets.
For many, all of this might sound, well, obvious. But it isn't.
"I thought all guys did these things," Benton said. "But as I talked to more and more women, I got more and more shocked responses like, 'Nobody's ever done something like that for me before.'"
Flip a page past a brunette beauty — this one in a polka-dot dress and lacy petticoat, wearing a toothy grin and waving a piece of paper she has pulled from her purse — and Benton offers a douchebag-proof tip: Tell her you miss her, love her and are proud of her.
Guys, do this. As a woman, I'm telling you this from experience. It works. Place love-me-not Post-It notes where she'll find them: on the bathroom mirror, in her coat pocket or in a lunch you've packed for her.
A smiling brunette in a spaghetti- strap tank top and heart-print boxers lifts a tantalizing bit of layered chocolate cake into her mouth while lying in bed. The "sweet and sticky" tip that follows is smart and charming: For no reason whatsoever, buy your boo a sumptuous dessert (he recommends French silk pie) and surprise her with a slice in a relaxed setting like your bedroom. (Clean your sheets first.)
Yes, it's simple, hilariously so.
It isn't 50 Shades of Grey, but it's not supposed to be. Benton's advice shows that his blood pumps to the right organ — his heart.
"But, guys, if you want to get laid, tell your girlfriend you're reading a book," he said.
Chicks dig men who read. Benton suggests dropping a subtle hint for your man by leaving his book on the back of the toilet.
"Oh, he'll read it."
Find 12 Things in paperback at Full Circle Bookstore and online at Amazon.com and in hardback at Benton's website, 12thingsthebook.com.
---
Print headline: Get laid, Local author and radio personality Ron Benton shares his plan to show a woman she's special — without looking like a douchebag.