Garett Fisbeck
?Braised oxtail taco at 1492, Friday, Dec. 16, 2016.
The first thing that strikes diners heading into Midtown restaurant 1492 New World Latin Cuisine is the crowd. The bar area is packed full and the dining room is almost at capacity.
That's something one might expect to see several years ago, when local dining options were still scarce, but the Latin fusion eatery at 1207 N. Walker Ave. still draws plenty of guests for lunch. Part of its popularity comes from the bend-but-don't-break menu philosophy 1492 adopted through the years.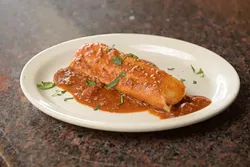 Garett Fisbeck
Pork tamale enchilada? at 1492, Friday, Dec. 16, 2016.
Some early customers expected 1492 to be a Mexican restaurant and quizzically examined its South American menu selections. In response, brothers and co-owners Arturo and Marco Chavez added a selection of tacos, burritos and enchiladas.
The result is a crowd-pleasing menu that can satisfy a variety of appetites.
As delightful as appetizers are, 1492's chips and salsa are enough of a starter for me. The chips are fresh and crisp with enough structural integrity to hold ample amounts of the restaurant's housemade salsa. The heat levels vary because the salsa is made fresh daily, so take a test bite to make sure it isn't too spicy.
Making fresh salsa seems easy, but I've never had luck creating one worth eating. 1492's salsa is lively and has just enough heat to get my taste buds tingling.
Tacos on the Taqueria menu are priced individually, which gives diners the option of building their own combination. That said, they're large enough that two are probably enough for most people.
My favorite is a braised oxtail taco ($4.50). Oxtail is a main ingredient in beef stock because it is one of the most flavorful cuts of the cow. When it is slowly simmered, the connective tissue melts into the liquid, giving it a silky texture. The cooks at 1492 strip the meat off the bones for a luscious taco filling that is bursting with flavor.
The oxtail taco is topped with queso fresco, cilantro and pickled red onions, giving the sumptuous meat a vinegary snap.
If the restaurant is out of oxtail, try the similar taco de cabeza ($4). It's not quite as beefy as the oxtail, but the cow head is braised overnight to give it the same slow-cooked texture that gives every bite a luxurious feeling. Add rice and beans for $2.50 more for an affordable lunch that won't leave one too full.
Garett Fisbeck
El Chicano at 1492, Friday, Dec. 16, 2016.
For a larger plate, the Tex-Mex Basics menu is a tremendous value. Diners choose three items from columns of enchiladas, tacos, quesadillas and burritos for $10 at lunch (11 a.m.-4 p.m. Monday-Friday) or $10.99 the rest of the day. Sides of rice and beans cost $2 more.
The best enchilada of the bunch was filled with a crumbled pork tamale and covered in chili con carne. Maybe it's weird to have a tamale, which is already kind of similar to an enchilada, wrapped up in a tortilla and covered in sauce, but it tasted amazing.
The chicken and sour cream enchilada, an Oklahoma favorite, had great filling. The chicken was mixed with chopped vegetables that gave the dish added crunch and freshness.
Blackened tilapia ($16.95) is a great choice for lighter fare. I'm not usually a fan of this particular mild white fish, but the addition of blackened seasoning brings it to life. The chef showed restraint with it, so the dish remained easy to eat over coconut rice and grilled vegetables.
Oh, that coconut rice: It's mildly sweet and a little thicker than normal rice, almost halfway between fluffed rice and a risotto. It's the perfect accompaniment for pollo mango mojo ($16.99). The chicken dish is covered in a mildly tart mango sauce that imparts some of its moisture to the grilled chicken breast. The sweet rice paired with tender black beans and the mango sauce is a heady combination. Chicken isn't the most expressive protein around, but 1492's recipe makes sure there's plenty of flavor to go with the filling meat.
The server suggested El Chicano ($24.99), a small grilled skirt steak served over a grilled poblano pepper and a mixture of shrimp, corn, zucchini and cheese. I'm glad he did. Not only was the steak cooked perfectly, with a nice char from the fire, but the mix of corn, shrimp and cheese made every bite a little different. If you get it, be sure to cut up the grilled pepper underneath the rest of the ingredients. The greenness of the poblano gives the dish another dimension and keeps it from becoming too rich.
Perhaps my only complaint is the shrimp get lost in the swirl of flavors. It's such a naturally mild seafood to start. Texturally, it's perfect — small pieces of tender shrimp give each bite more heft — but it seems like a waste to cover it up with so many other ingredients.
The service at 1492 is excellent no matter how many guests are dining there, and the views of pedestrian-friendly Walker Avenue make for an enjoyable afternoon of people watching. But don't stare out those windows too long, especially if you ordered a braised oxtail taco, or your food might be gone by the time you're done looking.
Print headline: Delicious discovery, 1492's blend of Latin fusion and crowd-pleasing Tex-Mex cuisines means the menu pleases all kinds of food explorers.