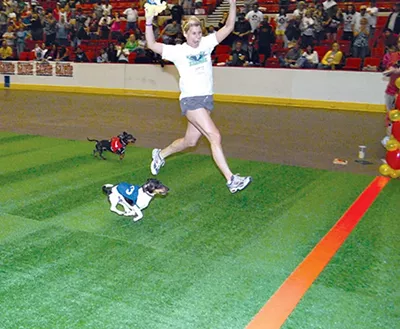 Photo Gazette / file
Manford and Kelsy Strecker cross the finish line to win the 2009 Dachshund Dash.
Back in the '90s, when Oklahoma Gazette's offices were located in the pre-statehood mansion then known as Maney House, staffers adopted a mascot that doubled as a running gag.
"We had a Mr. Maney," said account executive Saundra Rinearson Godwin, who started working at Gazette in 1990. "It was this dummy somebody had put together, and he would just wander around the building; people would take him. Keep in mind it's an old Victorian house, so it could be kind of creepy. Mr. Maney sometimes would end up in the bathroom, and it would freak people out. We'd always play all sorts of tricks."
Godwin, who said she "left after a couple of years because they were crazy," came back a few years later and then left and came back again, has spent a total of 20 years at the paper.
A better-known, less creepy Gazette tradition began in 2005 with the inaugural Dachshund Dash, a wiener dog race to raise money for local humane societies.
"You would be amazed at how many people owned a dachshund in this city," said account executive Christy Duane, who began her own long-term on-again, off-again relationship with Gazette in 1998. "You had to apply, and there was a lottery to get in. … We did our first one out at Remington Park, so the dogs raced actually on the racetrack, which was pretty cute, but it's outdoors and it's all cement, so it was hot, probably too hot for those dog paws."
By 2009, the race, which had by then moved to Cox Convention Center, had 96 entrants.
"People would write about their dogs, telling us how ready they were," Duane said, "and then the gates would open and three of them would go that way, and two more would go this way and one wouldn't come out. It was a lot of fun."
Wayne rules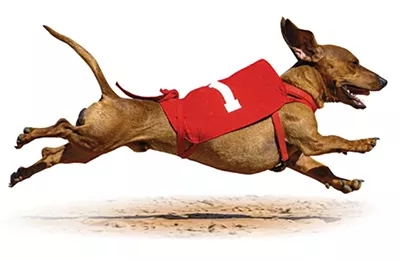 Photo Gazette / file
Oklahoma Gazette held Dachshund Dash,benefitting local humane societies, from2005 to 2009.
In 2007,
Gazette
started a new creepy tradition, but this time all of Oklahoma City could get in on the fun. The annual Halloween Parade (originally known as Ghouls Gone Wild) featured dozens of floats and, for its first four years, the March of 1,000 Skeletons presented by The Flaming Lips. Duane said the parade originally began as a way to fight "creative brain drain" in OKC.
"We felt like every college graduate that was any kind of creative star was looking to get out of Oklahoma at the time," Duane said. "So really, it was kind of centered around that thought of keeping people here and making it a cool town, and then it was insane. It was a lot of work. I feel for anybody that throws an event. … We'd start on that thing in June … and like 30 days out, you've already done everything. You've gotten your available permits. You had to go in front of the city four times. You had to get all of the things. You've done your deal with Budweiser or whoever is going to be sponsoring. You know where you're going, the route, where every one of your floats that you've approved are going to line up and come in to set up and how it's going to flow together to disrupt the least amount of traffic. And then you would get a volunteer that would come in and say, 'Hey, I'm here to help. You know, we really should think about moving that route.' Like 10 days out. … It's just cute. People don't realize how much goes into a parade with floats and 1,000 flaming skeletons."
In a letter to the editor published Nov. 4, 2010, one parade viewer described another inflammatory sight.
"My family and I have enjoyed Oklahoma Gazette's Ghouls Gone Wild Halloween parade in the past," wrote Theresa Husmann. "We were all shocked and disgusted when you portrayed a pregnant Catholic nun in her black and white habit, saying loudly 'The devil made me do it!'"
Godwin recalled that Flaming Lips frontman Wayne Coyne brought his own personal brand of chaos to the event.
"He decided to shoot off his infamous confetti cannon," Godwin said. "We ended up getting fined because you can't have confetti getting into the storm drains."
Duane added that the timing could have been better.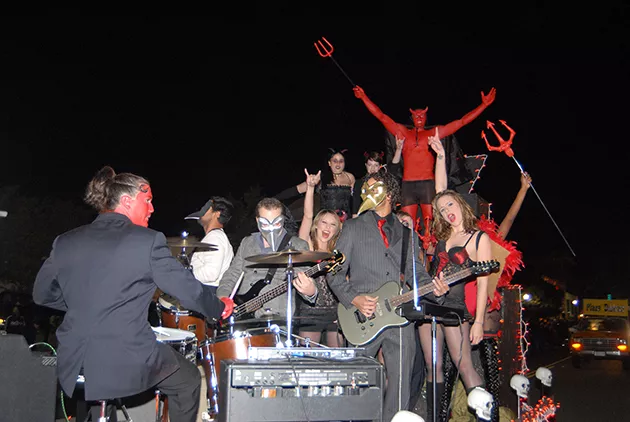 Photo Gazette / file
The Gazette's Halloween parade (2007-2013) required months of planning and coordinating with the city.
"They told us you weren't allowed to do that, but I just think that it's Wayne, so he's going to do what he wants to," Duane said. "Unfortunately for us, there was an EPA testing the next week, so we had to clean out the drains — well, pay for it to be cleaned, obviously. Thank God they didn't make us do it."
Zip-tied
Another run-in with authorities happened during an attempted guerrilla marketing campaign for now-closed classified ad site OKGFree.
Gazette
staff intended to inform people about the site via stenciled spray chalk on sidewalks around the city.
"We literally split employees up into teams, and you had to volunteer to do it because there were people that were like, 'No way. I'm not doing that,'" Duane said.
Godwin raised her hand.
"That was me," she said.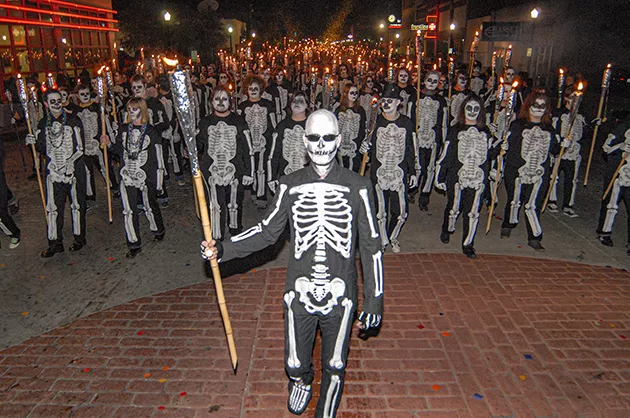 Photo Gazette / file
In its first four years, the parade featured The March of 1,000 Skeletons, presented by The Flaming Lips.
In retrospect, Duane noted that Godwin's reluctance seems justified.
"Well, the police helicopter was called out on the team in Bricktown for vandalism, and a couple of our coworkers were zip-tied for a while on the ground," Duane said. "Luckily, no one went to jail. It was just a big misunderstanding."
Being misunderstood has been a common experience over the decades at the publication Duane said she has often heard described not so affectionately as "that liberal rag." Maybe that's why many of the more memorable moments at private company parties and events will remain, for now at least, off the record — no matter how educating and edifying they might have been for Gazetteers past and present.
"We learned things like how to communicate with each other better, and then, I think, at the same time, we also learned everyone's tolerance level to liquor," Duane said. "It's always been a work hard, play hard sort of atmosphere."
Videos from the Dachshund Dash and Halloween Parades can be viewed on YouTube.