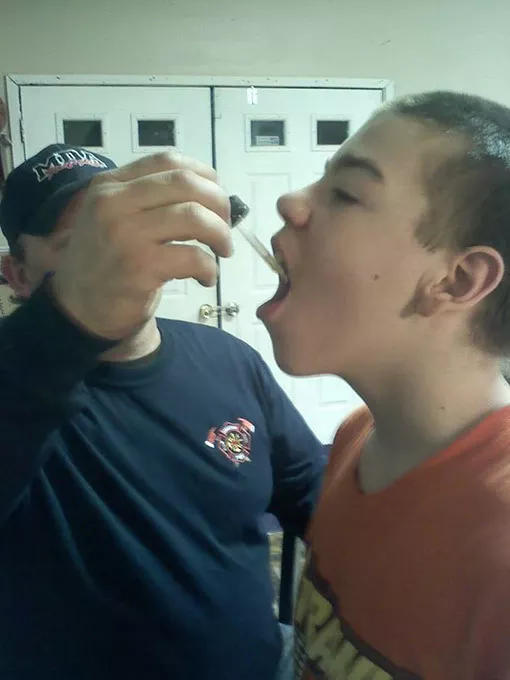 Read more of Oklahoma Gazette's special 420 coverage at okgazette.com.
Like the Oklahoma farming families forced from their homes during the Great Depression, a new generation of Oklahoma refugee families are uprooting their lives and heading for clearer skies. States with more progressive marijuana laws are seeing an increase in new residents from Oklahoma with a chronic or terminal medical conditions that are treatable with cannabis.
Amy Dawn Bourlon-Hilterbran lived in Choctaw her whole life until December 2014. She moved to Colorado to seek treatment for her 14-year-old son Austin, who has Dravet syndrome, a severe form of epilepsy. The condition brings on multiple forms of seizures along with cognitive impairment, behavioral disorders and motor deficits.
Bourlon-Hilterbran said doctors tried virtually every anti-seizure pharmaceutical on the market. The drugs did not work and they had side effects that often exacerbated Austin's problems.
"Dravet syndrome is the genetic and absolute worst of the epilepsy syndromes because these seizures are normally intractable and there is cognitive and physical decline," Bourlon-Hilterbran told Oklahoma Gazette. "Austin was on pharmaceuticals — dozens of different ones in different dosages — for over 10 years; none of them stopped the seizures. In fact, three years ago, he was on life support because the pharmaceuticals started shutting down his organs."
Bourlon-Hilterbran's voice cracked as she spoke; she relived the torment as she recounted the nightmare of watching her child go through seizures multiple times a day.
"Austin would have five to 20 grand mal seizures every single day, and some days he would have hundreds. Most of those led to hospital stays," she said. "The quality of life for our son devolved because of the seizures, the damage and the pharmaceuticals. It had become more than miserable. We were waiting for our son to die."
An experience with Keppra doubled his body weight and tripled the occurrence of seizures, and Lamictal sent him into anaphylactic shock. The seizures continued.
"We didn't have a choice," Bourlon-Hilterbran said. "I mean, what would anybody else do if it was their child? They would do whatever it took."
She and her husband, Jason Hilterbran, became politically active to get medical marijuana available in Oklahoma; she was a speechwriter for legalization advocate Sen. Connie Johnson. She also worked with Sen. Jon Echols, though she did not endorse his cannabidiol (CBD)-only law, which she called "a waste of paper."
"It should be completely and fully accessible; the entire plant, not just one compound," she said. "CBD is one compound, and THC is one compound; the cannabis plant has over 486 known compounds, and our son gets all of them. Everybody should have access to all of them."
Pointing out that many of the prescription drugs Austin was on made him "like a zombie" and caused him to drool, Bourlon-Hilterbran noted that Austin "has never been as high on cannabis as he has been on pharmaceuticals."
Colorado reboot
Bourlon-Hilterbran and Austin moved to Colorado in December 2014. As soon as he started using cannabis medicine, Austin did not have a seizure for three days. Once the family saw Austin was responding, Jason and their two toddlers also moved there.
According to Bourlon-Hilterbran, Austin has been weaned off daily pharmaceuticals, he is experiencing 95 percent fewer seizures and the organ damage is gone.
Bourlon-Hilterbran said Austin recently had a hospital stay during which medical staff made an error and overdosed him on intravenous Ativan; his blood pressure dropped to 59/30. The first week, the hospital did not feel comfortable giving him his cannabis, so they tried every pharmaceutical drug that should have helped — Ativan, phenobarbital, Versed — but none of them stopped his seizures.
Austin has two growers. One makes suppositories out of oil from the whole plant for him, while another makes oil out of a spore compound to rub on the soles of his feet. Bourlon-Hilterbran said Austin's vital signs improved and his seizures reduced and ultimately stopped once the cannabis was in his system.
"They were actually able to see me administer his cannabis medication," she said. "It stopped the seizures in seconds and led to a change in perspective of the hospital."
Bourlon-Hilterbran said the hospital now allows nonhospital personnel to administer cannabis to patients.
Dravet syndrome is genetic and cannabis cannot cure it, but she said there has been cognitive and physical improvement in the 15 months Austin has used medical cannabis. They can go to the park and play, and while he used to talk in the third person in one- to three-word repetitive sentences, he is now speaking in five- to seven-word sentences in the first person. He also used to clap his hands as hard as he could over and over, but the medical marijuana therapy has stopped it.
Outside support
Both sides of Austin's family have deep roots in Choctaw, but he cannot come back to Oklahoma because his medicine cannot come into the state.
"It's still illegal because he takes the full plant," Bourlon-Hilterbran said.
The family left everything — friends, family, home and jobs — behind in Oklahoma.
"To leave your support, the people who love you; they can't see that Austin is getting better. They can't see that Austin is no longer a zombie on pharmaceuticals; they just get to see pictures and hear stories about him and how great he's doing," Bourlon-Hilterbran said. "It's not fair."
The family experienced the financial, physical, emotional and mental stress of having a chronically ill child and then had to risk everything in the hope that cannabis could help.
They organized a support group, the American Medical Refugees Foundation, for other families in their situation. One part of the organization is designed to help families with job placement when they move. After a year, the group has 152 member families. Many of the members travel back and forth to their home states to lobby for medical marijuana.
Continuing fight
Austin averages one seizure every two weeks now, and they are usually less than a minute long; however, he has gone for weeks and months without seizures since he started regularly using medical marijuana.
"People say, 'We don't know the long-term effects of cannabis,' [but] to date, no one has ever died of a cannabis overdose," Bourlon-Hilterbran said. "If you are willing to say that to me to justify not giving me access, then why do you provide access to pharmaceutical drugs that have lists of side effects and have proven long-term damage and potential lethality? Cannabis saved his life, stopped the seizures and gave us our lives back. It gave us our family back. It gave us hope."
Bourlon-Hilterbran is currently the Colorado state chairwoman for CannaMoms, a nonprofit group that offers a community of support, awareness, education, legislative and legal assistance and financial help to parents who are doing everything they can to save their children.
For more information about CannaMoms, visit cannamoms.com.
Print headline: Drug war refugees, Oklahoma's rigid medical marijuana laws have forced some to leave the state even though the law prevents them from returning with needed medication.