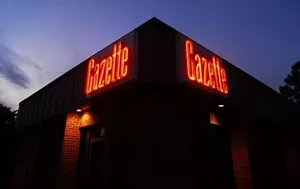 ---
Send a letter to the Editor here.
---
Request advertising information here.
---
Mailing Address:
PO Box 54649
Oklahoma City, OK 73154
Street Address:
3701 N Shartel Ave
Oklahoma City, OK 73118
Phone: (405) 528-6000
Fax: (405) 528-4600
Corporate
Publisher
Bill Bleakley
publisher@okgazette.com
Associate Publisher
James Bengfort
jbengfort@okgazette.com
VP, Corporate Affairs
Linda Meoli
lmeoli@okgazette.com
Marketing Manager
Kelsey Lowe
klowe@okgazette.com
Accounting/HR Manager
Marian Harrison
mharrison@okgazette.com
Accounts Receivable
Karen Holmes
kholmes@okgazett.com
Digital Media & Calendar Coordinator
Hannah Meeske
hmeeske@okgazette.com
To submit an event to our calendar,
email listings@okgazette.com or submit listings
through our online submission page here.
Advertising
Account Executives
Stephanie Van Horn
svanhorn@okgazette.com
Saundra Rinearson Godwin
sgodwin@okgazette.com
Christy Duane
cduane@okgazette.com
Kurtis DeLozier
kdelozier@okgazette.com
Editorial
Editor-in-Chief
George Lang
glang@okgazette.com
Assistant Editor
Brittany Pickering
bpickering@okgazette.com
Staff Writers
Laura Eastes
leastes@okgazette.com
Ben Luschen
bluschen@okgazette.com
Jacob Threadgill
jthreadgill@okgazette.com
Creative
Production Coordinator
Aubrey Jernigan
ajernigan@okgazette.com
Graphic Designers

Jim Massara
jmassara@okgazette.com
Kimberly Lynch
klynch@okgazette.com
Circulation
Circulation Manager
Chad Bleakley
cbleakley@okgazette.com