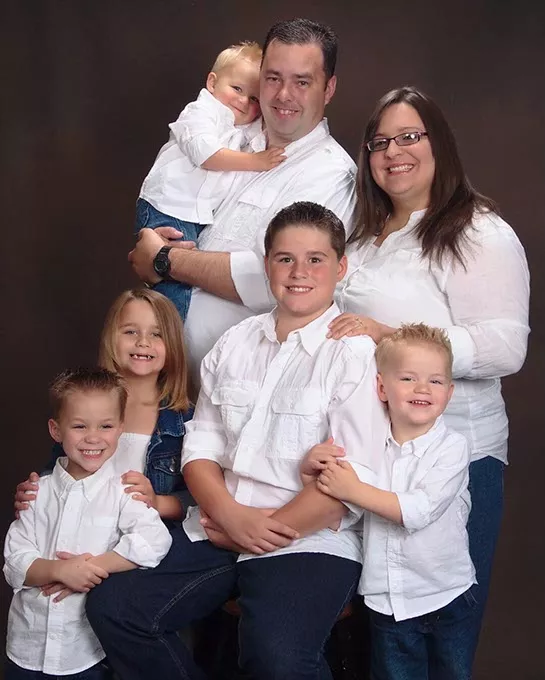 Provided
The Taylor household grew by five when Jeremy and Michelle decided to adopt a group of siblings.
If Jeremy and Michelle Taylor one day had a daughter, the Oklahoma couple wanted to honor the husband's grandmother Fay.
That daughter did come, and her middle name is Fay. But that choice was made before she met the adoptive parents.
"I just couldn't believe it," said Jeremy about the name. "My grandmother passed away at 64 of a heart attack, and it always upset me. But this is a big thing, and you just can't plan that."
This special connection wasn't simply for the name, and it wasn't only one child. The Taylors, who originally thought they'd consider adopting one — or maybe two or three — children, felt drawn toward five siblings. Since beginning their search two years ago, the parents finalized their adoption of five siblings (ranging in age from 2 to 11) in June.
On any given day, at least 300 children are legally free and ready to be adopted from the Oklahoma Department of Human Services, where the Taylors found their new family.
"We need people who can have an open mind and open heart to consider siblings, which are often the last to get adopted," said Katelynn Burns, Oklahoma DHS spokesperson. "If it wasn't for Jeremy and Michelle, those five children would most likely still be part of that group."
First steps
While Michelle lived in Wichita, Kansas, and Jeremy in Oklahoma, they met through friends and started a long- distance relationship. In 2008, after less than a year of dating, Michelle moved to Oklahoma and married Jeremy.
After five frustrating years spent trying to conceive naturally, the Taylors decided to consider adoption.
"We felt like God closed that door because our children were already out there," Jeremy said.
As a working family, the Taylors chose DHS because there are few adoption-related expenses involved when compared to private agencies, which often cost several thousand dollars. Plus, DHS provides other resources, including medical care for adopted children through 18 years old.
"It takes a big burden off parents, and we would have done it either way, but by them eliminating the medical costs, that really helps," Jeremy said.
From summer 2012, they started the process by taking DHS-provided courses on childcare. Once they received pre- approval, DHS sent them listings with potential children available for adoption.
While some choose to foster with the possibility of adoption, the Taylors opted for the DHS "swift adoption." These are the children currently ready for adoption because their biological parents and family are no longer in the picture.
"More people I've talked with know you can foster and then adopt through DHS, and that's wonderful they really need that, but if you want to outright adopt, they do that as well," Jeremy said.
Meet-and-greet
Rather than sticking with names and information on paper, the Taylors received personal interaction with children ready for adoption at multiple DHS "adoption parties." These gatherings, which Jeremy said included between 60 to 100 children, provide a fun environment with games for children and a chance to see whether potential parents have a connection with one (or more) children.
"The first time we went to the adoption fair, we left in tears because it was so overwhelming how cute and adorable these kids were," Michelle said.
"We saw a boy that you could tell he combed his hair just right because the older ones understand, 'This is my shot. Thisismywaytotrytomakeit'—a real tearjerker. We overheard him talking to another lady and ask, 'Would you be my adoptive mom?'" added Jeremy.
While feeling moved by the children, the Taylors didn't have the connection needed to take the next steps. It was more than a year later that they met their children.
Getting the call
Even though the Taylors said they'd be willing to take two or three children, the DHS adoption worker took a chance and asked whether they'd consider five.
"These children were getting separated, and I was frantic," said adoption specialist Donna Hendrix. "The oldest kid kept thinking it was his fault that no one wanted to adopt them, and he told me it was OK if his brothers and sister could get a home without him. We told him, 'We're not going to do that.'"
Hendrix contacted Jeremy, who felt particularly drawn to the five children, even after one phone call.
"I can't explain it, but my heart jumped," Jeremy said about the call.
He could empathize with the children, as his biological father, who he doesn't have a relationship with, had a problem with addictions like these siblings' parents.
While Jeremy was enthusiastic from the beginning, Michelle said it took some time to process the idea.
"I was a little shocked by the five, but the more you found out, the more we fell in love with them," Michelle said. "It was just right."
Coming home
After multiple in-person meetings with the children, they were placed in the Taylor home last December. By June, the adoption was finalized.
"We had to be OK with the kids as well as the kids being OK with us," Jeremy said. "If there ever becomes a problem in the process, then it can be slowed down or canceled. But with these kids, we clicked so well."
John and Denise Mills, Michelle's parents, live close to the new family and provide them with support along with other close family and friends.
"They've gone through a long time of disappointment and sadness to not be parents, but once the process started and the five kids came into the picture, then everything changed," John said. "I knew it wouldn't be a cake walk, but Jeremy and Michelle slid into the role so well."
BY THE NUMBERS
In 2013, the average time children were in Oklahoma DHS custody before adoption was 32 months, which is down from the previous two years (37 in 2011 and 35 in 2012). The longer children stay in custody, the less likely they'll be adopted. Also in 2013, there were 851 siblings adopted and 469 single children adopted.
The number of children in the state's custody has increased since 2011: 2013 — 10,233
2012 — 9,132
2011 — 8,502
More households are available to foster: 2013 — 4,410
2012 — 3,695
2011 — 3,616
Couples, single females or males and previously divorced people of various income levels are eligible to adopt through DHS.
Source: Oklahoma Department of Human Services
Print headline:
Full house: After an extended search, an Oklahoma family adopts five siblings.