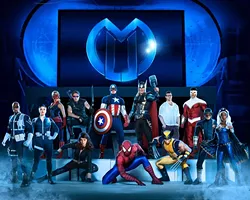 Marvel Universe Live! is an original, live-action arena extravaganza and one of the biggest tours in the country. Aerialists, motorcycle artists, martial artists, stunt drivers, gymnasts and dancers perform a nonstop thrill ride filled with the most Marvel characters assembled in a single show.
It takes over Chesapeake Energy Arena this weekend, 100 W. Reno Ave.
"All of your favorite heroes and villains will be on the arena floor, completing some of the most phenomenal and breathtaking stunts you've ever seen," said Madison Embrey, who plays Special Agent Maria Hill of S.H.I.E.L.D., who is second in command to Nick Fury.
Embrey was part of a dance performance here a few years ago and is looking forward to performing again.
"Everyone was so hospitable, and there was a great love for the performing arts, so I'm excited to be back," she said.
The storyline is framed around the Cosmic Cube, a sought-after source of ultimate power in the Marvel Universe. The cube was shattered into pieces by hammer-wielding god Thor in order to prevent it from falling into the wrong hands. His villainous brother, Loki, devises a scheme to clone its powers, inciting a threat that could eliminate Earth and obliterate the universe.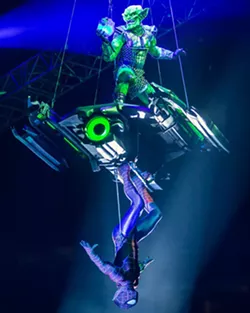 Marvel superheroes — including The Avengers, Spider-Man and Wolverine — will all be there, along with some of their biggest adversaries, such as Green Goblin, Doctor Octopus and Electro.
"I couldn't imagine a more exciting experience for my first post-graduation job," Embrey said. "The cast and crew are my family."
The production company, Feld Entertainment, has also done shows for Ringling Bros. and Barnum & Bailey, Monster Jam, Monster Energy AMA Supercross and Disney On Ice.
"Something that I've recognized in every city is when I'm walking outside after the shows, I see how happy everyone is," Embrey said. "The kids are acting like their favorite superheroes, and the parents are so happy to see their kids smiling. That makes me feel like I'm doing my job well."
For this show, cast and crew blend pyrotechnics, lighting and sound design, authentic costumes and 3-D projection mapping.
The mapping projects a virtual set onto the arena floor, which helps the audience travel into the different realms with all its heroes and villains.
Print headline: Marvelous action, Superheroes fight for what's good and right with help from acrobats, stunt drivers and pyrotechnics.