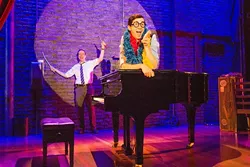 Writing duo Joe Kinosian and Kellen Blair met in a 2008 Broadcast Music, Inc. writing workshop. Since then, they've met with nothing but success.
With Kinosian handling music compositions and Blair handling lyrics, their collaboration Murder for Two placed them front-and-center. A story of the wildly entertaining and humorous circumstances surrounding one detective, all of his suspects and a piano, the production premiered in 2011 at Chicago Shakespeare Theater and nabbed the Joseph Jefferson Award for Best New Musical Work.
The writers participated in a joint email Q&A with Oklahoma Gazette about their production's success and its visit to Lyric on the Plaza.
Your play is very quirky. Where did the inspiration come from?
We were inspired by a huge variety of sources, but at its core, the idea came from this question: "What would happen if the Marx Brothers performed an Agatha Christie play?" We're really big fans of the absurdist comedy of the Marx Brothers, and especially the way they were able to get so much humor out of a couple of guys running around a piano or a harp. And of course, so much is owed to Agatha Christie for writing the rulebook on closed-room murder mysteries. Other inspirations include [film and Broadway songwriter] Frank Loesser and The Simpsons.
Why is it so appealing?
We always said that, first and foremost, Murder for Two needs to be a comedy. We started writing the show during the height of the recession a few years ago (one of the reasons we decided to make it an experiment in minimalism), and we had just read an article about how there weren't enough shows that were just pure fun. We thought folks needed a good laugh. ... We were right.
What about Lyric Theatre makes it a good place for the work?
Well, first of all, it's in Oklahoma, which everyone knows is full of singing cowboys and dancing farmers (an allusion to Oklahoma!). I imagine they'd like nothing more than a good, old-fashioned musical comedy, right? We're thrilled and honored to be a part of Lyric's history and its mission to produce professional theater.
What has most impressed you about the public reception of the work?
A lot of theater today has become about spectacle, and I think we've both been incredibly impressed with how audiences all over the country (young and old) have been totally willing to go on this ride with very few props, costumes or fancy effects. This is theatricality at its purest. The show forces audiences to engage with their imaginations; two actors need to give the impression of a room full of people all sitting there at the same time. We've been thrilled with how quickly audiences latch onto the concept.
How does the piano factor into it?
The piano serves as the theatrical centerpiece. Not only does one actor play 13 roles, but both actors provide accompaniment for themselves (and each other) on the grand piano. The playing adds a fun, extra layer of competition for the two performers; it adds to the frantic pace of the evening, and of course, it gives them both a chance to show off.
Print headline: Killing comedy, This uproarious musical uses minimal casting and a piano to capture audiences across the nation.