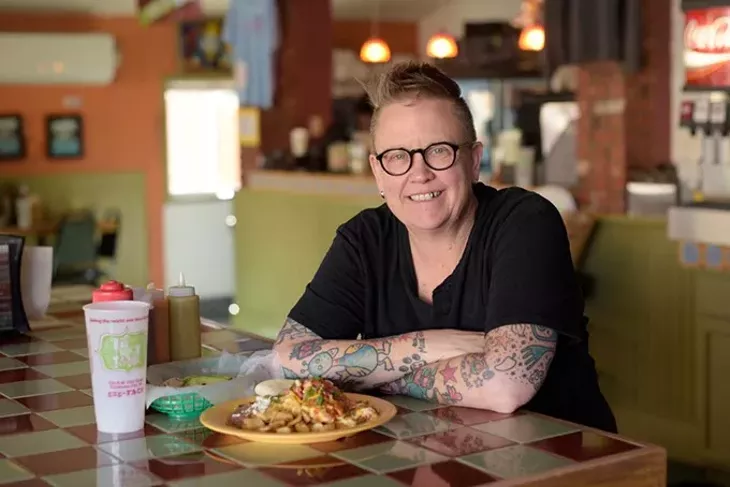 Garett Fisbeck
Kathryn Mathis poses for a photo at Big Truck Tacos, Wednesday, March 15, 2017.
Oklahoma City's food scene has evolved rapidly over the last decade. It's not just the food that's improving; the industry is also becoming a much friendlier place for women.
Chef Kathryn Mathis, co-owner of Oklahoma City eateries Back Door Barbecue, Big Truck Tacos and Pizzeria Gusto, said she experienced sexism in the kitchen when she first moved to Austin, Texas.
"I didn't last very long there," she said. "It was the only job I ever no-showed for."
But the lessons she learned stuck with her. She passes them on to new managers at her restaurants.
"Remember all those good things the chef or manager you love did, and remember all the bad things the manager or chef did that you hated and try not to be that," Mathis said. "Be the good, but don't forget the bad."
A kitchen requires thick skin, but she said there's a difference between playful banter and crossing a line.
Stella Modern Italian Cuisine executive chef Melissa Aust said that's the ideal but not the reality in some kitchens. While she hasn't dealt with sexism while working in Oklahoma City restaurants, she did while working in Martha's Vineyard in Massachusetts.
"Everybody had their niche," she said. "The guys were pretty cocky. They gave me shit, but I have a little thicker skin than most."
It's hard coming up in an established food city, but she arrived here just as the scene was starting to pop. That put a hard reset on gender inequality in the kitchen and allowed the strongest cooks to come to the fore.
She said she and Stella owner Lori Burson have a business relationship based on open communication and honesty.
"We just have a really good dynamic together," Aust said. "We'll call each other out. Today, we're work partners; tonight, we're friends."
Friendship is why Pie Junkie owners Darcy Schein and Leslie Coale-Mossman began working together.
"Darcy and I met when our daughters were in Mother's Day Out," Coale-Mossman said. "We started hanging out and cooking together."
After starting a catering kitchen inside St. Luke's Episcopal Church, the women were approached by Shannon Roper from S&B's Burger Joint about making a pie for the restaurant. It became so popular, they were soon making several pies a week for S&B's and began looking their own storefront.
They opened their shop, 1711 NW 16th St., about four years ago. But that put a different challenge in their path.
"Trying to find a balance between being a wife, a mother and a business owner is really challenging for us," Coale-Mossman said. "When you're at the shop and miss things the kids are doing, you feel guilty. At home, your thoughts are what's going on at the business."
Finding that balance is difficult, and she's not sure they've figured it out yet.
"It's a daily struggle, partially because we're really hands-on in our business," Coale-Mossman said. "We have our hands dirty every day. That's why we've had some success. We didn't start something, mic-drop and walk off."
While it's difficult being away from their kids, it's also providing them an opportunity to teach them.
"I want them to see that they can be successful. What that requires is hard work. Things aren't handed to you," Coale-Mossman said. "I hope I'm modeling that for my girls."
She's proud to count herself among women contributing to the community.
"It's not a gender thing. They're working hard and killing it right now," she said.
Emmy Verdin/Photographer
Pie Junkie owners, Leslie Coale-Mossman and Darcy Schein pause for a photo on Monday, March 13, 2017 in Oklahoma City.
Talent reigns
The Pritchard Wine Bar, 1749 NW 16th St., where general manager Mindy Magers and executive chef Shelby Seig are creating one of Oklahoma City's best dining experiences, is a bastion of fine wine and cuisine. They are also trying to create one of the best working environments for their staff.
"Two-thirds of our ownership group is female. Our [general manager] is female. Our executive chef is female," Magers said. "It's not positive because it's female. It's positive because people who come here know what they're getting into. If they're not comfortable working for women, they won't come here."
It's not that way everywhere, she said. While working at a fine wine and liquor store in Dallas, Magers said the general manager was fired when it came out he had hidden cameras in her office (which was also the female employees' changing room). She was promoted to his job but had to keep doing her old job as operations manager, too — all without a raise.
Seig began as a pastry chef, a role that she said tends to be more female-oriented. But on the savory side of the industry, it can be more of a boys' club.
"There's an attitude of, 'You're a girl. Get out of here,'" she said.
That means female chefs have to work harder to gain the same respect as their male peers. It's unfair, but Seig finds the challenge pushes her to be better.
"You have to be on-point all the time," she said.
It's an unfair standard, but one she works to counteract by giving young women in the industry a chance to learn and prove themselves.
"You bring other strong females in, but it's really about who is best for the job," Seig said. "If it weren't for women encouraging each other and bringing each other up, I wouldn't be in my position."
No one gets a free pass because they're female, nor is she harder on male employees.
"But if you don't give them the opportunity, they can't prove themselves," she said.
One employee she hired while working at Boulevard Steakhouse is Chelsea Berry, now a pastry chef at En Croûte, 6460 Avondale Drive.
"I have to give it up to Shelby," Berry said. "She gave me the opportunity. She gave me responsibility."
That open door led her to En Croûte with managing partner and cheesemonger Crosby Dyke.
"When I started in culinary school, I was told that I should go into pastry because I would never make it as a line cook," Berry said. "Women are automatically expected to be the baker and put into a dessert role."
Dyke said her path has been an easier one because En Croûte is her first restaurant job.
"I did six years in the oil and gas industry," she said. "Definitely there, it's a man's world."
Print headline: Women's place? Wherever they choose. A new generation of female restaurant owners, managers and chefs build culinary success in Oklahoma City.