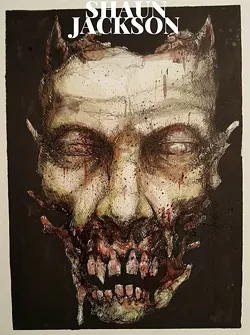 Holiday pop-up shops appear throughout the city during this time of year, but shoppers will be hard-pressed to find any gatherings that also include their own satanic ritual.
Devil in God's Country Art & Music Showcase puts a spotlight on the state's satanic and dark art subcultures while giving scene participants and the genuinely interested a chance to buy locally made art, glass, figures, ritual supplies and other goods by local makers.
Slightly under 20 artists and makers will be participating in the show. Nina Garsh, the showcase's founder and lead organizer, said everyone involved in the event is based in the state.
A variety of music entertainment will be present at the show, with a special emphasis on darker acts. DJ Bone, who specializes in goth rave, will be spinning an early set. The show also includes acoustic alternative soloist Elecktra, acoustic guitar and cello duo Lung Butter (which includes Garsh with her partner Pauly Creep-O) and art-rock quintet Kali Ra.
"They're involved in a lot of the darker stuff in Oklahoma too, so this event is perfect for them," Garsh said of the band.
At some point during the event, Garsh said a demonstration of a satanic ritual will be planned. Though details about the specifics of the ritual are being kept a surprise for the show, Garsh said it will include a positive incantation that is much less dramatic or theatrical than some prominent devil-worshipping displays in the city's recent past.
Garsh's partner Creep-O is also in the process of making a documentary about Satanism in Oklahoma, and the project's film crew will be filming the ritual and event.
Devil in God's Country is not what many would consider a traditional holiday event, but what is "normal" for one person might not be comfortable for all. Satanists like Garsh like to have fun, too.
"It's totally counter to the normal holiday season," she said, "but if we're all allowed to celebrate a holiday, we should all be allowed to have our own way of doing so."
Finding home
Garsh and Creep-O are involved in a lot of art and music within the city. The idea for Devil in God's Country came from a desire for a specific event that reflected some of the stuff they believe in and enjoy.
"We wanted something pretty awesome where all the freaks and weirdos could have a safe space to let their freak flags fly," she said.
Garsh originally began planning for an event like this in August but was having a hard time securing a venue that would both allow them to have a satanic ritual and institute a door charge that would allow them to pay the included artists.
For a short while, she gave up on her vision for the event until she realized she could book something at 89th Street - OKC. Garsh said she is very thankful to venue operator Nick Hampson for being supportive of the event when others were less receptive.
"It's really cool of him to be open-minded and work with us," she said, "because we're not going to be hateful or rude."
Garsh has so far not heard of any outside plans for protest. She hopes there won't be any public backlash, but she also is not letting the potential worry her.
"If there is, it's just more publicity," she said.
Satanic holiday
Though Garsh said it can sometimes feel like Christian tradition has a monopoly on December celebrations in Oklahoma, things like the Wiccan celebration of the winter solstice, known as Yule, are still observed by some people in the state. And who would want to sit and do nothing as the rest of the world makes merry?
"There are plenty of things to celebrate in December even if you aren't a Christian," Garsh said. "Plus, holiday food is awesome."
Much of the world observes some form of family and friend holiday in the winter months. Garsh said a proper satanic holiday offers time to focus on people who are most important to the observer, not too different from Christmas.
"We have some pretty weird relatives and loved ones, so why not?" she said. "It's something that applies to them."
Part of the hope behind Devil in God's Country is that people might see alternative holiday events and traditions as something more normal, or at least not that different from what they do themselves. Garsh might not call the holiday Christmas, but that doesn't make her experience too different from what thousands of others typically enjoy as the holiday.
"I don't do anything extravagant," she said. "I just kind of make food and hang out at home."
Growing presence
Oklahoma is known for its abundance of churches, but Garsh said the Bible Belt's buckle includes a fairly large contingent of alternative religious and spiritual practitioners.
"Believe it or not, there's a lot of weirdos here in Oklahoma," she said. "Because of the heavy Christian tone, it's kind of created this equal-opposite side of things where there are people who are the adversary to that or people that want to see things very differently."
Garsh said alternative practitioners not only have a presence in the state; they are growing in number.
"As cynical as it sounds, I think a lot of people have been quote-unquote 'church hurt' or frustrated with elderly Christian upbringings," she said. "Satanism is very appealing to those people. It's kind of the freedom of it."
Garsh encourages anyone with an interest in Satanism or similar practices to do their own research on the topic. She said many misunderstand the belief system as something more violent or scary than it really is.
There are no child or animal sacrifices in the brand of Satanism that Garsh practices. Instead, it is a faith that emphasizes the importance of self-love and individuality.
"It actually upholds what I think are a lot of important values in a person that even the Bible itself forgets about," she said.
Devil in God's Country is all-ages and open to anyone who identifies as a Satanist or is just interested and wants to pick up a unique holiday gift. Garsh hopes the event offers something counter to the way Satanism in the city has been presented in the past.
"We just want to show people we don't have to be a part of a sect or a big group," she said, "which is somewhat contradictory to the idea of it to begin with. You don't just follow blindly to whatever you're being told and you can be your own person."
Print headline: Dark art; A Satanic-themed art and music showcase provides a one-stop shop for an alternative holiday season.