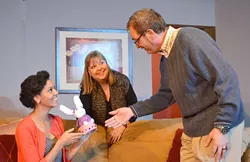 Irony mostly arrives in layers. This is the genius of the satirist who offers us a glimpse into the world as it is while allowing us to believe the fiction that we occupy a place where we are not participants in the system but only amused observers of its absurdities.
Indeed, the penultimate production of Carpenter Square Theatre's 31st season is an experience in situational and dramatic paradoxes. The company that once staged its performances at now-demolished Stage Center has a new home, and its production of Good People contextualizes a story set in South Boston, an area now beset by gentrification.
"There is no bad guy in Good People," said Ben Hall, who directed the play for Carpenter Square Theatre. "The have-nots do not lead lives of bitterness and envy; they have an attitude of hope."
Good People is a Tony Award-winning play by Pulitzer Prize-winning playwright David Lindsay-Abaire. His gift is his ability to wring humor from situations that impact common folk while simultaneously challenging our notions of what the world is like.
Class struggle
Hall recently spoke to Oklahoma Gazette about the challenges of preparing a quintessentially South Boston, or Southie, story for an Oklahoma City audience.
"The places referenced are real places in that part of Boston," he admitted. "But at the same time, it's as universal as a Western-world story can get. Really, [it's] an American story about class struggle and the narrative of the haves and have-nots."
South Boston is a blue-collar neighborhood dramatized by Matt Damon and Ben Affleck in the popular 1997 film Good Will Hunting and other movies, including Affleck's 2010 crime drama The Town. Lindsay-Abaire's story takes place before the onset of gentrification, and his heroine is not quite an everyman, but audiences will relate to her story.
Margie Walsh (played by Rhonda Clark), the pseudo-protagonist, cares for her mentally handicapped adult daughter. Things are stressful and money is tight, especially after Margie loses her job.
She hopes to network and find new work at an upcoming party that's hosted by a former flame.
Her ex, Mike (played by Mark Johnson), is a Southie escapee and a fertility doctor. Unbeknownst to her, the get-together was canceled, but she believes she was uninvited and slighted based on her social class. Even so, Mike's African-American wife is gracious and welcomes her.
The decision sets the stage for a confrontation that reveals their secrets and the viewer's assumptions about class, race and economics.
In drama, conflict often takes one of three forms: human versus human, human versus nature or human versus herself. However, Good People seems devoid of these traditional plot devices.
"The skill of Lindsay-Abaire as a writer is obvious in that he includes all the themes that affect the poor," Hall said. "He never makes a mess of it, and he finds humor in their interactions."
When the play debuted on Broadway, it was nominated for a Tony in the Best Play category, and Frances McDormand of Fargo fame earned a Best Leading Actress Tony for her depiction of Margie.
Critics, however, were divided in loving or hating it due to its lack of explicit principal conflict. Instead, the conflict is juxtaposed between oppositional narratives of the American experience and embodied in Margie and Mike.
Lindsay-Abaire's story is a meditation on class conflict and "sweat equity."
Tough forgiveness
Clark said Margie's character is not an overtly sympathetic one in regard to her reflection of working-class America.
"Margie is someone you cheer for and are mystified by," she said. "She is tough and aggressive when she's desperate, but she's also quick to excuse or forgive."
Margie is 50-ish, and the halfway point of a century is a clear reminder that most of us worry about death. More importantly, it's a reminder that we also worry about a prolonged life and how we might best survive it.
Lindsay-Abaire's comedy-drama is an important story about our shared experiences as Americans.
If irony does arrive in layers, a story set in a city that is now narratively tied to us by a tragic bombing and gentrification and racially divided neighborhoods should offer us insight into who we are, even as it exposes us as people who suffer from the afflictions or blessings of luck, birth, circumstance, class and race.
Print headline: The have-nots, Good People is more than a play about gentrification and the poor; it's the tale of our shared American experience.