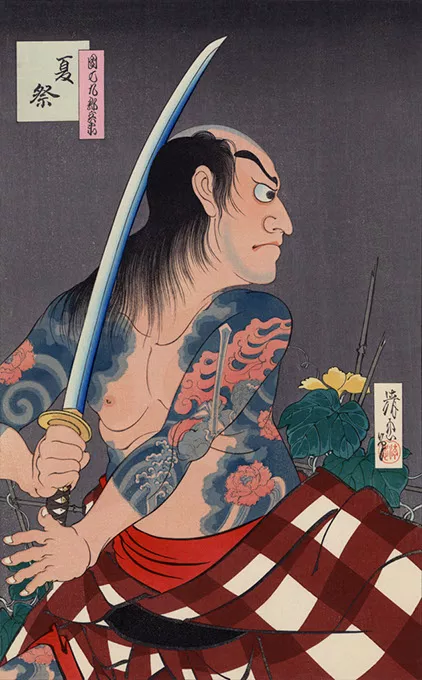 After the Floating World: The Enduring Art of Japanese Woodblock Prints
Years could pass before the full impact of Matisse in His Time: Masterworks of Modernism from the Centre Pompidou, Paris on the Oklahoma City Museum of Art can be fully assessed. That said, it was a smash success. More than 62,000 people from all 50 states and around the world visited the 2016 exhibition.
"Even a couple from New Zealand came," said Becky Weintz, museum marketing and communications director. "I think they were probably here for a longer trip, but they ended up purchasing a membership. We think they just wanted us to send them information about what we're doing."
Oklahoma City Museum of Art (OKCMOA) uses its Matisse experience to amplify the breadth and history of its collection in its 2017 exhibits, offering visitors and members a chance to see parts of the permanent collection in a new light and providing a groundbreaking exhibition of modern artist Kehinde Wiley's work in a first-rate showing.
Because the Matisse exhibit was installed on the museum's second floor, which temporarily displaced the museum's permanent collection, OKCMOA curators began examining new ways to contextualize the collection before Matisse even arrived. Weintz said the curators decided on a strategy that revolutionizes its educational potential and how the art will be experienced.
Rather than displaying it in chronological order, the permanent collection will be grouped into subjects like animals, still life, seascapes, performing arts and portraits, allowing curators to create interesting juxtapositions.
"A great example is the seascapes gallery, where we have a Roy Lichtenstein and a Thomas Moran," Weintz said. "You see an intricate, classical, beautiful picture of Venice and a deconstruction of the sea by Lichtenstein. Then there's a sculpture by Anne Truitt that is also called 'Seascape' that is a blue cube essentially, so you can look at all of these side by side and really think about what the artists were trying to do. It makes the art more accessible."
Art labels accompanying each work are posted lower on the walls, offering child-oriented descriptions and thought-provoking questions.
The Complete WPA Collection: 75th Anniversary
Now on display
Those kid-friendly labels will help children understand The Complete WPA Collection: 75th Anniversary, which opened Dec. 16 and features works by a diverse group of artists who worked for the Works Progress Administration (WPA), the New Deal program designed to improve the nation's infrastructure during the Great Depression. The exhibit features works by Muscogee/Pawnee artist Acee Blue Eagle and printmaker Elmer Capshaw.
"It's had a great response so far," Weintz said. "It's the complete collection: 28 works that were gifted to the City of Oklahoma City in 1942, before we had a museum. Then, once we had the museum incorporated in 1945, these were the first pieces in our collection. A lot of them we haven't shown extensively, so it's nice to see them all together."
The exhibit runs through June 2.
The Unsettled Lens and
After the Floating World: The Enduring Art of Japanese Woodblock Prints
Exhibitions open Saturday
The WPA exhibit overlaps with two other exhibitions opening on Saturday: The Unsettled Lens and After the Floating World: The Enduring Art of Japanese Woodblock Prints.
"[After the Floating World] is not something we usually have out, but it's a fun opportunity to have all the pieces on display, especially these kabuki prints that are really strong and very impressive," Weintz said.
The Unsettled Lens offers something similarly unusual, but uniquely disturbing. The exhibit is comprised of photographs from the OKCMOA collection along with new acquisitions. It focuses on photography that at first seems commonplace but, with a second look, delivers a disquieting or alarming image.
"A lot of them will make you look twice," she said. "They're these strange, unsettling photographs. That's one of the ones I'm most excited for this year."
Kehinde Wiley: A New Republic
Opens June 17
After Floating World and The Unsettled Lens close in May, curators will begin to install Kehinde Wiley: A New Republic for its June 17-Sept. 10 exhibition. A collection of 50 pieces, A New Republic offers a survey of the young contemporary artist's stunningly referential works.
Wiley, 39, is known for naturalistic depictions of African-Americans in classical contexts. Using amateur models, he creates homages to artists such as Manet, Titian and Van Dyke.
In her review of A New Republic, The Seattle Times lifestyle reporter Tricia Romano described Wiley's modus operandi as "a seemingly simple one."
"He substitutes African-American men from the streets of Harlem or Brooklyn in the place of aristocrats in Old Masters-style paintings," she wrote. "In the process, he turns an art-world tradition of depicting race, power and prestige on its head."
The exhibition of Wiley's breathtaking 21st century works sharply contrasts the antiquity of Matisse in His Time, but Weintz said the summer exhibition provides testimony for OKCMOA's ability to host a wide array of important works.
Matisse was likely a game-changer, and Weintz said impact from its success could be felt for years to come.
"It showcased our capabilities," she said. "We got a lot of great feedback on the installation, and so for that, it showed not just the country, but the world that we could put on a world-class exhibition. It does open us up to opportunities that we didn't have before Matisse."
Print Headline: Artful influence, OKCMOA builds on its recent success with its 2017 exhibition lineup.