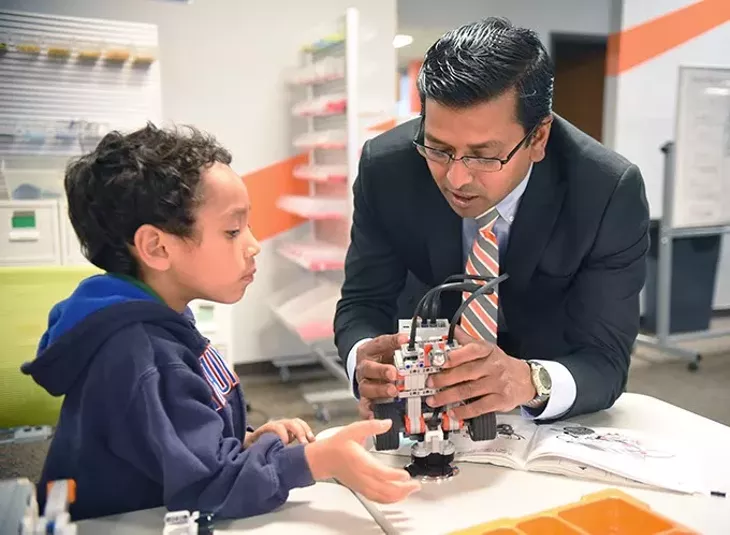 Mark Hancock
Ray Shaik works with 5 year old, Avery Watson, with a robot project at techJOYnt, after school program in Edmond, 11-12-15.
On a rainy and damp October evening, Principal Kim Templeman scanned the Central Oak Elementary School cafeteria where parents and students gathered for a chili supper. Standing behind a serving table and wearing a school spirit T-shirt, the administrator smiled before sharing that turnout exceeded her expectations, especially considering the weather.
On Oct. 22, Crooked Oak Public Schools, a district located on the southeast side of Oklahoma City, hosted the after-school program's fall festival. It featured hayrides, pumpkin carvings, campfire s'mores and other activities for students and parents. When the rain fell, school leaders moved activities inside and hoped parents wouldn't forgo the opportunity to share in their children's education.
Parents and grandparents, led into the facility by their children, embraced the opportunity. The festival was part celebration and part promotion of family participation. Research shows that parent involvement increases when children are enrolled in after-school programs.
"The after-school program has connected us to the community," Templeman explained. "It was one of the primary goals of the grant."
Prior to the 2014-15 academic year, Crooked Oak Public Schools was awarded a 21st Century Community Learning Centers program grant. The district, home to more than 1,000 students, joined a long list of schools and service organizations across the nation participating in the federal program, which begin in 1998 and contributes billions to after-school programs.
Last year, 160-200 youth in pre-kindergarten through eighth grade stayed after school to participate in Crooked Oak's Project STREAM, offered 3-6 p.m. Monday-Thursday. This year, Project STREAM serves more than 280 students.
"We didn't even realize how big the need was," said Templeman, who began working for the district 22 years ago. "It was more significant than we knew."
Youth involved in the after-school program gain an additional hour of academics with teachers helping them with homework and reviewing classroom lessons. The program's second hour is dedicated to enrichment with students participating in archery, cooking, robotics, STEM (science, technology, engineering and math) activities, critical thinking class and sports.
The school is tracking the after-school participants in hopes of collecting data supporting what teachers have already witnessed: improved grades and academic understanding.
"I see it as an opportunity," said Templeman. "Our staff is here every day after school. If [a struggling] student is here, we can target that student with interventions. … We provide an opportunity to work one-on-one or in small groups."
Crooked Oak staff is not alone in efforts to improve student academic performance. These days, it is difficult to find an after-school program in Oklahoma City that doesn't address learning.
Out-of-school time
Options for out-of-school time have been provided to youth for more than a century. Well-known national organization Boys & Girls Clubs of America traces its roots back to 1860 when three Hartford, Connecticut, women formed a club to get young boys away from roaming the streets. Character development became the key lesson addressed by the Boys & Girls Clubs of America, and academics were added later.
Robert Halpern, a professor in child development at the graduate school Erikson Institute in Chicago, explored the start of after-school programs through his 2002 report, A Different Kind of Child Development Institution: The History of After-School Programs for Low-Income Children.
Halpern described the first programs as "intent on rescuing children from physical and moral hazards" that came from being raised in major cities and immigrant neighborhoods.
"These men and women sought to create protected spaces in storefronts, churches or other buildings where children might relax, play board games, read and be provided as much instruction as they would tolerate," wrote Halpern. "The majority were intended primarily as a refuge and diversion from the streets. Children could drop in when they wished, expectations were low and any youngster who refrained from tearing up the place was welcome."
Today's programs continue to keep children safely off the streets; however, they hold high expectations of increasing kids' abilities to succeed at school and beyond through academic support and learning enrichment activities.
The annual growth in participation shows that families support the approach. Last year, 10.2 million students nationwide participated in after-school programs, up from 6.5 million in 2004, according to a survey from the Afterschool Alliance, which also found that for every child in an after-school program, there are two more children whose parents say they would participate if a program was available.
Boys & Girls
Three years ago, Boys & Girls Clubs of Oklahoma County expanded services to meet the needs of members in the southwest quadrant of Oklahoma City. Through a partnership with Santa Fe South Elementary School, club staff visits the charter school from 3 to 6 p.m. five days a week. The club, which is only for Santa Fe South (SFS) Elementary @ Penn Avenue and SFS Early Childhood students, serves an average of 125 students daily.
After the school day ends, students enjoy healthy snacks provided by Regional Food Bank of Oklahoma. After snack time, students go to classrooms for Power Hour, 60 minutes dedicated to finishing homework or reading. Club staff, which includes teachers, is available to aid any students with questions or struggles.
"Our main goal is academic studies," said Amanda Boyd, SFS club unit director. "Our goal is to hit that need the first hour. Many of the parents are bilingual, but some only speak Spanish. Some of the parents work two jobs. When they come to get their kids, we want to have the homework complete. That way, parents can spend time with their kids in the evening, free of homework."
Many parents believe the academic help provided by the club gives their children an advantage over other classmates, said Boyd, who pointed out that around 90 percent of the students are Hispanic.
After Power Hour, the students begin activities, such as art, science, health and fitness, vocal performance and dance. Additionally, students can join clubs, such as culture, pen pal and smart girls, which is designed for older girls and boosts self-esteem through unique, age-appropriate lessons.
SFS administrator Kim Figueroa says a majority of the school's students participate in . She has noticed students have an advantage in the classroom and are more engaging in fine arts and sports.
"We feel very blessed to have the support we do for after school," said Figueroa. "The after-school program provides options that not many of our students would have otherwise, like dance, choir or running club."
Boys & Girls Clubs of Oklahoma County has expanded the program to Oklahoma City Public Schools' César Chávez Elementary and Tel Star Elementary School.
Urban League
Similar to Boys & Girls Club, Urban League of Greater Oklahoma City, Inc. begins its School-Age Care and Learning Center, a weekday after-school program from 2 to 6 p.m., with a snack before spending the next hour focused on homework.
The 21 students coming from northeast area schools — Oklahoma City Lighthouse Charter School, Millwood Public Schools, Dove Science Academy Elementary School and Crutcho Public Schools — work with education majors from the University of Central Oklahoma (UCO) on assignments. After academic assistance, the students read for 30 minutes and then choose crafts or physical activity before parents come to pick them up.
Dee Cox, who serves as the program's coordinator and master teacher, said a recent grant by Dell Inc., provided a number of computer products, a projector and classroom furnishings to the program. The Dell products aid students in completing their homework and becoming acclimated with current technology.
"They may not have Internet access at home or a computer to use," said Cox. "We have all the tools at their disposal here."
For the past decade, the Urban League has provided an after-school program, but thanks to grant funding and partnerships, like the one with UCO and Dell Inc., staff members have enhanced the educational component. As the master teacher, Cox communicates regularly with her students' teachers and parents about academic progress.
"If a teacher has a problem, like with a student's attitude or notices a homework issue, they call or email me," Cox said. "All the students turn in their report cards for us to monitor. We have very good relationships with parents and teachers."
Increasing opportunities
With the help of his four daughters, engineer Ray Shaik's mission is to get Oklahoma City area students interested with science and technology.
After a family conversation in a car trip, Shaik was informed that his daughters' definition of STEM was vastly different from his own.
"Their ideas were all futuristic, stuff not even developed yet," Shaik recalled. "I was thinking mousetrap cars and marshmallow-toothpick bridges. That was not their idea at all."
Having previously coached robotic teams, Shaik, with his children's involvement, began the social enterprise techJOYnt. Shaik described the venture as providing a multitude of activities and programs for kindergarten through high schoolers. For this after-school program, parents purchase memberships for their children to visit one of two techJOYnt academies, located at 180 W. 15th St. in Edmond and at 8328 Glade Ave. in Oklahoma City.
techJOYnt members engage in four pathways —game design, electronics, app development and robotics — known as GEAR. The children work together to collaborate and engage in problem solving lessons. techJOYnt forms several teams for STEM-based competitions, such as BotBall, FIRST LEGO League, Game Design Summit and FIRST Tech Challenge.
Before establishing the academies, Shaik volunteered with Metropolitan Library System at five locations, bringing a few robots and laptops for classes. He anticipated 25 students per library, but closer to 50 students showed, with 72 students flooding Edmond Library.
"Kids are really hungry for these kinds of activities," Shaik said.
Shaik said his business return comes not from profits but from the excited children who charge into the academy and immediately get to work programming their robots.
"We are helping the next generation of workforce," Shaik said, "but we are also ensuring kids don't lose their dreams."
Expanding learning, Academics are a key component for a number of metro after-school programs.