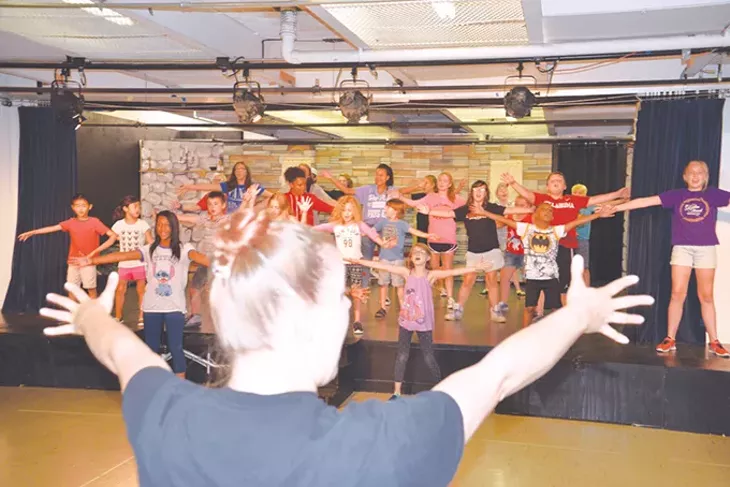 Jacob Threadgill
Choreographer Kelsey Faulk leads students through a routine for an upcoming production of The Frog Princess.
The key marked "Home" doesn't take Toby Tobin into her house. It unlocks Northwest Optimist Performing Arts Center, 3301 NW Grand Blvd., which under Tobin's leadership has gone from being a vacant building to a center for accessible performing arts education sponsored by Oklahoma City's Parks & Recreation Department over the last 20 years.
During the center's summer day camp series, kids age 6-17 get a crash course in choreography, stage and voice lessons, resulting in a fully formed stage production on its intimate stage every two weeks. The cost is $190 per person, and the program includes two snacks.
"I love the kids I come into contact with. I feel like if I can offer them a little bit of the love that I have felt in creating this place and being part of something, then I've done my job," Tobin said.
A group of about 30 children were going through the early dance routine for the Friday performance of The Frog Princess with head choreographer Kelsey Faulk, who is also the owner of Everything Goes Dance Studio in The 16th Street Plaza District and an alumna of Northwest Optimist Performing Arts Center. Faulk got involved at age 7 helping build its current stage, which led to a lifelong love of dance.
"I don't think that my parents would've been able to afford sending me to another children's theater because they're harder to afford," Faulk said. "It was much more accessible for us. I don't know that I would've made it as far and had the experience to grow myself as a performer than what I got here."
More than a few people who started their acting careers with her at Optimist Center now staff Tobin's center. Isaiah Williams and Angelica Bishop came to the center as teenagers and now help in its costume department. Williams graduated from Oklahoma City University with a degree in acting and is moving to Chicago to pursue his career. Bishop discovered a love of design at the center and, after graduating with a degree in theater management and design from the University of Science and Arts of Oklahoma, plans to pursue a graduate degree.
"I'm going to cry thinking about this place," Williams said. "I've been in commercials here locally as well as a few projects domestically and internationally. It's all thanks to [Tobin.]"
"If I didn't find this place, I'd probably be decorating cakes or working in a museum as a historian," Bishop said.
Jacob Threadgill
Musical director Bonita Franklin plays piano to "Ain't No Mountain High Enough" for a production of The Frog Princess.
New spotlights
Tobin's daughter Audra Mae is a graduate of the program and has gone on to a successful career as a Los Angeles-based performer and songwriter. Mae's song "Fall in Line" is a single on Christina Aguilera's latest album and was performed with Demi Lovato at the recent Billboard Music Awards. Mae has written songs performed by Kelly Clarkson, Miranda Lambert, Celine Dion and others.
"Our program gives students a chance to build their confidence, and that is so incredibly important," Tobin said. "I stress the fact that when they come in, they are company and we are a company. What you do matters to everyone."
The NWO version of The Frog Princess includes performances of a few Motown hits like "Ain't No Mountain High Enough" under the direction of musical director Bonita Franklin, who was chair of the music education department at Langston University before finding her way to Optimist.
Franklin is behind the piano as kids go through the number but also works with kids individually during the summer and offers lessons in the fall and spring.
"I want to make stuff fun but also give them some building blocks for voice and how to sing loud and project your voice," Franklin said. "This is dear to my heart because kids are more musical when they're younger. They're little sponges and some have a natural talent we can build on."
If Marvin Gaye sounds like a non-traditional pairing for a Disney musical, it's because that's part of Tobin's design. She writes many of the production scripts and waits to see how many people sign up for each two-week production, tailoring parts to ensure each child gets a speaking part.
"I used to laugh at the fact that when I was in high school, I was a townsperson and never said a word," Tobin said. "It wasn't until I got to college that I got cast in bigger roles. I want the kids to have their moment in the spotlight."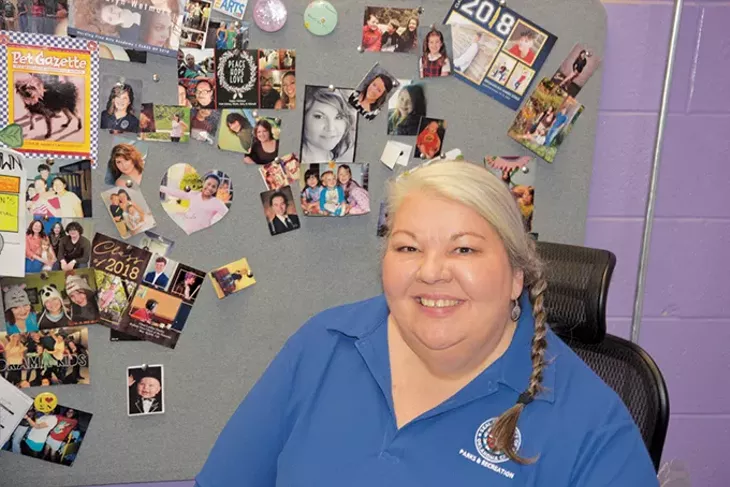 Jacob Threadgill
Toby Tobin is the performing arts coordinator for Oklahoma City Parks & Recreation.
New space
Tobin went to St. Gregory's University for a two-year degree and received a bachelor of fine arts degree from the University of Oklahoma under professor Charles Suggs. She worked with Oklahoma Children's Theatre right out of school and toured with a group called Lucky Penny Players. She worked part-time for the city's Parks & Recreation Department for about five years before convincing her boss to create a new position: performing arts coordinator for city's community arts centers. She booked performers and held an annual citywide performance but found a home for the center when she asked to store some costumes in the building on Grand Boulevard near Lake Hefner 20 years ago.
"When I got here, there were some old statues from the optimist club, a podium and a lot of dust. We cleaned it out and started doing day camps here, and it just grew," Tobin said. "It's not as nice as some of the other community theaters, but it is filled with a lot of love, and I'm proud of that. When you see that spark of performance in a 6-year-old, it's all worth it."
Classes continue in the fall and include dance, acting and musical instrument lessons. Tobin said the staff is flexible and they only need five children to sign up around a desired dance style to put it among the semester offerings. Classes are $25 per month in the fall and spring. The summer camp series concludes with a teen production of Fame Monday-July 27.