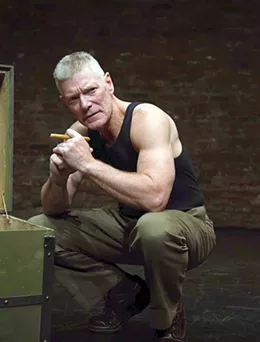 provided
Stephen Lang portrays eight Medal of Honor recipients in Beyond Glory 2 p.m. Sunday at Oklahoma City Community College's Visual and Performing Arts Center Theater.
From General George Washington to Colonel Miles Quaritch in James Cameron's Avatar, Stephen Lang has played many military men on big and small screens. He's also a veteran of the Broadway stage who originally portrayed Lt. Col. Nathan R. Jessep in Aaron Sorkin's play A Few Good Men, a role made famous by Jack Nicholson in the movie adaptation. The one-man play Beyond Glory, which Lang adapted from Larry Smith's nonfiction book of the same name, requires the actor to go above the usual call of duty by portraying eight different military men, all recipients of the Medal of Honor. Lang, scheduled to stage the play 2 p.m. Sunday at Oklahoma City Community College's Visual and Performing Arts Center Theater, 7777 S. May Ave., said he was inspired to adapt some of Smith's accounts of military valor after the author gave him the book at a pickup basketball game and Lang couldn't put it down.
"I remember I was standing there in my living room," Lang said. "I was actually reading the book standing up. … As a piece of journalism, I thought it was outstanding, really just outstanding. But I also felt that there was the kernel of a really good piece of theater in there, as well. And I began messing with a chapter, and I turned into a kind of dramatic monologue. In retrospect, I described it as a 'bullion cube of theater.' It was this concentrated piece of work, and if you add acting, it can explode into something."
Smith's book chronicles the stories of 23 Medal of Honor recipients. Lang said he originally chose the accounts that most immediately spoke to him but soon decided he should select stories based on more deliberate criteria.
"The easy answer is that they decided themselves, and there's truth in that," Lang said. "But in the end, as I began to craft this into a solo theater piece, I realized that I wanted to have an array. I wanted a diverse evening. I wanted different services. I wanted different ethnicities, different races and different wars. And so ultimately, I crafted it so I was able to include all the military branches, World War II, Korea and Vietnam, and playing people from different parts of the country, different colors. I wanted it to be a wide-ranging evening that was as widely representative of our country as I could be. I wanted it to be challenging to my own self as an actor as I could be. That was a big motivation in doing this. I wanted to do something that I wasn't sure I had the capability of doing."
Lang said the nature of a single-actor play requires him to stretch his range beyond what normally might be considered acceptable in another work.
"I play two black characters in the play, and you would think that could be problematic, right?" Lang said. "Particularly in the kind of world we're living in right now. It's certainly an important issue. I would never ever minimize the issue, but because of the context of this show, because it's one actor playing eight different roles ... it makes perfect sense to do it this way. Listen, it would make as much sense to have a really terrific black actor, Hispanic actor or any other ethnicity playing Beyond Glory as well, and they would be playing parts that they're not ethnically suited for, but that, to me, is part of the magic of theater. … When I had the play published, in the author's forward, I said, 'This can be performed by any actor who feels they have the chops to do it. It doesn't matter what race you are. It doesn't matter what gender you are.' I'm delighted if an actress feels that this is something she wants to take on, so it's blind in that sense, but the characters themselves are very specific, so when I'm playing a black man, I'm playing a black man."
Lang also portrays Daniel Inouye, a Japanese-American awarded the Medal of Honor for his service in World War II who served as a U.S. senator for Hawaii. In 2005, Lang performed Beyond Glory for the U.S. Senate, with Inouye, who died in 2012, in attendance. Lang has also staged the play for soldiers stationed in Korea, Pearl Harbor and the Middle East and for sailors on the flight deck of an aircraft carrier in the Persian Gulf. Despite their many differences, Lang said the men he plays in Beyond Glory (to date the only female recipient of the Medal of Honor is Dr. Mary Walker, a civilian who practiced medicine during the Civil War) share a common outlook in at least one respect.
"These are a disparate group of individuals from all walks of life," Lang said. "Different culturally, different levels of education, different economic levels, totally, totally different, and yet they're all bound together, and I find this to be true across the board. There is a deep, deep, deep sense of humility that each one of these men share. … They took responsibility upon themselves. Sometimes they're not even sure where it came from, why they did it. Most of the time, they'll say, 'I did it because it had to be done. I did it because it was my job to do it.' They don't make a big deal out of it, but even more important than that, having received the Medal of Honor, I think it bears a great weight of responsibility, and I think that that responsibility of, in a sense, living your life exemplifying these qualities that the medal represents — models of intrepidity, of true courage, of leadership, of setting a shining example — I think that confers along with that a sense of deep humility of having to live up to those obligations."
Lang feels reverential toward Beyond Glory's subjects but said he's more interested in showing that they are real people.
"Performing these roles is really an act of empathy, it seems to me, and I think there is a reverential component to that," Lang said. "But of course you can't let that get in the way because the idea is really to humanize these guys to an extent that people are really drawn in and feel that they are in a room with a true individual and that they're hearing an intimate and exciting and enthralling and entertaining story. So, yeah, there's reverence involved, but this is not intended as a war memorial. This is not intended for an audience to stand there with their heads bowed. … It needs to be far more connected than that. That's what theater really is."
Visit cityrep.com.