Provided
Adèle Wolf
Something brazen is happening at Oklahoma Contemporary Arts Center on New Year's Eve.
Adèle Wolf and her merry clan of striptease artists bring Adèle Wolf's Burlesque & Variety Show's New Year's Eve Bash to the gallery's theater space. About 200 lucky guests will spend the last two hours of 2015 watching classically yet-immodestly clad women perform provocative sets along with belly dancers and circus acts.
Featured artists include regional and national stars Cherry Brown and Ooops the Clown from New Orleans; Layna D'Luna from Austin, Texas; and Wolf, who spends much of her time touring in Europe.
Burlesque is Wolf's career and passion. She discovered the art form on YouTube when she was 16 years old.
"I already liked 1950s and '60s pinup culture and the hair and makeup styles, and then I saw burlesque," she said.
Her voice becomes notably more animated when she speaks about her favorite subject.
Her first burlesque performance was years ago at Kamp's 1310 Lounge in Oklahoma City.
"It was not an ideal venue," she said. "A friend had an event there and knew about my love of burlesque and asked if I wanted to perform."
She said yes, and the rest is history, and although she has mastered the art of immodesty at this point in her career, back then, it was nerve-wracking.
"My previous experience onstage was acting, performing as a character. That isn't as vulnerable — you have the costume, and your character is another layer between you and the audience," she said. "Burlesque is a persona, but it's a heightened version of yourself. And you've made your costume, and you've choreographed your show and you're nearly naked. I love that and the creative license, but that is incredibly vulnerable."
A couple of generations ago, burlesque was something women did simply to earn a paycheck, and it paid incredibly well. But Wolf said it also was considered shameful. Today, it's the opposite.
"Burlesque is a feminist art form," Wolf said. "It's very body-positive."
Wolf's preferred performance style is classic. Her twist, however, is that she doesn't always use classic burlesque-style music. She might perform to David Bowie or even Danzig, with a big band tune thrown in for good measure.
"There are as many styles of burlesque as there are people," she said. "I've seen really, really raunchy burlesque, but I've also seen it be political or funny. I've even seen outer-space-themed burlesque."
Wolf performs as often as she can. When she's not onstage, she's teaching others the craft. She founded Oklahoma School of Burlesque, and between teaching, performing and producing shows, she turned her passion into her career.
The New Year's Eve show at Oklahoma Contemporary has something for everybody, Wolf said, including plenty of risqué fun, aerial performers and a champagne toast at midnight.
Tickets are $25-$45, and guests must be age 18 or older to attend.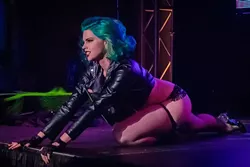 Provided
Cherry Brown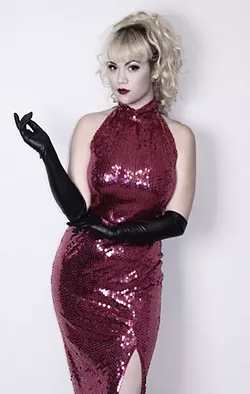 Rouhier Photgraphy / Provided
Layna D'Luna
Print Headline; Risqué business, Adèle Wolf rings in 2016 with burlesque performers, belly dancers and circus acts.