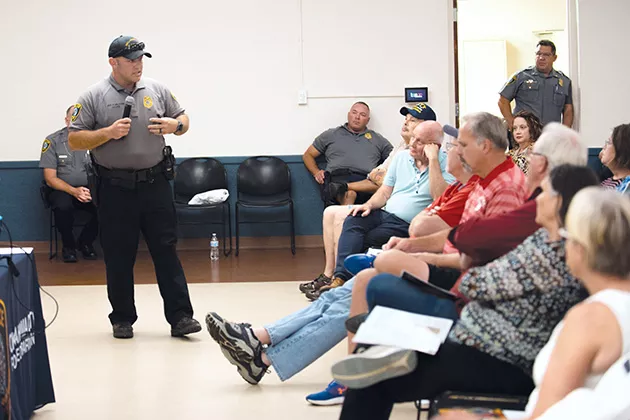 Miguel Rios
Sgt. Felix Valadez, one of two officers on the Homeless Outreach Team, speaks to community members at a town hall on homelessness.
Community members gathered last week for an Oklahoma City Police Department (OKCPD) meeting to discuss homelessness. The community meeting included presentations from Homeless Alliance and the department's Homeless Outreach Team.
Homeless Alliance executive director Dan Straughan kicked off the meeting with a presentation on the various functions of his organization as well as statistics about homelessness. He debunked the idea that one factor in a person's life causes them to be homeless.
"I've been doing this 15 years. It's never one thing. It's never, 'I lost my job and so I'm homeless,'" Straughan said. "It's, 'I lost my job because I drink too much, and I drink all the time because I've got bipolar disorder. And I can't get appropriate treatment for my bipolar [disorder], so I've been self-medicating with alcohol.'"
Sgt. Felix Valadez serves as one of two Homeless Outreach Team officers, a unit that works with local organizations to help connect people experiencing homelessness with the services they might need. The team's office is inside Homeless Alliance, and the unit works 8 a.m.-4 p.m. Monday-Friday.
"The purpose of the Homeless Outreach Team is to ensure OCPD remains sensitive to the unique needs of the homeless population," he said. "We don't overlook crimes at all. I like to tell people we're compassionate within reason. … Our mission statement [is] to impact the homeless community through positive police contact and community partnership, with the ultimate purpose of altering the homeless person's perspective on life."
Ward 3 councilman Larry McAtee and Ward 6 councilwoman JoBeth Hamon attended the meeting. During the Q&A portion of the meeting, many community members asked about what could be done immediately to help deal with issues surrounding homelessness.
Hamon asked Straughan to discuss the Housing First model, which he also presented on during the July 31 MAPS 4 special meeting, and how landlords or business owners in attendance could help.
"The Homeless Alliance brought it to Oklahoma City in 2013, and it is exactly what it sounds like: housing first," Straughan said. "What we have found in the six years that we've been doing Housing First in Oklahoma City is that we have a 90 percent one-year housing retention rate. … What it requires, though, is housing. That's why we went to the council [July 31] to talk about MAPS 4 to develop housing. … It's a constant struggle to find landlords that are both, A, willing to rent to the kinds of people that we work with, and, B, have housing that's at the fair-market price. So if you're a landlord … you can really have an impact on this issue."
Housing First addresses the immediate problem of homelessness while allowing people to get back on their feet in a stable environment. Straughan said the model particularly works for those who are chronically homeless.
"Oklahoma City is where San Francisco is 20 years ago, where Portland was, where Seattle was, Austin, Washington D.C. If you've been to any of those cities, you know you can't walk down any street without seeing unsheltered homeless," said Straughan, who made similar statements during the MAPS 4 meeting. "Here's what their MAPS did not do: The reason why people are homeless is in the name of the issue; they don't have homes. We have to build truly affordable, accessible housing, get people off the street and back into meeting their needs above the bottom of Maslow's hierarchy [of needs]."
Community involvement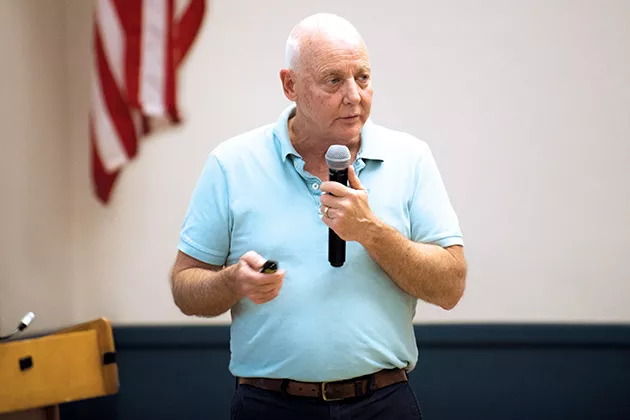 Miguel Rios
Homeless Alliance executive director Dan Straughan emphasized that several factors lead to people becoming homeless.
While the Homeless Outreach Team uses various avenues to help people experiencing homelessness, some officers expressed frustration at situations in which people refuse to accept services. Maj. Dexter Nelson suggested that people should take actions to prevent people from using their hoses or outside electrical outlets — essentially cutting off two major needs of people experiencing homelessness.
"The more resistance that you give sends the message that they need to move on. We're trying to get people to take the services that are being offered. It's hard to hear, but a lot of people on the street turn down our services; they want to do their own thing," he said. "We're trying to get them into those services where we can better serve them and help. This is a problem not unique to Oklahoma City; it's across the country. … It's going to take all of us coming together to solve them."
MSgt. Bob Skalla, a community relations officer, also encouraged the crowd to stop giving money to people experiencing homelessness and instead give it to organizations like Homeless Alliance.
"We strongly encourage our residents to stop giving money to the panhandlers," he said. "Oklahoma City, we need tough love."
One community member suggested that some people choose to act "crazy."
"Mental illness is not a choice. Addiction is not a choice. And they are not root causes of homelessness. There's a thousand times more people in Oklahoma City who have mental illness who are housed than there are homeless people," Straughan said. "Those aren't choices, and they don't automatically make you homeless."
Sgt. Valadez, who is trained in crisis intervention, said dealing with somebody experiencing mental health issues is a complex issue. Unless they pose a threat to themselves or somebody nearby, they cannot force them to go to a hospital.
John Doyle, better known as Judge Radar on social media, said the perception is that unsheltered homelessness is becoming more and more common, making community members uncomfortable. Straughan offered hope that projects on the horizon will help alleviate the number of people who are experiencing unsheltered homelessness.
"It's not that people are choosing not to go to a shelter; the shelters are full," Straughan replied. "City Care, which is a Methodist ministry, is building a shelter even as we speak. It's a low-barrier shelter like our day shelter. … It's a 200-bed shelter, so it should cut our own shelter's number in half. It's due to open the first of December this year."
Officials said the meeting was a starting point to get community feedback and answer questions. They expect to host more similar town halls in the future.