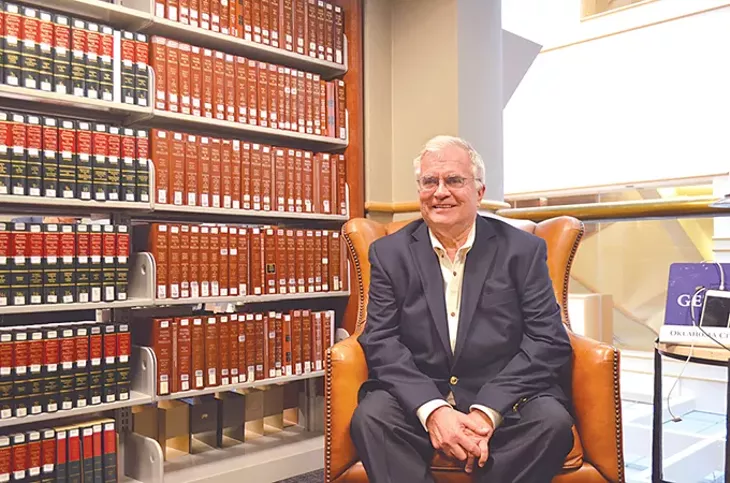 Laura Eastes
Richard Klinge leads law students in providing civil legal aid to tenants faced with eviction at Oklahoma City University School of Law's Pro Bono Housing Eviction Assistance Program.
Rents have increased rapidly across the United States housing market, including Oklahoma City, which has long been praised for its low-cost living.

Even in one of the nation's more affordable cities, an increased demand for affordable rentals, flat millennial homeownership rates and stagnant incomes lead to an affordable housing crisis. Add that more people desire to live in the urban environment — traditionally low-income neighborhoods — and gentrification pushes longtime residents out of their homes.

With rising rents comes a spike in eviction notices. An eviction can send a family into crisis. Without stable shelter, everything else falls apart, from employment and health to kids falling behind in school.

Each week, about 200 Oklahoma County families face eviction and end up in housing court or on the Forcible Entry and Detainer docket.

This month, Oklahoma City University School of Law (OCU Law) launches its Pro Bono Housing Eviction Assistance Program helping people under the threat of eviction understand their rights, navigate the court system and, sometimes, stay in their homes. OCU Law, through a grant from Oklahoma Bar Foundation, is adopting a civil legal model that has swept American cities. Results from those cities, like Boston, New York, Los Angeles and Durham, show that tenants offered help fared far better than those not offered help.

A Harvard study found that two-thirds of tenants who had a legal aid attorney were able to stay in their homes, compared with a third of tenants who represent themselves in housing court.

"Once lawyers get involved on behalf of tenants, the chances of a successful resolution, whether it is a settlement or an outright victory, rises dramatically, exponentially based on the data from around the country," program director and attorney Richard Klinge said. "Like any legal process, if you don't understand the process, you start five steps back. You need a lawyer to help understand the process."


Counsel case
The right to legal counsel is reserved for criminal cases only. In civil matters such as housing court, people must retain a lawyer by other means, represent themselves or not seek legal relief. Hiring and retaining an attorney can be costly, which makes it especially difficult for low-income individuals to access legal representation.
A day in civil court can be just as life-altering as criminal court. Defendants can leave court having lost their homes or their families.
In housing courts across the country, and in Oklahoma County, legal representation accompanying tenants is almost unheard of. Before the judge calls the case, the scale is almost always tipped in favor of landlords, who very often retain lawyers.
The OCU Law program seeks to "level the playing field," Klinge said. Lawyers for landlords present facts and articulate their clients' argument. Tenants, even those with strong defenses, struggle in the courtroom without lawyers.
"It is difficult for a client to articulate what the problem is with the landlord," said Klinge, who explained that the average tenant is unable to craft a compelling case against eviction, applying the facts of their case to the law. "They are under pressure; they are facing eviction; and without a lawyer to take a step, intervene and apply those laws to those facts and argue on their behalf, it is a tough fight."
Even if an attorney is not able to craft a compelling case against eviction, they can negotiate on behalf of the tenant, which could result in a settlement between the two parties. A landlord and a tenant could reach a deal allowing the tenant more time to find a new home and avoid temporary homelessness.
Legal aid for tenants can be beneficial to landlords too. Evictions are expensive for landlords. Striking a deal before court can save time and money. Evictions have a costly effect on cities and social services providers. An evicted tenant can leave behind unpaid utility bills. After losing their homes, and often their possessions, evicted tenants and their families can seek aid from homeless shelters, food pantries and hospitals.

Legal strategies
Law students, overseen by practicing attorneys, will interview clients and prepare cases weekday afternoons and Friday evenings at OCU Law. Because of the quick timeline for eviction cases, students might only have a few days or hours to prepare their cases, Klinge said.
Klinge envisions serving tenants who have run into a myriad of issues that led to eviction papers for nonpayment of rent. He previously served as associate director of advocacy, outreach and legal services at Catholic Charities of the Archdiocese of Oklahoma City, where he occasionally worked with clients on housing issues. He recalled a water leak in a client's apartment caused a fight with a landlord, who sued to evict the tenant.
Under Oklahoma's landlord and tenant law, landlords must make all repairs and keep the tenant's living area in a fit and habitable condition.
Klinge said legal services would also be provided to clients who simply haven't paid their rent.
The services are available to any Oklahoma County resident, regardless of income or immigration status, facing eviction.
The program's mission is twofold. In addition to providing legal services to tenants, the program's long-term goal is to find ways to educate tenants on their rights and obligations under the law to prevent evictions. Before the program can reach tenants, it must reach those on the front lines of poverty who could spot the warning signs of eviction and break the eviction cycle. Klinge is actively meeting nonprofit and faith leaders to introduce the program and share the eviction narrative of local low-income renters.
"We are another resource for people fighting the cycle of poverty," Klinge said. "We are not the answer, but another piece. … A year from now, I am confident that the program will be a lot stronger."
Visit
law.okcu.edu
or call 405-208-5207.