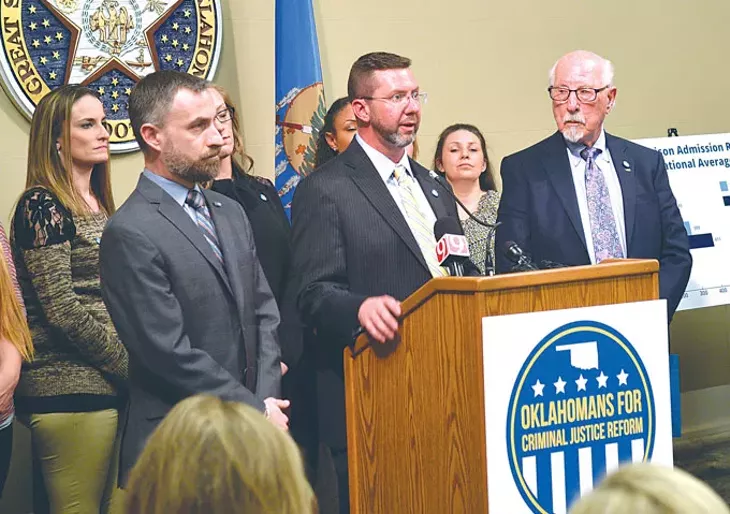 Laura Eastes
Ryan Kiesel, Kris Steele and Gene Rainbolt answer questions about ways to lower Oklahoma's prison population at the Capitol in March
After spending nearly a year campaigning on the effects of tough-on-crime policies that have packed the state's prisons and jails to the bursting point, largely with Oklahomans suffering from addiction and mental health problems, Oklahomans for Criminal Justice Reform (OCJR) leaders felt confident that the two ballot measures they put before state voters in the 2016 November election would drive change in the discussion on criminal justice reform.

When the dust settled on election night, it was clear that Oklahomans believed the state's criminal justice system needed significant improvements. The measures, which called for reclassifying simple drug possession and shifting low-level property crimes from felonies to misdemeanors, passed. Not long after the election, OCJR leaders and supporters learned the work was really just getting started.

"I strongly felt … if these initiatives passed, it would send a clear message to the Legislature that the people of Oklahoma favored a smarter approach to criminal justice reform matters as it pertains to low-level offenses," said Kris Steele, OCJR chairman and a former Republican speaker of the Oklahoma House, to Oklahoma Gazette. "Once the Legislature convened — three months after the people passed the initiatives — the Legislature began to reverse the reforms and undo the will of the people. That caused us to realize our work was not done in communicating with the Legislature and elected officials, that it was time to take a different approach and Oklahoma was ready for a different approach."

Ever since passage of State Question 780 and 781, debate and conversation around criminal justice reform has been intense at the state Capitol. In 2017, a handful of lawmakers proposed measures that would reverse changes made by the vote months earlier. Around the same time, a governor-called, bipartisan task force called Oklahoma Justice Reform Task Force released a comprehensive package of 27 policy recommendations aimed at improving public safety. Although the recommendations earned the endorsement of Gov. Mary Fallin, negotiations took place on five key reform bills impacting areas such as parole, property crimes and nonviolent drug offenses. At the end of the 2017 legislative session, Fallin inked three criminal justice reform bills and expressed disappointment that she didn't have more to sign.

It's largely the same story playing out for criminal justice reform advocates this session. Instead of taking a wait-and-see approach, OCJR is mobilizing its advocacy efforts. Armed with data and research from FWD.us, a national advocacy group for criminal justice reform, OCJR is pushing criminal justice reform policies that save taxpayer dollars, reduce incarceration, reinvest savings in alternatives and treatment and preserve and strengthen families. Their message to lawmakers is to advance the remaining Oklahoma Justice Reform Task Force bills to sustain reductions in incarceration.
"There is enough awareness within the state Legislature, there is certainly enough support among the voters of Oklahoma with people requesting and even demanding that our resources be spent more effectively and more efficiently than on mass incarceration on low-level offenders," Steele said. "I think we will see some progress."

Strong supporters
Progress in criminal justice reform efforts takes advocacy as opponents, including prosecutors, some lawmakers and law enforcement, say efforts make too drastic changes in the criminal justice system.
OCJR's message on criminal justice reform has found favor among some of the state's top business leaders. In a March letter to lawmakers and other elected leaders, Clay Bennett, owner of the Oklahoma City Thunder; Gene Rainbolt, BancFirst Corporation's chairman emeritus; and energy executive Tom Ward, among others, called for passage of the remaining Oklahoma Justice Reform Task Force bills.
At a March OCJR event at the Capitol, Larry Nichols, emeritus board chairman of Devon Energy, warned a crowd of supporters and media that Oklahoma's prison population could grow by 25 percent over the next decade, costing taxpayers $1.9 billion to build new prisons.
"That's money we are taking away from teachers," he said. "It's time for Oklahoma to rein in skyrocketing prison growth to ensure tax dollars are better spent while improving our workforce and public safety. Other states have done it, and so can we."
With FWD.us as a collaborative partner with OCJR, new data analysis complements the voices in support of criminal justice reform. FWD.us found that Oklahoma admits 33 percent more men and 91 percent more women per capita than the national average. Further, 77 percent of people admitted into Oklahoma prisons were sentenced for nonviolent crimes.
"Once they get there, they stay for a long time," said Felicity Rose, FWD.us's chief of research. "Sentences in Oklahoma are extremely long. … Compared to other states, Oklahoma sends people for violent crimes about the same time, sometimes a little bit longer. For nonviolent crimes, like property and drug crimes, Oklahoma sends people to prison for 80 percent longer than the national average."
Rose points to the state's low parole release numbers as a reason behind long sentences. According to the research by FWD.us, the state's parole board released 325 people last year. Currently, there are 6,218 people in prison serving sentences for nonviolent crimes who are past their parole date.
What's next?
In early March, the governor and several legislators announced an agreement with prosecutors to pass criminal justice reform measures that address property offenses, parole, sentences for drug trafficking and more. While the bills were held over from the 2017 session, at a Capitol press conference, Fallin said the bills would be modified from their current version.
Like OCJR, lawmakers stated the measures are intended to reduce the state's prison population.
Steele, who believes it is largely prosecutors holding up criminal justice reform measures, applauded the worked by lawmakers but holds concerns that the bills' language were not made available to the public.
As lawmakers enter April with eight weeks left in the session, Steele is urging Oklahomans to contact their legislators and express their desires about criminal justice reform efforts.
"I fear that the Legislature is not as strong as it should be in understanding the urgency or the value in seeking to reduce the prison population and investments in alternatives to incarceration," Steele said. "Coupled with the fact that it is an election year throws a wrinkle in it."