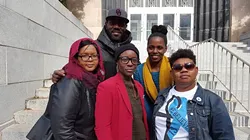 Provided Photo
From left to right: Back Row-A Jafar Cooper, Vanessa Morrison; Front Row- Grace Franklin, Candace Liger, Chaya Fletcher Not pictured- Tiffani Saunders
Feelings of indignation were ignited when an Oklahoma City police officer accused of a series of sexual assaults was granted a bail reduction from $5 million to $500,000.
The news came two days after Labor Day 2014. About two weeks earlier, police arrested Daniel Holtzclaw, an Oklahoma City officer, on complaints of rape, sexual battery and indecent exposure.
Northeast Oklahoma City resident Grace Franklin was outraged. A believer of women's rights and supporting fellow women, especially those in emergency situations, she co-created OKC Artists for Justice with Candace Liger. With the help of fellow artists, the two believed they could spark a reaction to the case. After all, the former police officer allegedly targeted more than a dozen African-American women from Oklahoma City's northeast neighborhoods. He faced 36 offenses but posted bail and awaited trial from his home. The bail reduction fueled OKC Artists for Justice's call to action.
"We can make a difference in our communities," Franklin said, "when we stand up and open our voices."
Nov. 2, the trial began in the Oklahoma County Courthouse. Through the monthlong trial, OKC Artists for Justice members sat in court chambers, listening to testimony along with the all-white jury of eight men and four women.
Outside the courthouse, supporters stood holding signs that read "Black Women Matter" and "Stop Police Terror in Our Community."
Dec. 10, Holtzclaw was found guilty on 18 of 36 counts with a combined recommended sentence of 263 years. Thursday, a judge decides his fate. Again, OKC Artists for Justice will rally in and out of the courtroom in solidarity with the survivors and to raise awareness of the sex abuse case.
OKC Artists for Justice is not the only group awaiting the outcome of sentencing. Following the verdict announcement, the case drew national interest because of the abuse of police power as well as the survivors' testimony, highlighting the ways the officer preyed on vulnerable women from low-income neighborhoods.
Franklin said the Holtzclaw case sets an example for communities and police departments tackling officer rape allegations.
"This is a historic case that some people just can't see now," she said. "In the future, this case will be an example of how things should happen when prosecutions are executed with transparency and when the community gets behind victims and survivors."
Human rights
Farah Tanis, Black Women's Blueprint executive director, first learned about the Holtzclaw case through media coverage.
The leader of a national civil and human rights advocacy organization, Tanis scouted national media reports to share with Black Women's Blueprint supporters. She struggled to find any from outside Oklahoma.
"It was extremely difficult," Tanis described. "No one was paying attention."
Despite lack of media coverage, Black Women's Blueprint monitored and examined the case from New York. The group released Invisible Betrayal: Police Violence and the Rapes of Black Women in the United States, a report provided to the United Nations Committee Against Torture. The report examined how the occurrence and consequences of the rape and sexual assault of black women is socially and legally downplayed. As an example, it cited the arrest of Holtzclaw and his release on a $500,000 bond.
"We have to unite in the struggle to end police brutality, but also to end sexual assault," Tanis told Oklahoma Gazette. "No woman should have to worry about sexual assault. … They shouldn't have to worry at the hands of officials who should be protecting them."
Jan. 18, Martin Luther King Jr. Day, Black Women's Blueprint began its National Justice Ride for Black Women to Oklahoma City. By Wednesday, hundreds of activists and artists are expected to stand with the Holtzclaw survivors. Tanis said that the group's goal is to bring sustainable education programs surrounding sexual assault to the area. Additionally, the group plans to meet with city leaders and the Oklahoma City chapter of the NAACP to discuss policy relating to human rights, sexual assault, police officer training and justice.
"We want to redefine what justice would look like for us, and 200 years in prison is not what justice looks like to us," Tanis said. "Justice would be living in a world that doesn't perpetuate rape culture. We want to live in a world that doesn't blame victims of sexual assault. We want to live in a world where we can depend on those in charge of protecting communities. We are looking for transformation."
Justice beyond
OKC Artists for Justice Day of Visibility Wednesday, Jan. 20, seeks to raise awareness of the issue of sexual assault today. Through social media, people from Oklahoma City and elsewhere are encouraged to share a video, picture, poetry, song or story about overcoming the effects of sexual assault. At 1 p.m., there will be a Twitter storm posting about sexual assault awareness and reactions to the Holtzclaw case.
The social media campaign leads up to the 6 p.m. community forum at Langston University's Oklahoma City campus, 4205 N. Lincoln Blvd. Speakers include attorneys, a judge, a law professor and M.T. Berry, assistant OKC city manager.
This is the second community forum planned by the local group. With the trial complete, OKC Artists for Justice will continue its role in community education surrounding prevention of and response to sexual assault. Additionally, members advocate especially for women of color.
"We want to be a place for people who have questions but may not trust the established women's organizations," Franklin said. "We want to be an organization that gives people the resources and help they need."
During the Holtzclaw trial, many survivors testified they didn't know whom to trust with information about an officer assault.
Part of OKC Artists for Justice's work surrounds removing the stigma from women surviving sexually assault, encouraging them to publicly speak out to inspire change in the community. The group hopes to turn outrage into action in the service of greater justice.
Print Headline: Beyond judgement, With Daniel Holtzclaw's sentencing set for Thursday, advocacy groups hope to change sexual assault stigma, educate the community and bring action.