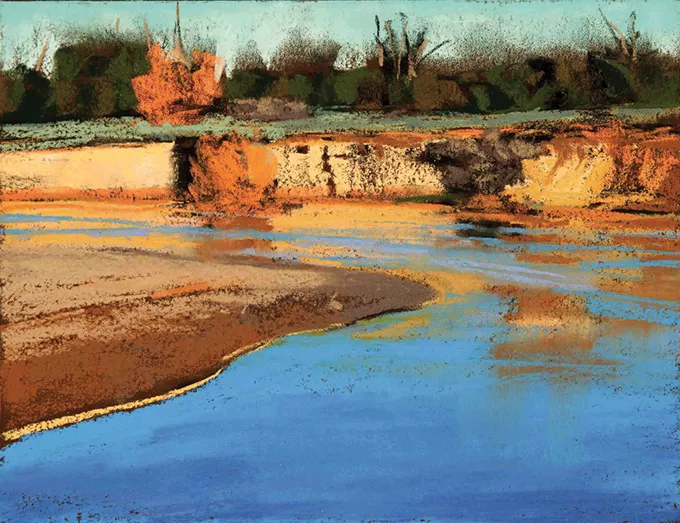 Mainsite Contemporary Art / provided
"Platte River Cottonwood" by Debby Kaspari
Mainsite Contemporary Art is currently showcasing the work of Debby Kaspari, Don Holladay and Christopher Ryan Mackie, three local artists who differ significantly in their creative approaches. The exhibit acts as a tribute to aesthetic contrast, blending the work of three individuals whose only commonality seems to be their passion for the arts.
The gallery is located at 122 E. Main St. in Norman and the exhibits run through Sept. 14.
Debby Kaspari
An artist since she was "able to sit up and hold a pencil," Kaspari is a painter and California College of the Arts alumnus and Harvard fellow who has worked commercially as a designer and illustrator. She moved to Norman in 1995.
Rather than studying ornithology to pursue her passion for birds, she leveraged her interest in nature to become an artist, painting the landscapes often inspired by her travels.
In this exhibition, Kaspari decided to offer up samples of the landscape paintings she had been working on over the course of the past three years. The images are those of a true realistic impressionist, giving an appearance that is more interpretive than photographic.
The natural beauty evident in her art stems from her preference to paint en plein air (French for painting outdoors). It's a style that emphasizes natural lighting and color, allowing her to bring the beauty of the outdoors straight to the canvas.
"It's a nice old tradition, and it's one that I practice," Kaspari said. "It's literally taking the easel outside and setting it down and painting the scene around you and painting directly from life rather than working in the studio."
When working outdoors, she uses pastel, which she describes as "a very fresh and immediate medium" that allows her to "jab color onto the paper."
Working with pastel also provides Kaspari with the advantage of being able to rework some undesired aspects of her paintings. Although most of the work — somewhere between 80 and 95 percent — is done en plein air, she'll head to the studio to add finishing touches.
Each painting typically takes her around two to five hours to complete, and she takes care to avoid spending too much time on her pieces, as they can easily end up overworked. Maintaining the scene's original qualities is another challenge she's faced with when painting in the field.
"The fight is trying to capture that first impression," Kaspari said. "You're out there and the light is changing, the sun goes down, clouds come up, things like that. You're capturing just a few moments of time."
The ability to discern when the painting is complete is another aspect critical to her artistic process.
"When there are things that sort of jump out at you and you just cringe, then you know you have a little more to do," Kaspari said. "But when that stops happening, that's generally when I say, 'I think this is okay. I think this one is ready. It's cooked.'"
Don Holladay
Holladay is an adjunct professor at University of Oklahoma's College of Law who has been an artist since 1973.
Holladay reflected on his initial thoughts on becoming an artist.
"It wasn't like I had this burning desire to be an artist," he said. "Once I started taking those lessons, I just kind of fell in love with it. I can't imagine not doing it now."
Stylistically, he alternates between figurative and abstract painting. In his figurative works, he often uses subjects in isolation that "certainly aren't photographic" yet still maintain some degree of realism. He describes his other paintings as abstract expressionist or non-objective abstract "where you just go with the flow and try to create something that will make the viewer stop and look."
Viewers can expect a variety of pieces including housepaint, collages, lithographs, etchings, acrylics and oils.
"It's got some funky stuff in it," Holladay said. "I think most people would say it's a strange exhibit because it doesn't have any theme, per se. It is a very eclectic body of work that showcases different mediums."
Due to his initial approach, Holladay's method comes with a unique hint of self-expression. Unlike Kaspari, who interprets the scene before her, Holladay will sometimes add color arbitrarily just to get a start.
"Debby and I could probably have a strange conversation about our different approaches," Holladay said. "She's a good friend."
The artists' travels, however, are one aspect of the creative process the two have in common.
"Whenever I travel … the next several paintings, they always almost have the colors of the place that you just came from," Holladay said. "I've never quite figured that out. It's kind of like your subconscious is just directing your self in scary ways, really."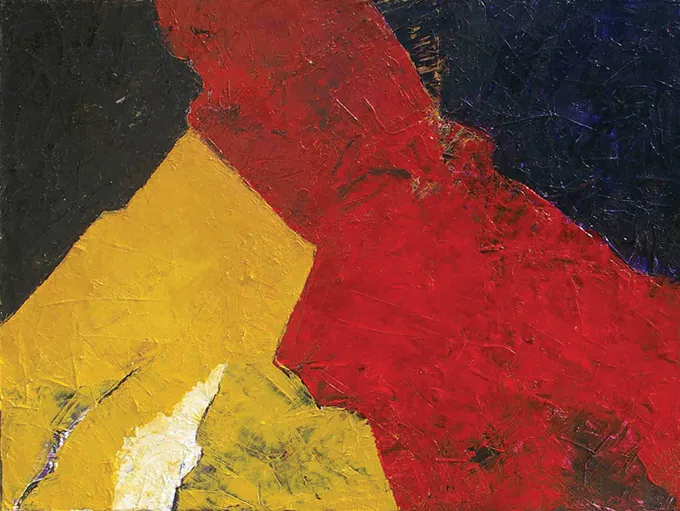 Mainsite Contemporary Art / provided
"Melting Pot" by Don Holladay
He avoids overworking his paintings by using what he calls "purposeful carelessness," and by doing so, he hopes to bring feeling to the freshly made creation. Texture and spontaneity are additional aspects essential to his process.
After finishing his paintings, he'll wait to be sure the piece is truly complete.
"I like to give a painting time to kind of tell me how it's gonna be finished," Holladay said.
Sometimes he'll sit on a painting for 30 days just to end up deconstructing it the way he sees fit, occasionally taking it in an entirely new direction altogether.
"The last thing an artist wants to be called is a deconstructionist, but that's what I do," Holladay said. "That's just kind of my deal."
Christopher Ryan Mackie
Mackie is a self-described "longtime patron of the arts" whose artistic background was initially in the realm of audio and video production. He transitioned to sculpture 10 years ago and will be displaying six of those works in the Mainsite exhibit.
Mackie grew up in Wichita, Kansas, and eventually moved to the East Coast. He moved back to Norman in 2011 and finished school in 2017. Shortly after graduating, he landed a job with the University of Oklahoma.
His works consist of resin, thread and dye and have been described as bearing a close resemblance to floating jellyfish, a description he agrees is adequate.
And that's just the feeling he's hoping to evoke in his audience. Though he found Mainsite's space to be a challenging place to display his work, he was pleased with the way the sculptures were finally organized.
"I kind of wanted to go for that kind of feel in the space, like these little weird creatures out of their element hovering above us," Mackie said. "I felt like I was really able to capture that feeling of weightlessness. I was really happy with the way they came out."
Though creating the sculpture is no easy task, a great deal of his time is devoted to pondering his ideas and jotting down notes and sketches. The result is at times nothing short of a pleasant surprise.
"A lot of times, the making will inform the ideas," Mackie said. "I might have an idea of it one way, but then it changes. … That's what's so cool about it. You don't know what you might come up with. It might be 10 times better than what you started with."
This process has allowed him to cope with his initial fear of failure, a notion he didn't wrestle with too much working with sound and audio installations.
He describes fear as "a double-edged sword" because it "helps you find new things and go in new directions and push yourself."
His work is a clear representation of an artist who has pushed himself to refine his work through his creative process, standing as an earnest demonstration of his attempt "to capture strength in the delicate."
Visit mainsitecontemporaryart.com.