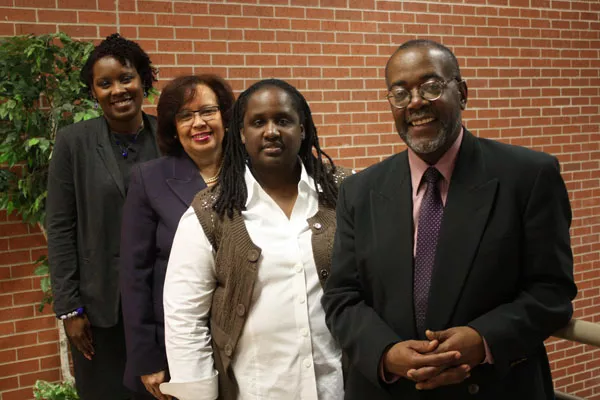 It appears Oklahoma is on the right track for combating infant mortality, according to a statewide statistic released last year by the Center for Disease Control and Prevention (CDC).
In August, CDC researchers announced the state's infant mortality rate in 2013 was 6.73 infant deaths per 1,000 live births, a 15-percent reduction from the 2005 rate of 7.95 infant deaths per 1,000 live births.
However, there is more to consider when discussing infant mortality, said Kelli McNeal, who oversees infant mortality improvement efforts at the Oklahoma City-County Health Department (OCCHD).
"There is something we don't talk about," McNeal said. "While the infant mortality trend is moving downward, it is not equitable."
Closer data analysis shows African-American babies in central Oklahoma are more than twice as likely to die before their first birthdays than white babies, highlighting the need to focus on the racial disparities that exist in health outcomes.
About a year ago — to get people talking about the racial disparities — the local health department held the 2015 Infant Mortality Summit: An African-American Perspective. The event attracted Rev. James Dorn of Mt. Triumph Baptist Church in northeast Oklahoma City.
"Like many, I was not aware how serious the problem was," Dorn said. "After hearing that many times, it is preventable, I thought, 'Wow. What's the issue?' I agreed to come on board."
The summit discussion led some attendees to create a task force dedicated to reducing Oklahoma County's African-American infant mortality rates. The 61-member task force immediately began studying data and researching successful practices in comparable communities.
"It is a great group of people from across the community who have come together to address the issue," said Dorn, who performs an executive role in the task force. "We see it as a multifaceted issue with discussions on economics, poverty, access to health and education. There are a number of factors that contribute to those high numbers that we see with the African-American population in infant mortality."
Infant mortality
Infant mortality is defined as the death of an infant before it reaches 1 year of age. The cause of death can be anything, including congenital anomalies, prematurity and Sudden Infant Death Syndrome (SIDS).
According to OCCHD, Oklahoma County's infant mortality rate was 7 infant deaths per 1,000 births in 2014. The African-American rate was 11.4, almost twice the Caucasian rate of 6.5 and higher than the American Indian rate of 7.6. The infant mortality rate, at 5.9, was lowest among the Hispanic population.
Factors such as tobacco use, obesity, fertility issues, poverty, environment, barriers to health care and access to needed services significantly affect infant health. Health officials say the mortality rate is a key measure in determining the overall health and well-being of a community.
Task force
To make an impact, the task force focused on understanding the local health system and barriers facing women and infants. Additionally, the group looked beyond the first year of infant life or the nine months of pregnancy for a mother. It identified that the mother's life span also plays an important role in birth outcomes and infant health.
The task force also tackled social issues, such as the taboo of discussing infant deaths. It wanted to inspire community conversations to prioritize women's health, whether or not women are pregnant.
In late March, a year after the initial summit, the group released its strategic plan, Reducing Infant Mortality in the African American Community. The three-part plan examined health care access, health disparities and community and faith engagement. Each component includes recommendations to bring about change, such as creating a public education campaign for local programs and resources, facilitating mobile health clinics, developing a fatherhood initiative, supporting urban renewal in Northeast Oklahoma City and empowering women with more social capital.
"It encompasses the entire community," McNeal said. "We have not missed any sectors, from health care to providers and moms to community leaders. … It's very comprehensive, but it had to be if we are going to deal with this problem. We are talking about a paradigm shift in the way we think and talk."
The Infant Mortality Alliance is working to implement the plan through three committees that correspond to its components. Karen Jacobs, a 38-year employee with the Oklahoma Department of Human Services, leads the community and faith engagement committee.
As a pastor's wife, Jacobs recognized the opportunity to connect with faith communities by establishing the First Ladies Network. The wives of senior pastors, commonly referred to as "first ladies," would build a network to teach the women in their congregations about available health, education and resources in their communities. Additionally, the plan calls for implementing Safe Sleep Sunday. Unsafe sleep environments often are linked to infant deaths. Churches would become a means for raising awareness and help identify safe sleeping environments for infants. The information benefits a variety of people — grandparents, siblings and caregivers — who play roles in an infant's life.
"We've got to change the culture and the practices," Jacobs said. "We've got to get the community to understand these deaths are preventable."
Kamisha Busby chairs the health care committee and Twyler Earl chairs the health disparities committee.
McNeal said the alliance will face challenges and results will take time. However, with statistics indicating that at least two central Oklahoma families experience the death of their babies each week, the alliance's motivation is strong.
"We are talking about babies' lives," McNeal said. "There isn't anybody [who] can't get behind that. … If we can save one life, that's worth all the work to get there."
Print Headline: Taking action, Disturbed by statistics of infant mortality rates in African-American populations, the community establishes a plan to combat troubling trends.