Garett Fisbeck
Victoria Kemp poses for a photo at Florence's Restaurant, Wednesday, July 26, 2017.
From its longtime storefront at 1437 NE 23rd St., Florence's Restaurant surveys the district it pioneered.
When the hearty soul food eatery opened its doors on 23rd Street after moving from its NE Fourth Street location in 1969, it was the one of the first businesses on the block.
"I remember that when she moved here, there wasn't anything here," said Victoria Kemp, owner and general manager of Florence's alongside her mother, Florence Jones. "Church's Chicken [across the street] was a lumber yard; there was really no commerce around, not like you see now."
Florence's stood the test of time with over 60 years of service to the metro. In recent years, Kemp said she has seen a shift from east-side customers to diners from all ends of the metro and beyond.
"You know, this has been an amazing transformation," she said. "She was a staple on the east side and most people knew about her. I can't even really pinpoint when it happened, but the diversity in our clientele really is amazing. And I know it's going to become even more diverse, especially as they start to build the renaissance of northeast 23rd Street."
With new renovations underway, Florence's continues to improve after over a half-century of serving up classic dishes on the metro's east side.
Best-kept secret
Florence's cultivated a following of loyal eaters through years of word-of-mouth praise, including rapper Kanye West, whose photo with Jones is featured on the restaurant's Facebook page. From chicken-fried steak to yam-fried chicken, the food is something to talk about.
"When you grow up the way she grew up, which was on a rural farm with nothing — my grandparents were sharecroppers — you don't think that you're ever going to be on the cover of The Oklahoman or in the Gazette or on television; you just don't," Kemp said. "She just doesn't understand it really, I think, on some level. Intellectually, she does, but she just can't believe that her life has become this and that she's honestly gained the celebrity that she has, because you can't take her anywhere."
Florence has been the driving force behind the eatery since she opened it, Kemp said.
"Well, she's my mother, and she'd already been in business a long time before I was even born, so I'm sure the day we came home from the hospital, she stopped here," she said.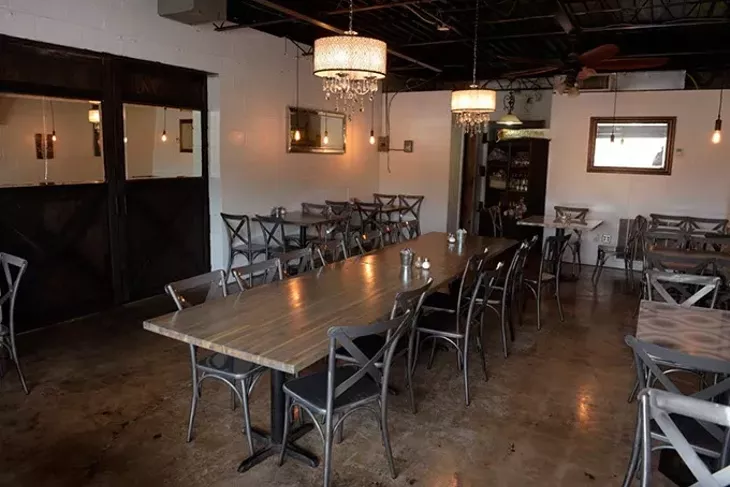 Garett Fisbeck
Florence's Restaurant remodel, Wednesday, July 26, 2017.
Coming home
Kemp had no plans to join her mother in business when she was younger, she said. Kemp relocated to Dallas and worked there, but she would call her mother every day.
"She'd say, 'I'm working here at the restaurant. I have to go; you know, my waiter isn't here yet,' so she'd just be hustling it out, cooking, running back and waiting tables until the waiter got here," he said. "Then her language just started to change; she started to say, 'I need help.' And not, you know, 'I need help — come,' but of course I picked up on that. I just started to visit more."
On a weekend visit to her mother, Kemp and Jones got a call from a family member about a child who needed somewhere safe to live.
"To make a long story short, I raised my hand," Kemp said. "She was 10 years old, so I had to stay someplace Monday through Friday so she could go to school. My mother was here. She was trying to run this business, she was trying to take care of my grandfather, and so I decided to put her in school here. I'd stay here Monday through Friday, I'd get up at 5:00 a.m., I'd get on my computer, do my Dallas work … and I'd show up in Dallas when I needed to, then I'd come to the restaurant and work all day.
"When she got out of school on Friday, I'd pick her up and we'd head to Dallas for the weekend. The drive got old, my grandfather got older, the business increased and I just came for the weekend and never left. That's the story."
Garett Fisbeck
Various menu items at Florence's Restaurant in Oklahoma City, Thursday, March 3, 2016.
Updated classic
The restaurant's recent renovation includes an expanded seating area and walls displaying local artists' work on what will be a rotating basis. Updates don't stop with new seating, though.
"This is phase one, because the first thing I really needed was more real estate up here, because our lunch became so overwhelming," Kemp said. "And the next thing really is that we need a bigger kitchen, because the kitchen is tiny. We're all over each other; it's amazing that we're able to crank out what we're able to crank out."
Aside from some cosmetic changes, Kemp said the eatery hasn't changed much since her mother opened it. The recipes have been adapted in small ways and new dishes were added to the menu over the years, but it's the same favorites that keep regulars coming back.
"Most of it really does remind me of my grandmother's on Sunday," she said. "I really love the pot roast — probably if I had to say my absolute favorite thing, it is the gravy that goes on the chicken-fried steak. … We do yeast rolls, and that also reminds me of Sundays at her house, because she would make yeast rolls and we would just walk around and eat them cold. We loved them."
She came back to the city eight years ago, and she has since adapted to life at Florence's and on the east side of the metro.
"I have just now figured out that, 'OK, I'm not going to get to go back,'" she said. "My mother is too old now, I'm too ingrained in not only this restaurant, but the east side. I love it. You can't pay me to live anywhere else."
With 60 years of stellar food and additional seating under its belt, Florence's Restaurant isn't going anywhere. The modern restaurant has grown carefully from the perseverance of Florence herself all those years ago.
"I tell her that she built this business on her back," Kemp said. "She opened the doors and she worked in it, and if she didn't come to work, the restaurant couldn't open. … My mother just always, she has an incredible work ethic. "
Print headline: Hearty soul, After more than six decades, Florence's Restaurant keeps drawing in new diners to northeast Oklahoma City.