The Red Cup's gluten-free biscuit and gravy is topped with plant-based sausage and vegetable gravy. | Photo Jacob Threadgill
The loyal customers that made The Red Cup an Oklahoma City mainstay since its 1995 opening have watched chef Patrick Clark grow up before their eyes.
Just as Clark, 25, who began working in the kitchen at age 15, matured over the years, the menu has changed with him. About six years ago, The Red Cup stopped serving meat specials because a vegetarian employee made quality veggie-based meals.
Clark went full vegan at the beginning of this year in his personal life and revamped the menu in accordance with those values. Everything on the menu is vegetarian and is nearly 100 percent vegan besides the appearance of an egg or two and some cheese, which can be substituted for plant-based options.
Cattle country vegetarian
When The Red Cup went vegetarian in the last decade, Clark said, it was one of the first options of its kind in Oklahoma City.
"This is cattle country, so there really hasn't been a lot going on with vegetarian food here," he said. "We've had a few places that have tried and failed, but a long-term community has helped Red Cup stay open."
Clark was born in California but raised in Oklahoma City. He started working in the kitchen while in high school and attended vocational culinary school while working at the restaurant. Original owner Kurt Orth allowed him to buy into Red Cup and become co-owner at age 20.
"I kind of made the chef position there just out of want," Clark said. "We were just a sandwich shop for a while. When I first got there, we were scratch kitchen, but there was a lot of microwave reheating. I finally convinced them to get a range after about five years."
Customer conversations
During his growth at the restaurant, Clark said he has leaned on a group of regular customers to help cultivate the current menu. A loyal contingent has been willing to taste the hits and misses, all the while enjoying a relaxing and eclectic aesthetic in the restaurant.
They've sipped a variety of organic coffee and espresso drinks while helping Clark spread his proverbial vegetarian wings.
The Red Cup serves breakfast and lunch from the time it opens until its kitchen closes at 2:30 p.m. Clark said the breakfast burrito began as the most popular new item on the menu, but it has been replaced by the veggie burger, which features a patty comprised of 100 percent vegetables — no bread or nut binders. Burgers come topped with local sharp cheddar but can be ordered vegan with house-fermented cashew cheese.
The veggie blend serves as the basis for the burger, sausage and chorizo, which are all spiced slightly differently.
The transition of installing a new menu went fairly smooth, Clark said, but he did hear feedback after unveiling a gluten-free biscuit and gravy earlier this year.
"There were people that were used to the old biscuits and gravy, and they really weren't 'here for it.' It was chock full of flour and fat," Clark said. "There were way too many people eating it every day that I started to feel bad about it. I thought, 'I don't want this to kill people.'"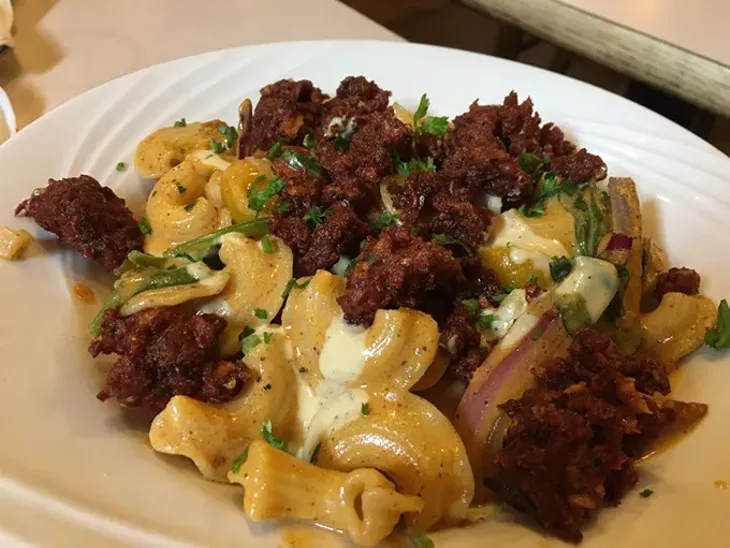 The chorizo mac and cheese at The Red Cup is a memorable vegan replacment to a comfort food classic. | Photo Jacob Threadgill
Critical eye
The biscuit is made using gluten-free flour topped with plant-based sausage, an egg cooked to order and 100 percent vegetable gravy.
For those searching for a buttery, flaky biscuit, the gluten-free version won't scratch that itch, but it does serve as a good vehicle for the sausage, which achieves crispy perfection about which a lot of meat-based options would be jealous. The gravy is thick without sitting in your gut and denotes a nice complement of sage and thyme.
The chorizo mac and cheese is a dish that earns a special place in my food memory bank. While the cashew cheese-based sauce doesn't really bring the gooeyness of a traditional béchamel cheese sauce, it does have the smoky notes of paprika and hint of pepper spice that I want in mac and cheese.
The cresti de gallo (Italian for rooster's crest) pasta, which is sourced by Oklahoma's Della Terra Pasta, is cooked perfectly with an al dente bite that was finished in the sauce. For me, a dish like mac and cheese needs an acidic contrast to balance out the heavy flavors, and The Red Cup achieves this with sliced cherry tomatoes.
As in the biscuits and gravy, the chorizo is a crunchy complement without adding extra grease. Purple onions and fresh greens add color and nutrients that round out the dish.
Add in the fact that The Red Cup serves apricot iced tea and it earns extra points for providing a flavored but also unsweetened beverage, which can be hard to find. If I ever write a memoir, the title might be "Confessions of an unsweet tea drinker south of the Mason-Dixon Line."
As a relatively new resident to Oklahoma City, I was pleased to discover what many of you already consider an institution. The ample patio and art-covered walls provide a good place to relax and unwind. Under trees, it's almost easy to forget you're right next to Classen Boulevard.
The loyalty of regular customers allows Clark and The Red Cup to continue to experiment with its menu and provide OKC with an option of vegetarian food.
"It's more diehard fans than people that are drawn just for vegan food," Clark said of the regular clientele.
But The Red Cup has found its niche selling popular drinks and vegetarian food that doubles as comfort food.
"We're not going for health food," Clark said. "It sure is a hell of a lot healthier than eating the real thing."
Print headline: Veggie embrace; After revamping the menu earlier this year, The Red Cup continues its legacy as an OKC haven for vegetarians.