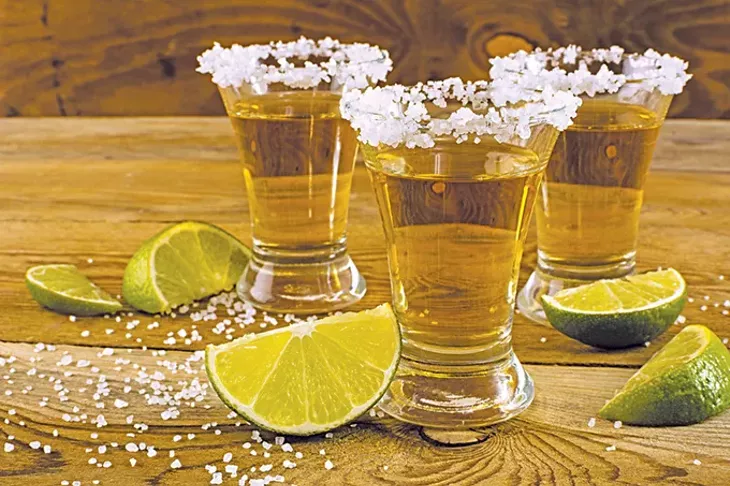 As we're gearing up to celebrate Oklahoma Gazette's OKC Margarita Week, it only makes sense to begin a discussion by taking a look at the drink's main ingredient: tequila.
Much like how true champagne can only come from the Champagne region of France, Mexican laws dictate that tequila must be made with at least 50 percent blue agave from the state of Jalisco, and a few limited regions in four other states.
Tequila is split into two categories: 100 percent blue agave and tequila mixito. Of the 100 percent blue agave group, there are four varieties: silver (unaged), reposado (aged between two months and less than a year), añjeo (aged one to three years in oak barrels), and the rare extra añjeo (aged longer than three years and created in 2006).
Many popular brands like Jose Cuervo Gold meet the bare minimum 51 percent blue agave to classify as tequila, and the rest is usually filled with cane sugar-based rum, which is responsible for nasty hangovers.
If a distilled spirit is made outside the designated areas in Mexico or uses an agave plant other than agave tequilana, then it is considered mescal, which is responsible for the apocryphal notion that tequila bottles have worms.
It's actually a marketing gimmick used by tequila's cousin, mescal, and it's not actually a worm, but rather a moth larve called a gusano de maguey. In the 1950s, former art student Jacobo Lozano Páez added the gusano to a finished bottle of mescal in attempt to differentiate from tequila in the U.S. market, according to Anthony Dias Blue's The Complete Book of Spirits.
Mescal has made a comeback in the U.S. market in the last decade, which has seen its profile rise alongside celebrity-owned tequila brands and small-batch, artisan distilleries.
"Mescal has been a trend, but it's been more on the bar side than retail," said Michael Berry, manager at Grand Cru Wine & Spirits, 9275 N. May Ave. "Sammy Hagar is the OG of celebrity tequilas."
Hagar's Cabo Wabo has been joined by the likes of George Clooney's Casamigos, which the actor sold for $1 billion in 2017, and Código 1530, which boasts country music legend George Strait as an investor.
Both Berry and Stan Stack, owner of Beau's Wine Bin & Spirit Shoppe, 2810 W. Country Club Drive, said that Sauza Tequila is among the top-selling brands in Oklahoma City but Patrón and Don Julio are contenders at a higher price point.
While cheap tequila is associated with lime wedges and salt needed to cut the harshness of a tequila shot, Stack said that shouldn't be the case for 100 percent blue agave tequila.
"All you need to do is chill and sip the nice ones," Stack said. "I've got tequilas in excess of $100, and I order [bottles] for people during Christmastime that are upwards of $400. Twenty-four years ago, if they told me they had a $400 bottle of tequila, I would've said, 'Good.'"
While tequila must be produced in Mexico, it is possible to support Oklahoma in search of the perfect margarita. Viejo Cancun is a 100 percent blue agave and organic tequila that is owned by an Oklahoman, and it's available at 13 retail locations in the city and nine restaurant bars. It is also distributed to Oregon.
For making your own margarita, Stack recommends forgoing triple sec.
"The perfect margarita uses Grand Marnier or Cointreau," Stack said. "We've made it a different deal with triple sec to make it more inexpensive for club drinkers."
OKC Margarita Week
The inaugural
Oklahoma Gazette
OKC Margarita Week runs May 6-12 at 15 participating locations, each concocting its own special margarita for the occasion. El Jimador is the official tequila sponsor of OKC Margarita Week.
Readers have a chance to win gift cards to participating locations each day of Margarita Week by participating in a social media photo contest. Take a picture of your margarita while checking into the location on either Facebook, Instagram or Twitter while tagging @okgazette with the hashtags #OKCMargaritaWeek and #OKCFoodWeek for a chance to win.


Cooking with tequila
As with most spirits, the best way to achieve its flavor after the liquor has burned off is through a marinade. Pork tenderloin is one of the best cuts to use with a marinade because its lower amount of fat means it is easy to dry out. A marinade alleviates those concerns.
I'm sharing a recipe that my dad consistently made for our family growing up, and I've made it many times over the years as an adult.
2 limes
1/2 cup tequila
1/4-1/2 cup of chopped cilantro
3 cloves garlic
2 teaspoons salt
1 teaspoon cracked pepper
1 sliced jalapeño (take out the seeds and membrane for less heat)
1/2 teaspoon cumin
1/2 cup vegetable oil
1-pound pork tenderloin
Mix the first eight ingredients together and pour them over tenderloin in a plastic bag and let it marinate eight hours or overnight. Bake it in the center of the oven at 350 degrees Fahrenheit for about an hour or until the internal temperature reads 145 degrees. You can also grill on medium heat about 10 minutes per side.