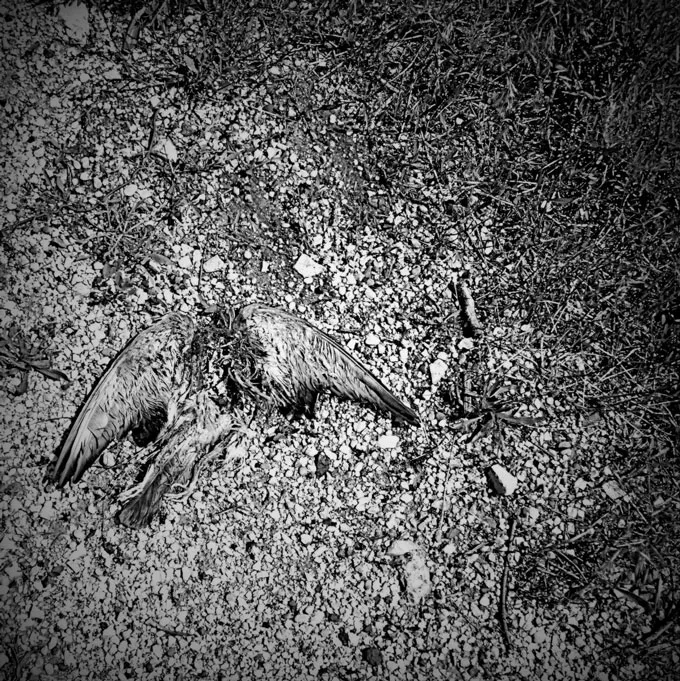 Certain aspects of s?n ?a??'s music suggest impenetrability, even if that wasn't her intention.
There's the name, of course, though the alternate spelling, Sun Riah, appears to be a viable substitute. There's also the fact that M. Bailey Stephenson's fragile, heartbreaking songs are primarily performed with a harp, an instrument previously stamped as antiquated until contemporary folk artists like Joanna Newsom and CocoRosie unearthed it. Add in the fact that the Oklahoma City songwriter's lyrics are longingly self-denigrating and you have what would almost certainly be discarded as "pretentious" or "mood music."
All of which makes ..., the Musical a remarkably brave endeavor. By exhibiting herself in such a vulnerable state, with art so personal and unorthodox, Stephenson courageously opens herself up to a potentially damaging degree of criticism. Yet the prospect of striking an emotional connection to her music does exist, depending on how one approaches it.
As is the case with most music this ambitious, ..., the Musical is likely to draw its fair share of detractors. But this is modest music without any sense of grandiosity — almost to a fault. Stephenson's own description on her Bandcamp site is as apt as any: "recorded in a bedroom with a shitty mic, a tired and worn harp, a broken ukulele, and a lot of love and sadness."
Coupled with the album's six-song, 28-minute runtime, Stephenson's coy recording methods make for what is tantamount to a glorified demo. Its songs are rough around the edges, devoid of professional polish, and it won't be mistaken for anything other than a bedroom recording. But these are intimate and lonesome songs, and the album's secluded undercurrent fits like a comfortably worn mitt.
While still blossoming as a songwriter, whatever compositional growing pains Stephenson endures are made up for with her refined, often poetic lyricism. On "For Dorian," for instance, she demonstrates a rarified maturity that few of her Oklahoma peers can boast: "A fragile kitten I couldn't protect, a precious life I couldn't accept/Between life-givers and life-takers, where do I fit?"
Aesthetically, ..., the Musical exists somewhere within Grouper's reverb-drenched emotional wasteland or Jenny Hval's creaky, jarring brand of psych-folk, as Stephenson utilizes loops, nature sounds and effects pedals to harbor an atmosphere ripe for her somber melody. In the album's finest moments ("For Dorian," the "For Simps" suite) her songs unfold gradually but purposefully and cleverly all the same. Such highs (or lows, depending on how you look at it) aren't routinely met, but when they are, Stephenson attains an affecting emotional apex.
Much like Newsom's early unofficial recordings, s?n ?a??'s debut is far from fully realized, but it's nonetheless a supremely poignant glimpse of songwriting potential. Stephenson clearly has studied some of the most engaging artists in the psychedelic/freak-folk scene; it's now a matter of discovering her own creative voice. ..., the Musical shows she has the artistic wherewithal to play to her strengths — which, coincidentally, are her weaknesses in her nonartistic life — but where she goes next could be even more exciting to follow.