Alexa Ace
51st Street Speakeasy recently added Anthem Brewing Company beers on tap.
Oklahoma City has a rich and thriving live music scene, and a wide variety of venues have found success supporting the diversity of the city's music fans. Some of OKC's coolest venues have bars that reflect this uniqueness, too. Want someplace smoke-filled, small or sort of divey? Or how about an arena setting where the concerts are big and loud and the drinks are unexpectedly elevated? Maybe you would prefer a hip Film Row location with smart, chic drinks that millennials will love. Whatever your tastes, Oklahoma City has the perfect venue and bar for you — we just picked a few standouts.
51st Street Speakeasy
1114 NW 51st St.
51stspeakeasy.com | 405-463-0470
51st Street Speakeasy is a gathering spot for artists, comedians, trivia teams and bands from all around, along with their multitudes of fans. Music acts range from hip-hop to rock and experimental. The space itself offers several different areas for patrons to enjoy. If you need a break from the music in the main room, you can slip outside, go upstairs or find another nook to take a break, making Speakeasy one of the city's most chill hangouts.
It makes sense that the bar offerings would be just as varied as the talent and clientele. At the Speakeasy, you can get classic cocktails, pints, shots and the house-made fireball that locals love. Since the beginning of this year, local craft brewery Anthem Brewing Company has sponsored the Speakeasy stage, so local beers are now on offer. Greg Bustamante, who has helped run the Speakeasy for about 11 years, also teased that Anthem has several new beers in the works.
Chesapeake Energy Arena
100 W. Reno Ave.
chesapeakearena.com | 405-602-8700
Chesapeake Energy Arena provides entertainment on a grand scale with food and drink to match. The staff has made a particular effort to avoid arena clichés and elevate everything that's offered in its restaurants. Both Budweiser Brew House and Jack Daniel's Old No. 7 Club feature cocktail menus developed by bartender Anna Royse-Billings. She said she conceptualized for six months and was given free rein to play.
A drink called Thunder Punch from Old No. 7 is popular even when the Thunder are not playing. It's made with Cruzan Aged Light Rum, Malibu Coconut Rum, blue curaçao, peach sour and orange and cranberry juice. Another favorite is the frozen Jack & Coke, which Royse-Billings likened to a spiked Icee. At Budweiser Brew House, the dirty margarita and Thunder Storm reign supreme. The Thunder Storm is similar to a Dark 'n' Stormy, which features three rums, mango puree, pineapple juice, grenadine and blue curaçao.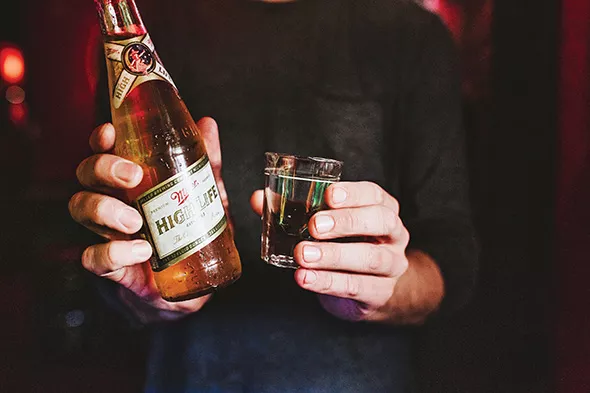 Alexa Ace
The HiLo Happy Meal consists of a Miller High Life and a shot of peppermint schnapps.
HiLo Club
1221 NW 50th St.
facebook.com/hiloclubokc | 405-843-1722
HiLo has been slinging drinks to Oklahomans since 1956 and prides itself on a familial and supportive atmosphere. The bar nearly faced extinction in late 2017 when it was slated for demolition to make way for a Braum's Ice Cream and Dairy Store. Thankfully, it was saved in January 2018 after community protests, and HiLo has lived on as one of Oklahoma City's most beloved dive bars. Local and national talent perform weekly on an intimate, unique stage lit with string lights while cocktails and regional beers are offered close by.
Bartender and booking agent Houston Gandy named the HiLo Happy Meal as one of the club's signatures. It is a Miller High Life and a shot of peppermint Schnapps sold for $3.50. Another popular mainstay is the Holy Diver, a cocktail that gets its name from a Ronnie James Dio song.
"It's a whole lot of fruit juice, rum, coconut rum and 151 rum," Gandy said. "And it's exquisite."
Those fruit juices include orange, cranberry and pineapple. For those who want to steer clear of fruits, HiLo's beers are all under $5 and the well cocktails for $4.50 are generously poured.


The Jones Assembly
901 W. Sheridan Ave.
thejonesassembly.com | 405-212-2378
The Jones Assembly is one of OKC's hippest music venues and features a full-service restaurant and multiple bar areas. Whether guests are sitting under the glittering lights of the main bar, enjoying the upstairs mezzanine bar or hanging on the patio bar, they can enjoy some of the coolest drinks in the city. The Disco Nap, made with El Jimador tequila, Cointreau, lime, sage syrup and blackberry, is The Jones' popular take on a margarita. It's a vibrant purple drink garnished with sage leaves and a blackberry.
Guests can also go for something colder and try the Frosé, which is a frozen cocktail made with Marqués de Cáceres rosé, Gordon's Gin, lemon juice and strawberry. Music fans can also look forward to the return of the Jones Squeeze, its version of an adult Capri Sun, by the time Jenny Lewis plays on April 4.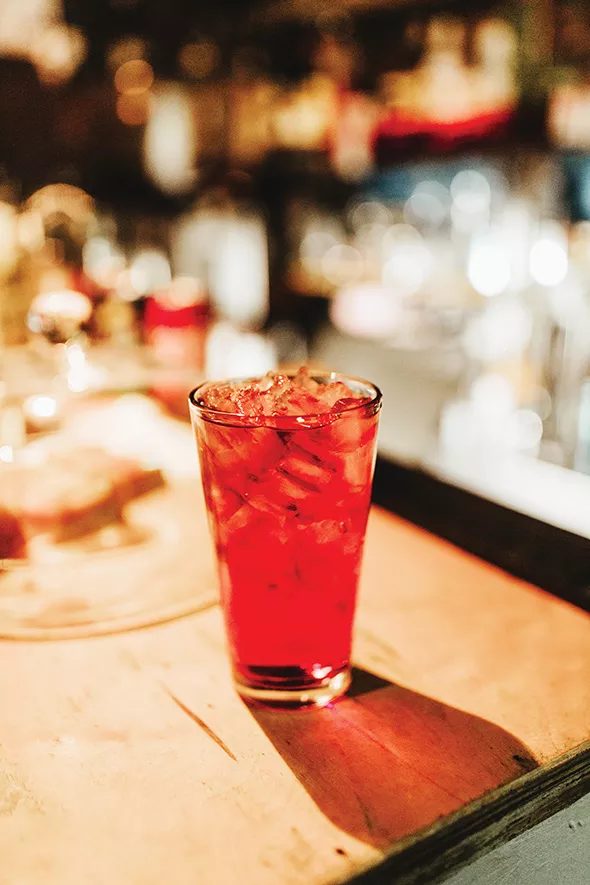 Opolis
113 N. Crawford Ave., Norman
opolis.org | 405-230-0311
Live music fans have long flocked to Opolis in Norman to enjoy a range of touring and local acts, pack into the cozy space and line up eagerly to get drinks at the small bar. The venue's signature drink is a punch that is mixed for each show from a recipe by co-owner Marian Nunez. It usually starts with an apple juice and vodka base. Additional ingredients range from fresh ginger to tea and other juices.
"Like, right now we have Pineapple Dream," Nunez said, "which is apple juice, pineapple, mint, vanilla and vodka. I try to keep it just juice and booze."
Since the establishment has become known for its vegan- and vegetarian-friendly food options, it's not a surprise that Nunez's punch utilizes as many fresh, natural and organic products as possible with no sugar added. Opolis also offers its take on a Greyhound called the X-Hound, which is a tequila, grapefruit juice and X-RATED liqueur cocktail. It also offers a vegan bloody mary.