provided
St. Patty's Block Party is 3 p.m.-midnight Saturday in Bricktown.
The landscape of Bricktown might look different than it did when Jim Brewer began buying vacant buildings on the eastern side of downtown Oklahoma City, but the spirit remains the same.
This year, Bricktown hosts its 30th annual block party on St. Patrick's Day and dedicates the festivities to district pioneer Jim D. Brewer, who died in November 2008.
Jim Brewer, who has been called "the father of Bricktown" was a lifetime resident of south Oklahoma City, and what is known as Bricktown today would not have been without his vision for the district.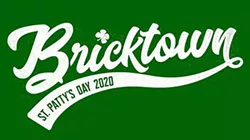 Jim Brewer had a number of businesses before venturing into downtown real estate development, including Jim Dandy's Transmissions and four nightclubs in the 1970s. He tried his hand in the oil business, but when there was a downturn in the 1980s, he moved into real estate development.
His businesses have been carried on by his two sons, Brent and Brett. Brent Brewer, 50, was coming of age as Bricktown was being birthed.
"He got out of the oil business and invested some of his earnings into some old buildings in Bricktown. They were all foreclosed on. There was nothing going on; transients, no lights, that sort of thing," Brent Brewer said. "He basically helped develop Bricktown, and me and my brother Brett — he's 43 — have kind of worked with him all of our lives and are trying to continue his legacy in what we're doing."
Now, the Brewers own a number of Bricktown properties, including Bricktown Events Center and a number of nightclub, restaurant and bar buildings as well as area parking lots. But decades ago, the area was a ghost town.
provided
The Brewers' St. Patrick's Day Block Party was started 30 years ago.
"Spaghetti Warehouse came in, and they were basically the only business at the time, and he started the Bricktown Haunted Warehouse and was trying to get some other restaurants and bars to come into Bricktown but wasn't having too much success," Brent Brewer said. "He'd been in the nightclub business before, so he wanted to open an Irish pub called O'Brien's. The plan was to open O'Brien's, and we were going to do it on March 17th. The St. Patrick's Day parade coordinator got in touch with us, and so we had meetings with them and they decided to bring the parade that they were already doing to Bricktown, so we coincided the opening of O'Brien's with the St. Patrick Day Parade and then we developed the Bricktown St. Patrick's Day Block Party, which we did out front in the parking lot on March 17th, 1990. Basically, we've been doing it every year. O'Brien's lasted for seven years."Though the pub is gone, Bricktown St. Patrick's Day Block Party has continued on. The first one drew about 500 people to the area, but they routinely see between 8,000 and 10,000 visitors a year now.
"Every year is just a huge celebration. Everybody wants to be Irish for that day or that weekend. We do it on the Saturday before St. Patrick's Day if it's not on a Saturday," Brent Brewer said.
Admission is free, and the event, which is family- and pet-friendly, runs 3 p.m.-midnight March 14 at 123 S. Oklahoma Ave.
This year's event is dedicated to the legacy of Jim D. Brewer.
"He was a great father. Always an entrepreneur, a risk taker," Brent Brewer said.