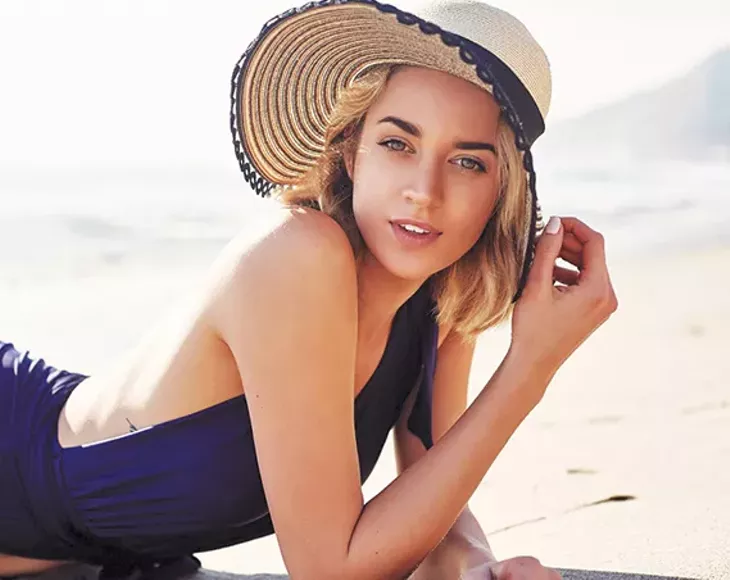 Photo Bissy Swim / provided
Sports Illustrated model and Oklahoma native Allie Ayers launches her body-positive swimwear line, Bissy Swim, this month.
Bissy Swim founder Allie Ayers was beginning to think her modeling career was never going to take off. Tall and lean with hazel eyes, long dark lashes, olive skin and a body many women would all but kill for, Ayers, who grew up in Snyder, has brains, beauty and confidence, but because her build included a slightly higher percentage of body fat than most models, she was considered too big for mainstream modeling and too small for plus-size modeling. The industry didn't know what to do with her.
Well, most of the industry didn't.
Sports Illustrated (SI) knew what to do with 24-year-old Ayers. As frustrated as she was with her career this time last year, that feeling turned upside down the day SI called and asked if she was interested in modeling for the 2018 Sports Illustrated Swimsuit issue. Many happy dances later, Ayers came back to Earth and realized the opportunity gave her some real personal validation. The magazine didn't care that she wore a size 6 or was considered by many modeling agencies to be wrong for the industry. She was just right for the swimsuit edition, and after the issue was published in February, few argued.
Now, Ayers is bound to be associated with swimwear. Her first collection from Bissy Swim, her swimwear line, launches this month.
In the past, Ayers spent a lot of time and money looking for just the right swimwear for her tropical lifestyle.
"I think it's really hard to find high-waisted bottoms that don't look like diapers," Ayers said in a recent Oklahoma Gazette interview. "I wanted something that was a really high-cut leg that was sexy. I really was searching high and low for those bottoms."
So she said something nearly everyone has said at some point: "I bet I could make it myself."
Ayers bought a sewing machine and learned to sew. Making swimwear gave her a Zen-like calm. She would sit at her machine, zone out completely and, a few hours later, end up with a swimsuit. Soon, she was getting compliments on her handmade suits and people were asking to buy them.
The last swimsuit she made by hand was at the request of her friend Cheyenne Darling, who was preparing for the Miss Oklahoma USA pageant. During the December 2017 pageant, Darling wore one of Ayer's suits and won the tiara for 2018. That was when Ayers decided to approach a factory to produce her line of suits. She called it Bissy, a nod to herself when she was little and couldn't pronounce Elizabeth, her middle name.
Her SI experience gave her the platform and recognition to boost Bissy. Her first collection launches at noon on Saturday.
"It's definitely a retro-inspired line, but I wanted to make sure it still looks clean and modern," Ayers said. "The inspiration for the entire line is drawn from my small-town upbringing. It's raw; it feels like the middle of America. There's nothing too pretentious about it."
Ethan Gulley / Bissy Swim / provided
Bissy Swim offers swimwear in size 0 through 26.
Body image
Ayers ensures that the styles she creates are flattering to a wide range of body types. Bissy offers sizes 0 through 26 and her team has tweaked each size to be as flattering as possible since different women need support in different areas. That mission comes from personal experience.
Ayers graduated with 41 kids at Snyder High School and was an avid high school athlete, playing volleyball and basketball. She had considered modeling, but living a tiny town life, she didn't see that as a real option. During basketball season, Ayers entered the Miss Oklahoma Teen USA competition, where she was scouted by former Mrs. Oklahoma Heather Rouba of Oklahoma City-based Brink Model Management LLC. Ayers told Rouba that she was too busy with school and sports to take up modeling but they'd talk again later. After high school graduation, Ayers enrolled at Southwestern Oklahoma State University and began modeling for Brink.
Though Ayers was naturally long and lean and in great physical health from all the sports-related exercise, the slim and healthy young woman was considered a plus-size model by the skewed standards of the modeling industry.
"That's something I hadn't had to worry about ever before — my weight — as a lean person. So it was a conflicting feeling," Ayers said.
But she enjoyed modeling, and it satisfied that part of her that, since childhood, had longed to perform and be the center of attention.
"I needed to be in front of people; I needed to perform," she said.
The constant struggle of a thin girl trying to lose weight began to weigh heavily on Ayers. She decided to take a break for her own well-being. Modeling had turned into something she resented and led to a really dark time in her life.
"It was really a negative thing that I let happen to my life," she said.
She took a couple years off to focus on school and regain her self-worth.
"When I finally stepped back into modeling, it was at the size I'm at now, like a size 6, which is too big for modeling. So when I went back into it, it was as a plus-size model," she said. "Honestly, I didn't care. When I took that break, I was in such a bad place. During those two years, I got my degree and I found things that I value about myself that have nothing to do with my weight or appearance."
She still wasn't getting much modeling work in New York City, but Ayers had other interests and a dynamic career at a computer coding school that had her travelling back and forth from Bali and Mexico.
"I was always in a bikini. … When Sports Illustrated found me, it really opened everything up. It was a validating moment," Ayers said. "Because I am exactly at my version of healthy, and they wanted me for one of the biggest publications in the nation."
For the SI shoot, Ayers said the models had a hand in choosing their swimwear and "control over [their] image" and "it was a completely empowering experience."
Ayers said the best part of her experience has been turning a dark time in her life into an opportunity to find herself and achieve success on her own terms. When women wear Bissy, Ayers said she hopes they see the suits as a symbol that they are choosing to love all of themselves just as they are.
"I really learned to choose to love the body parts that I didn't feel were worthy of love. I practice that daily. I choose that every day: 'I'm going to love you whether I want to or not,'" she said. "I hope that through this, I'm an empowering force to women — that I help women of all sizes to find pieces that make them feel like the best versions of themselves."
Visit bissyswim.com.