Garett Fisbeck
Romy Owens and Adam Lanman talk about "Outnumbered", an art show they will be participating in, Tuesday, Aug. 16, 2016.
When local artist Jack Fowler journeys beyond his social circle, he is reminded that his opinions sometimes clash with what is often considered a majority view.
It is a reality he knows many of his art friends share, so Fowler, a self-described political progressive, curated and organized an all-star art exhibit as a platform to voice the frustrations that come with advancing social conversations beyond fear, hate, bigotry and left-right dogmas.
Outnumbered debuts 6 p.m. Sept. 2 at The Paseo Plunge, 3010 Paseo St., during Paseo Arts District's First Friday Gallery Art Walk. Artists Romy Owens, Adam Lanman, Ebony Iman Dallas, Hugh Meade and Don Rosencrans join Fowler in sharing how overwhelming Oklahoma lawmaking and conservatism can feel for those on the other side of the political spectrum.
Outnumbered was partly fueled by Fowler's desire to work with artists he hadn't before, but the inspiration arose from a conversation he had with a stranger. Fowler said he was shocked by the man's blatantly sexist and violent statements.
"I was like, 'You know, you couldn't talk to a stranger that way in my neighborhood,'" Fowler said.
Misogynists and racists clearly do not represent most self-identifying conservatives, but Fowler said he thinks the rise of boisterous Republican presidential nominee Donald Trump amplifies the voices of people who do harbor those beliefs, especially in Oklahoma.
"I thought, 'We're a really small percentage of where we live in this state,'" he said. "I think the city has become big enough now that I can forget that. Everyone I know now is Adam, Romy and people I know that share a view of the world that I do."
Lanman and Owens joined Fowler to discuss the project during a recent Oklahoma Gazette interview. Lanman said the state legislature's actions regularly cause him to wonder exactly whom lawmakers truly represent.
"It perpetuates this idea in me of, 'What am I doing here? What is going on? Who are these people?'" he said. "And yet everyone who I socialize with — everyone who I see on a regular basis, the people I work with — don't hold these views."
Fowler said state, national and occasional international press coverage of Oklahoma's state Capitol battles is personally embarrassing.
"Everything that comes out of that building is an Onion article, and it's never because it's too liberal," he said. "It's not like we're passing flaky San Francisco laws."
Both artists agreed conservative lawmakers often promote and defend policies that clearly contrast the biblical principles many of them also claim to champion.
"Oklahoma is this supposedly family-friendly, family-first, God-fearing place," Lanman said. "And yet those aren't the values that are being passed through legislation and those aren't the values that I see coming across. It's not kids first; it's kids last — dead last."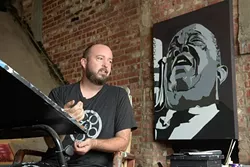 Garett Fisbeck
Local artist Jack Fowler, seen here in his Film Row studio, curated the Outnumbered exhibition to rebel against Oklahoma's conservative majority.
Perpetuating pessimism?
Other
Outnumbered
artists, like Owens, believe many liberals are discouraged from voicing their opinions or being politically active because they are routinely fed a public and media narrative that tells them their opinions are meaningless.
A 2015 Oklahoma State Election Board voter registration report shows 886,153 registered Republicans in the state, 882,686 Democrats and 261,429 independents. Republicans comprise nearly 44 percent of Oklahoma's registered voters, and Democrats comprise 43 percent.
Oklahoma, the homeland of fascist-defying folk musician Woody Guthrie, has early progressive roots. Registered Democrats outnumbered Republicans as recently as 2014.
"We continue to perpetuate this idea that we're outnumbered," Owens said. "We keep saying, 'My vote doesn't matter.' It's just that the red [Republican] people are louder."
Fowler said the Democratic party's platform has shifted dramatically from where it was generations ago. He believes many of the state's voters register as Democrats because their family always has.
Oklahoma's presidential voting history shows where the state leans socially, Fowler said. The state last elected a Democratic candidate in 1964.
Owens said while the political gap might not be as wide as some make it out to be, a lack of tangible returns in the form of approved political policy can be frustrating.
"The sentiment I totally get, because it is scary that we live in an America that is this divided," she said. "I think Oklahoma is very representative of many states."
Striking back
Fowler and the rest of the
Outnumbered
artists know art can be a powerful tool to push back against what they view as misguided policy.
"I look at it as a fight," Fowler said. "It's us against them, and if they want to try and produce the culture, then I'm going to produce it back. That's how I look at it, as a boxing match."
If political discourse is a boxing match, then progressive contenders have been rabbit punched while on the ropes.
"I think we're losing, and that's why I'm in the show," Lanman said. "I think the policies that are in place in Oklahoma are some of the most backward in the country — flat-out."
Fowler said he is happy artists are sharing their perspectives and experiences through the exhibition.
"If we were all doing the same thing, it would be more like a meeting of accountants or something," he said. "I'm just excited to see what everyone does."
Editor's note: Jack Fowler is an Oklahoma Gazette contributing reporter.
Print headline: Toe-to-toe, An all-star roster of local artists strike back against a perceived political majority.