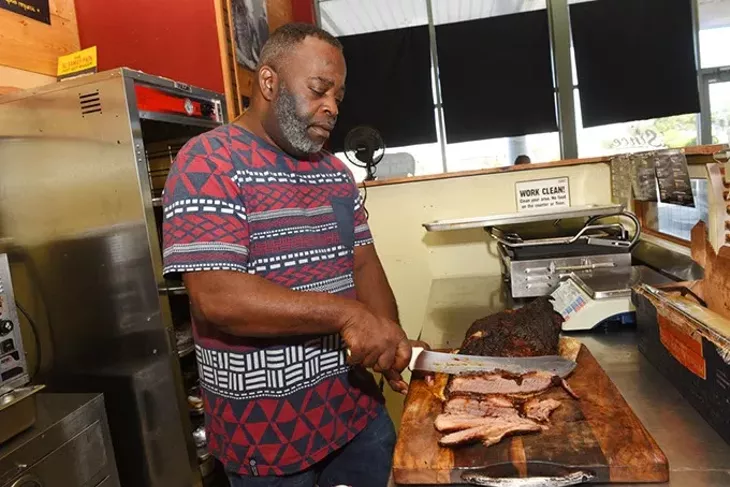 Garett Fisbeck
Marvin Preston slices brisket at Dickey's BBQ in Oklahoma City, Thursday, July 21, 2016.
Marvin Preston was about 22 years old when he opened his first restaurant.
His father owned a barbecue restaurant when Preston was growing up, and when Preston was old enough to strike out on his own, he did.
"I opened one and it did well, so I opened another," he said. "But I was too young to know what I had."
He left the restaurant business behind and sold cars. He sold medical supplies. He toiled his way into management positions and sustained himself with decades of hard work. So when Preston told his friends and colleagues he was leaving to own and operate a barbecue restaurant, he got some funny looks.
At some point, he said, a man can't live his life just to make more money; he has to do something he loves, something that makes him happy.
That's how the 50-year-old ended up at Dickey's Barbecue Pit, 2800 NW 63rd St., Suite 500.
Breaking chains
While considering where to open his restaurant, Preston discovered a franchise location in trouble. Dickey's Barbecue Pit is a massive, Texas-based, national chain with more than 500 locations, but the establishment at French Market shopping center was struggling.
"My business partner and I went in Undercover Boss style," he said.
The pair wanted to find out why the location wasn't earning money, so for weeks they often ate lunch and dinner there as they examined processes and how employees and customers interacted.
"They were reheating stuff," Preston said. "They would carry it over three or four days before tossing it out."
Changing the food wouldn't be difficult, he said, but winning back customers who had sub-par experiences would be more challenging.
His way
"I try to follow [Dickey's] protocol, but I smoke the meat my way," he said.
The franchise's name might be on the sign, but Preston said the restaurant is his. When they took over the store in November, he began blending Dickey's products with his own.
"I own this store. This is how I want to do it," he said.
That means his sole smoking wood is hickory and he uses the same smoker his father used in his restaurant 30 years ago. The technology to make great barbecue might have added bells and whistles over the last few decades, but all Preston needs is good wood, top-quality meat and patience.
"Any fruit wood is good, but there's something about that hickory smell," he said.
All the meats are marinated for 24 hours before they see the heat.
"Brisket and pork are slow-smoked for 13 hours at 225 degrees," he said. "The ribs take three and a half hours at 250 degrees."
The results are tender meats with a deep, sweet and smoky aroma suffused in every bite.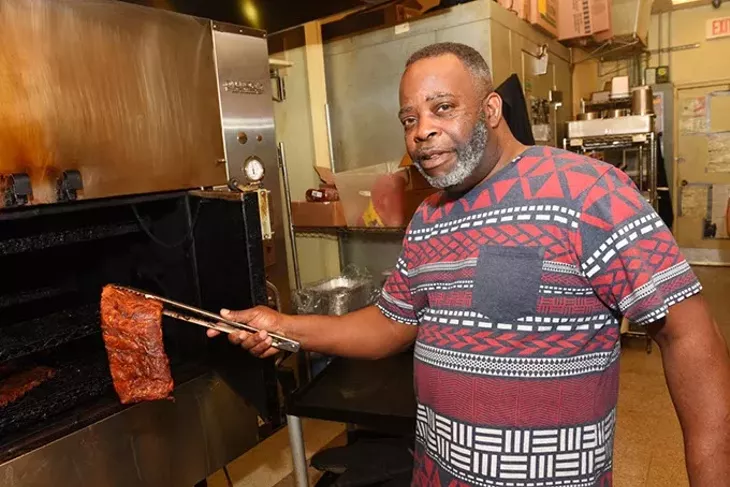 Garett Fisbeck
Marvin Preston pulls ribs out of the smoker at Dickey's Barbecue Pit, a franchise he took over after nearly three decades out of the restaurant business.
Family affair
Meat might be the main draw for a barbecue joint, but Preston knows the way to lock in a customer is with great sides and desserts.
His favorite combination is a two-meat plate with ribs and brisket, a serving of his wife's baked beans, baked potato casserole and pickles and onions on the side.
For dessert, he turns to his mother-in-law, who makes pies and banana pudding.
"My mother-in-law makes a world-famous banana pudding," he said. "We sell a ton of it."
It has quickly turned into a winning combination, Preston said, with sales up 75 percent over the previous owner's and a growing number of customer testimonials.
However, the real proof of success is in repeat business.
Preston said he sees the same guests returning time and again, and he keeps introducing them to different dishes and sides to keep them from getting burned out on one dish.
In addition to the usual pork and beef barbecue, Dickey's serves smoked turkey — a mild meat that really soaks up the flavor of the smoke — and a chicken that Preston calls "out of this world."
"We have great baked potatoes loaded with meat," he said. "Even our salads are great. The chicken Caesar salad sells well."
Corporate cooperation
Though he goes his own way on some recipes, Preston does appreciate the support Dickey's provides with new products.
"They've added tacos and sliders," he said. "There are a bunch of different delivery systems to get barbecue to your mouth."
It's fun to watch customers order a big batch of barbecue tacos and do "the hunch," Preston said. It's gratifying to see people who love the food so much they can't wait to take the next bite.
Preston is already working on opening up a new restaurant in Yukon, though he said it won't be another franchise.
At 22, he might not have known what he had, but these days, he's happy to spend his time cooking food people love.
Learn more at dickeys.com.
Print headline: Barbecue rescue, Almost 30 years after leaving the restaurant business, Marvin Preston finds new life on the grill.