Alexa Ace
The Merret carries 15 varieties of champagne, in addition to cava, prosecco and domestic sparkling wines.
The first champagne-centered bar in the Oklahoma City metro area is out to dispel preconceived notions about the drink's history and what it means to drink champagne.
Located in Nichols Hills Plaza, The Merret, 6464 Avondale Drive, opened in November 2018 to a positive reception as fast as a cork flying off a champagne bottle.
"Our grand opening was supposed to be from 6 to 9 p.m. and it went until 2 a.m.," said co-owner Brooke Jones. "We were sabering, when you open a bottle with a big knife, and people hadn't seen that sort of thing."
With a chic and plush décor that owners Jones, Derrick and Dustin Dodd describe as a mixture of Los Angeles and Miami, The Merret wants to be the place where people of (drinking) ages can have fun and get educated in the nuances of bubbly, whether it's champagne from France, prosecco from Italy, cava from Spain or a domestic variety.
"When it's going, you can feel the energy," said Dustin Dodd. "We've got bottles popping every 10 minutes or so."
The education process starts with its name, an homage to Christopher Merret, who is credited with making the bubbly drink we know today in the 17th century.
"The origin of champagne is not as everyone thinks, Dom Perignon," Jones said. "It was an English gentleman, not French. Christopher Merret was an English scientist who put sugar in the last fermentation process of wine. So we gave him merit through The Merret."
Before Merret's addition, bubbles in wine were viewed as a fault. In fact, Perignon, a Benedictine monk, actively worked to rid wine of the now-signature bubbles before Merret created the sparkling process.
The Merret offers monthly "breaking down the bubbles" classes with Adam Rott, a wine specialist with Boardwalk Distribution. The first class is Wednesday. Rott helps guide guests through the different regions and tastes of sparkling wine.
"I knew that I liked dry, but I didn't know what to look for," Jones said. "Now I know to ask for the dosage of the champagne. If it's under 8 [grams of sugar], I'm going to like it. If they say 45, I'm probably not going to like it because it's too sweet."
Extra brut is champagne or sparkling wine with less than six grams of sugar per liter. Brut is 6-15, extra sec is 12-20, sec is 17-35, demi-sec is 35-50 and doux is anything over 50.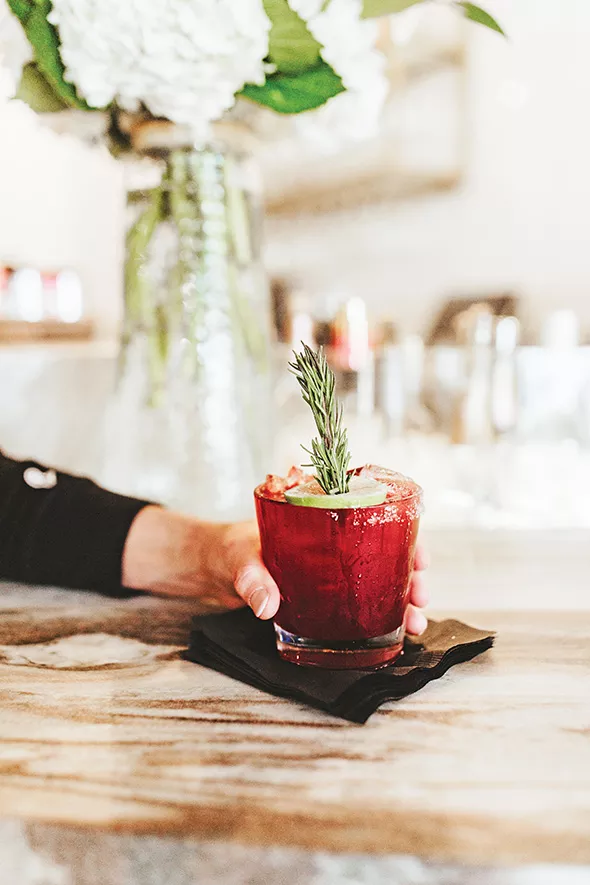 Alexa Ace
The Merret offers seasonal craft cocktails, including one champagne cocktail.
Jones moved to Oklahoma City from Kansas City, Missouri, about four years ago and runs a digital photography development studio in addition to being executive director of Oklahoma Chiropractors' Association.
"There is nothing like this in the area," Jones said. "[Champagne bars are] popping up everywhere, and I travel for work and go to them, but they're a little more pretentious and make people uncomfortable because champagne is intimidating. We wanted to teach people and really learn the differences, not to be afraid of it."
On weekends, The Merret often brings in DJs Friday and Saturday nights, and music is a big part of its atmosphere. Although space is limited — about 900 square feet on the inside with an additional patio on the front — they want people to have fun.
"Our advantage is that we have good music, great craft cocktails and a great menu of champagne so you can sit here and dance in your chair," Derrick Dodd said. "All three of us love going out and having a good time, but we don't want to go to a club. We want good music and good drinks; good music is hard to find in the city. We wanted to make the kind of place we wanted to go."
The Merret also offers bottomless mimosas from noon to 3 p.m. with a build-your-own-option featuring fresh fruit and other mixers for $19. Though there isn't room for a kitchen on-site, it offers hummus and pita and pear and goat cheese crostini, spinach and artichoke dip and a margarita flatbread, and every guest receives complimentary popcorn to help soak up the alcohol. On Sundays starting this spring, they're going to pair with food trucks for additional food service.
Champagne offerings range from Drappier ($17 per glass, $115 per bottle) to Armand de Brignac Gold Brut ($610). Domestic sparkling wines range from Chanson ($12, $46) to J Vineyards Rose ($20, $82) and prosecco is $11-$15 per glass.
The Merret also offers a selection of other wines and seasonal craft cocktails. It recently added a new Frosé (frozen rosé) machine, accompanied by pink straws emblazoned with The Merret's name.
A hit among customers is the Chambong, a combination champagne flute and beer bong that allows them to drink the wine in one take.
"We've been using the 'blame it on the bong' hashtag," Jones said. "I saw them out in L.A. and I thought it would be fun. I got four or five but then had to get 50 for the grand opening. We've had spouses come in midday and get two Chambongs. It's a big pull for people to come in."
During the week, Jones said the clientele tends to be people who live in the area, but on weekends it has become so popular that they need security because it is one in and one out. She said The Merret draws everyone, from people celebrating 21st birthday parties to regulars in their 80s.
"At first, they might seem standoffish because maybe they're a little different, but by the end of the night, they're Chambonging together," she said. "It's a celebratory place, so you can't be mad or sad in here. You can't be sad when you're popping a bottle."
The Merret is the champagne sponsor for the upcoming Hangover Brunch April 7 in the Farmer's Market District, where guests get to sample food and drink from more than 15 vendors.
Visit themerret.com.