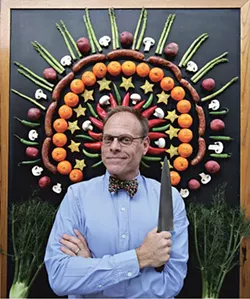 Alton Brown is an entertainer. Don't get him wrong.
Known for his television shows Good Eats, Iron Chef America and Cutthroat Kitchen, Brown's personality and style, crafted around the idea of self-reliance in food as in life, have made his work a staple of food-related programming.
But his start didn't come from food. He is, first and foremost, a filmmaker. Early on, he functioned as a cinematographer for several music videos, including "The One I Love" by R.E.M. It was only after realizing he wanted to apply film to food that he attended culinary school.
This variety of experience has gone a long way in helping his work thrive, and now he's adding another element to his kitchen.
Alton Brown Live! a two-hour hodgepodge of comedy, culinary experiments, multimedia lecture, antics and music, comes to Civic Center Music Hall, 201 N. Walker Ave., on Thursday. The event is for nearly all ages, 5-100, Brown said, and is built for family entertainment in the same way Good Eats was crafted for smart family consumption.
The show features plenty of quirks and opportunities for audience participation. A social media effort, ABRoadEats, is running on Facebook and Twitter and offers fans a chance to direct Brown to their favorite local eateries.
Oklahoma Gazette spoke with Brown about his tour, his concept of self-reliance and his favorite stops so far.
Regarding the television trend of edutainment (education + entertainment), I'd say you are to food what Neil deGrasse Tyson is to cosmology. Comment?
Well first and foremost, don't misunderstand; I was a cinematographer and then a commercial director. I'm an entertainer and filmmaker; it's just that I like my form of entertainment to involve the discovery of educational things. After entertainment, I want to be useful. I went to culinary school specifically because I wanted to make sure [my work] was about food. I want to write recipes that are successful. I want to teach people how to make their food better. We live in an age where it's difficult to control your physical surroundings but knowing how the eggs cook can actually make better eggs.
Good Eats and Cutthroat Kitchen seem to focus on knowing the roots of a process and cultivating self-reliance. Is that important to you?
It's interesting that you connect those two. Self-reliance is gigantic to me. The reason I like Cutthroat Kitchen is it's basically about people betting on their own self-reliance. Not many people get that. But that's exactly what it is. I often say I learn as much watching people on Cutthroat Kitchen than I ever did on Good Eats. You're watching people who are experts in something figure out and work their way through problems, which I find very satisfying.
Is that what makes your work so appealing?
I don't know that what I specifically do has a pervasive appeal. I think food as a subject has a very strong appeal because I think that it's universal. I often say food is the switchboard of culture. We're all plugged into it and it gives us identity, becomes a huge communication point, particularly now, in social media. I think that keeps us constantly interested in food and food issues.
Speaking of being plugged in, your live show invites the audience to participate. Any good helpers so far?
Almost all of my favorite moments [with the show] involve volunteers. I pick two during the night to come up and help me with some very large, very unusual culinary demonstrations, and some nights, you get the absolute best people. They're funny and playful; they kind of take over the show. The last time I had that happen was in Butte, Montana, and one of my volunteers was so hilarious, I practically fell on the floor and laughed for half an hour. She was so great. People think they're plants because they're so good, but they're not. We just pick regular folks. It's pretty wonderful.
For anyone traveling the open road, what are some of your favorite spots so far that have trickled through ABRoadEats?
We find stuff in every city that we like. I'm not going to say I like every single restaurant but the ABRoadEats program has generated [good spots]. Every bite I eat on the road comes from those places, which my waistline shows, I might add, but I apparently like it very much. Sometimes you discover places you would never find, not in a hundred years. And those are usually the ones I like the best: Fong's Pizza in Des Moines, Iowa; Espresso to Go Go in Wichita, Kansas; Fish Shack in Pompano Beach, Florida — all places that are far enough off the beaten track I wouldn't have tracked them down otherwise.
Print headline: Dinner TV, Alton Brown brings his flair for food entertainment to the live stage.