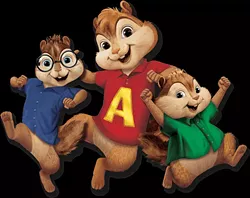 Along with Bing Crosby and Brenda Lee, one other group signals the beginning of the Christmas season: The Chipmunks.
Just in time for Christmas, the world's most famous chipmunk trio stops in Oklahoma City for a wild ride, and tickets are now on sale.
Alvin and the Chipmunks: Live on Stage! will hit cities nationwide for 80 shows, kicking off Oct. 5 in Toronto and arriving in Oklahoma City on Friday.
"The Chipmunks arrived on the scene way back in 1958 with the now-classic 'Christmas Don't be Late,'" said Josh Blackburn, a member of the show's creative production team. "That was nearly 60 years ago, and the secret to their longevity is simple: Alvin and the Chipmunks started as just being a special treat that parents would share with their families every year."
That continued through the years, Blackburn said, and has evolved into radio specials, television shows and even movies, delighting each new generation.
Based on characters from the 1958 Christmas song, this new production comes to life as the Chipmunks perform tunes by One Direction, Maroon 5, Carly Rae Jepsen, Elvis Presley and others.
"We set out to make this show enjoyable for the whole family," Blackburn said. "There will be songs for all ages as well as a high level of production quality that parents will certainly enjoy. The audience will join in the fun during a snowstorm, pillow fight and food fight."
Blackburn said the show's team includes Tony Award-winning Lion King costume designer Michael Curry and the production team that won a Billboard Touring Creative Content Award for its show Yo Gabba Gabba.
Some of the songs the trio will perform include Joan Jett's "I Love Rock N' Roll" and the country line-dancing standard "Cotton-Eyed Joe."
The OKC show is at Cox Convention Center, 1 Myriad Gardens, and tickets are available now at alvinlive.com.
"Oklahoma City audiences can expect a live, interactive concert and theatrical event all in one," Blackburn said.
They can sing along and laugh at the chaos this furry trio causes on stage.