Mark Hancock
Via the Verge inside the Industrial Skatepark, just south of Downtown Oklahoma City, 1-18-16.
Between verses, vocalist Joseph Kelm let out wisps of hot air visible in the frigid air inside the large garage that houses Industrial Skate Park, 18 SW Sixth St.
It was the coldest show played by Via the Verge, an ambitious five-piece that hopes to bridge a gap between progressive rock and metalcore. With raw fingers and chilled faces, bandmates gathered outside the venue in good spirits, joking the gig would be a good memory several years down the road when they're riding across the country on their own, warm tour bus.
Despite the laughs, their dreams of climbing the music ladder couldn't be more sincere.
"We all have intentions to go as far as possible with our means," Kelm said. "We've already invested a lot of our time, a lot of our money to get to where we are now. We're really just putting all of our dice in to just get as far as it goes."
The band affectionately refers to fans as "Vergens." It recorded its self-titled debut EP in April and released the project with a full roster Oct. 20. Via the Verge is comprised of Kelm, guitarists Zack Arvieux and Hutton Weaver, bassist Charles Gafford and drummer Bill Boyd.
Via the Verge is a young act celebrating its first anniversary. Arvieux and Gafford first joined forces in a separate group that eventually fell apart. The two then used their connections to pull together the current lineup.
"It was like we all met through friends," Kelm said. "It all kind of formed together."
Their chemistry has been strong from day one, Kelm said. It's necessary that members to have natural chemistry because the biggest obstacle they currently face is their distance from each other.
Gafford is from Oklahoma City. Kelm and Weaver live in Tulsa. Boyd is based in Mustang. Being that spread out makes in-person practice time hard to come by, especially when each also has a day job. They meet once or twice a month at Downtown Music Box, 535 N. Ann Arbor Ave.
Weaver said they often develop songs on their own time and share files between bandmates to collaborate. They spend a lot of time working alone, he said, which adds an extra level of dedication.
Having scattered members can also make finding agreeable gig dates a challenge.
"We have to pick and choose because of our day jobs and stuff like that," Kelm said. "We've had to say no to some really big shows and say yes to some really small shows."
'Best shot'
The quintet hopes its sound helps revitalize a metalcore scene they say seems to have lost some local traction in recent years.
"We have our influences, and they're all a little different," Gafford said. "We throw it all into a bowl and mix it up and serve it."
Oklahoma's metalcore scene used to be about twice as large as it is now, Kelm estimated. Local music has shifted to an indie-rock, indie-folk focus at a time when metalcore is gaining listeners elsewhere.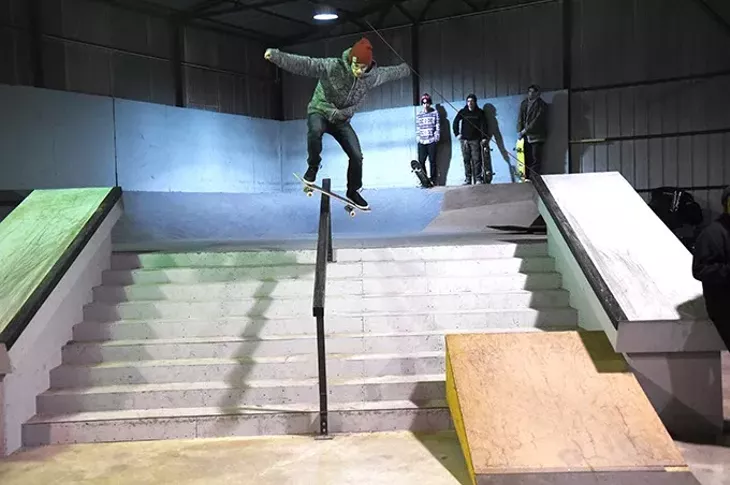 Mark Hancock
A skateboarder rides down a railing, inside the Industrial Skateboard Park, just south of Downtown Oklahoma City, 1-18-16.
"If you look across the United States, this music is rising in popularity, in the world even," he said. "In Australia, this scene is massive right now."
To help re-establish the genre here, the five men agreed promoters need to do a better job and fans should to try to make it out to more shows.
"There needs to be a transition from everything being based off social media to more face-to-face," Gafford said.
Via the Verge also finds creative ways to share its craft. In December, it released a refreshing post-punk cover of the popular Ellie Goulding song "On My Mind."
The act also recently shot a music video with Sam Link, director of Collapse Entertainment, set for release on Friday. Link has worked with artists like Sleeping With Sirens and Machine Gun Kelly.
Currently, Via the Verge is putting its energy into readying an April showcase gig for indie rock and metal music label Standby Records.
Arvieux said he is excited about what the show could mean for the band. He also said the group assembled now has a lot of promise.
"There's a ton of talent in this band, and if we don't pursue it, it'll totally be a waste," he said. "We have to make the best with what we have."
Print headline: Year-old Vergens, Via the Verge hopes to rebuild a scene as it forges its own future.