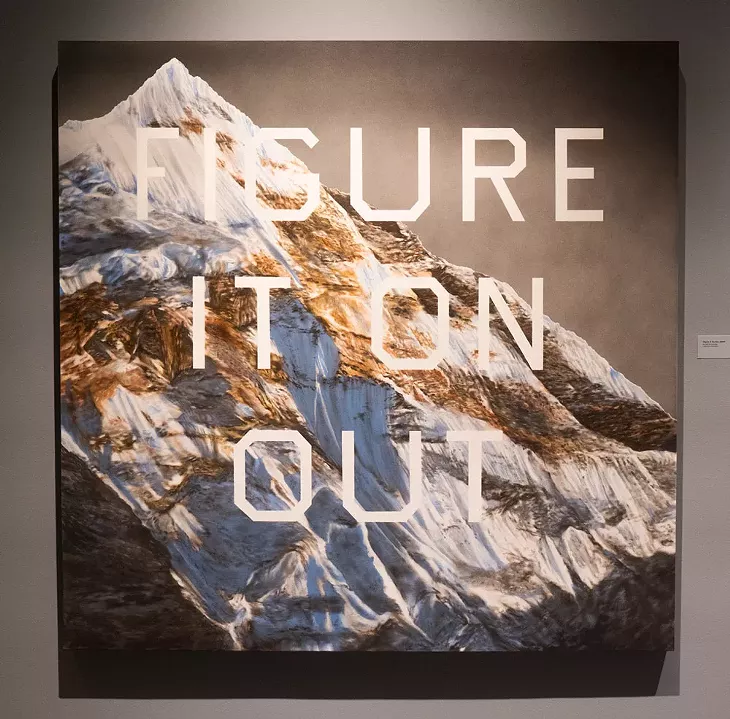 Phillip Danner
Ed Ruscha Exhibit closes July 5th.
Like nearly everything else on the planet, the opening of the new Oklahoma Contemporary building, 11 NW 11th St., was affected by the COVID-19 pandemic. But you couldn't tell it while paying a visit, with each floor of the building buzzing with sound and people endlessly entering and leaving the exhibits.
Access to the exhibits at Oklahoma Contemporary are always free. Visitors are granted admittance to the art center at 15-minute intervals during the day. Slots can be reserved online.
Pressing matters first: The Ed Ruscha: OKLA exhibit closes July 5.
Current Exhibitions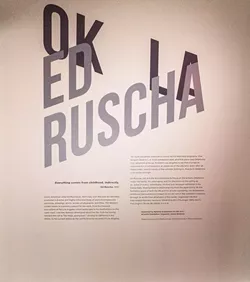 Ruscha, an American art legend, spent his formative years in Oklahoma City before moving to Los Angeles when he was 18. Oklahoma Contemporary's exhibit is the first to focus on his Oklahoma influence, from small sketches to a continuous loop of "Miracle," one of two films Ruscha made during his career. A variation of the "shaggy dog tale," "Miracle" follows the transformation of a mechanic's coveralls as he works on an old car.
There are five sections to Ed Ruscha: OKLA, including Pop Origins, which focuses on the American cultural influences on his work and 51% Angel, 49% Devil, in which Ruscha's Catholic upbringing is examined. The nearly 75 pieces of art span this entire career and multiple mediums.
Of particular interest is the "Chocolate Room" installation, which still holds faint notes of the cocoa in which it's covered.
Another exhibit not to sleep on during the last month and a half it's on display is We Believed in the Sun, a collaborative exhibit between Ron Tarver, an established artist, and Ebony Iman Dallas, an emerging Oklahoma artist whose work can be seen in several places locally, including a new mural on the western side of The Market at Eastpointe in northeast Oklahoma City.
The exhibit closes Aug. 9.
Crystal Z. Campbell's installation "Flight" is also on display until November. It examines the aftermath of the Tulsa Race Massacre in 1921.
Through the summer, the Friday night series allows visitors 21 and older to drink while attending an art workshop. The program will shift to Thursday nights late in the summer.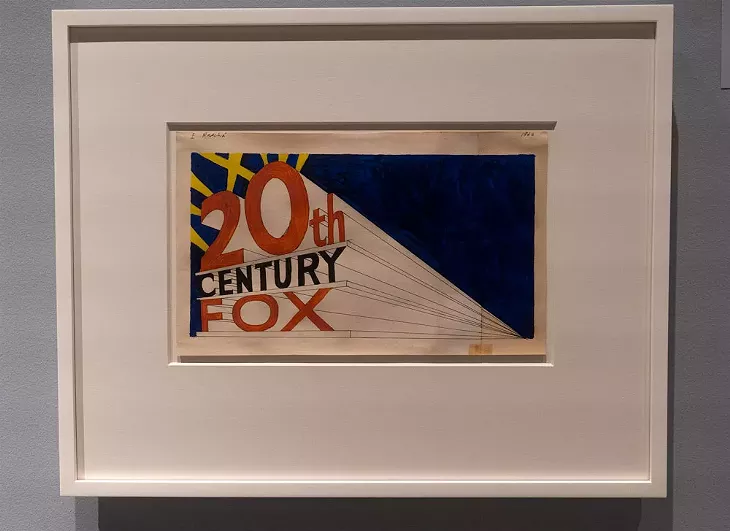 Summer School
For those who want ongoing education and not a one-off night at the center, Studio School sessions are in full swing this year. Individual registrations vary, but offerings range from learning to write a personal essay to a DJ class that is unparalleled in the nation.
"We actually have been doing studio school for some time and we have moved to the new building, though, and I think that's going to mark the change further for the community's understanding of who we are," Director of Education and Public Programs Jaime Thompson said.
"We were at the fairgrounds. And there we were known for our ceramic programs, as well as our fiber programs that we were offering to adults, we moved to this location, we did an extensive case study for the city and research into other museums that offer studio school programs and expanded the program quite a bit. We also really took a look at how we approached, or I should say, titling our programs, the length of our programs and how we can make them more compelling to the audience," she said.
Thompson worked for the Contemporary Arts Center in Cincinnati before coming to Oklahoma. She brings more than a decade of education and leadership experience in the art world with her.
"Understand that contemporary art and arts is for everyone. If you're part of the world that exists right now, you get contemporary art, because that's what it is. It's just a response to our world. So we just want to show people how accessible art making is. It's not making a Rembrandt or realistic painting. It can often be just learning how to paint while using your pet as your influence, or learning about fibers and doing one of those really cool wall hangings instead of buying it from Target," she said.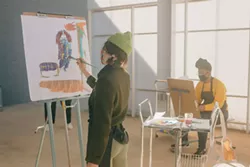 Tony Tee AKA Nymasis has been teaching kids how to DJ for years.
"It's been great to be a part of. These kids are attracted to DJing the same reason I am because I'm a big kid, and it's a great toy to play with," Tee said.
"They might like music more than any other thing. They might not be good at basketball, at soccer, at gaming, at anything that they know of so, you know, walking down the hall, they're just kind of head down and stuff but when they're DJ whatever their name is, their confidence boost that they get that we hear from their teachers, from their parents is really where it's at … They really can start doing DJing at a really young age. There's world [Disco Mix Club] champions that are 12, 13 years old at this point. Breakdancing has made it into the Olympics, so it's just a matter of time before DJing does too. But also, at the Olympics, there's DJs playing for the B-boy, so they kind of already are," he said.
Tee said his class is getting a big boost this year with a dream buy of equipment for kids to try their hand at spinning.
"They have several DJ schools around the country and there's only so much budget for these things, but this Oklahoma Contemporary is a different monster. It's a different type of donor situation, so the art production that they put on is up in the hundreds of thousands instead of like the tens of thousands that we might be accustomed to working with. So these great donors put together what I know as the biggest DJs school equipment buy in the country, which is, I believe, eight full stations," he said.
Oklahoma Contemporary's slate only gets more kinetic as the year wears on, with a street art exhibition called Abstract Remix and a video game exhibition entitled Open Worlds slated to open this autumn, Thompson said.
For more information about Oklahoma Contemporary's summer classes or tickets to view exhibits, visit oklahomacontemporary.org.