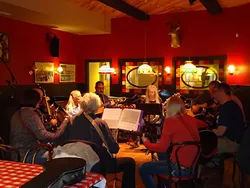 Bluegrass attracts passionate players, and because the number of venues and performance opportunities can be limited, American Banjo Museum is doing its part to bring the faithful together. The Bluegrass Open Jam Session 1-4 p.m. Saturday at the museum, 9 E. Sheridan Ave., will give Earl Scruggs acolytes a chance to give their plectrums a workout.
"There is a subculture in and around Oklahoma City of people who play bluegrass," said Johnny Baier, museum executive director. "They like to get together and do it for fun, and we give them a venue to do it."
Originally, the museum wanted to offer an open jam session for all banjo players, but after careful consideration, Baier said he realized he would be presiding over a sonic pileup.
"If you put bluegrass players together with old-time players and with jazz players, it's going to be a mess," he said. "Nobody would get anything out of it because they're completely different playing styles. It kind of articulates, if anything else, the different playing styles associated with the banjo."
The museum assigns a leader to preside over each jam, providing structure and direction for each song. Because the events often attract more than 25 banjoists per session, Baier said it helps if someone selects material and provides parameters to avoid a breakdown during "Foggy Mountain Breakdown."
"Jam sessions can get out of hand very, very quickly if it's a free-for-all," Baier said. "It's not a dictatorship; they all sit and talk about which songs they want to play and what key they're going to do them in and how many times they're going to play the verse and the chorus. So the leader sort of capsulizes all of that and says, 'OK; we're going to play 'Cripple Creek' in the key of G four times through,' and then they go."
Baier said the structure isn't just about maintaining order and execution — there's an educational component to keeping everyone together.
"It's really important that everyone, especially the newer players, are engaged and informed," he said. "With the veteran players, you could play the first two notes of a song and they'll be playing the third note with you — you don't have to tell them the song or the key or whatever. But for the younger, newer players it's very important that they aren't excluded, scratching their heads about what's the song, what's the key, et cetera."
The idea is to make the Bluegrass Open Jam Session as inclusive as possible. All players are invited, regardless of experience or skill.
"Let's face it; the jam session is for enthusiasts," he said. "Anybody who is there is there for the love of the music, and anybody who is there was a beginner at one time, as well."
The session typically attracts some guitarists and bass players who help round out the sound and keep the rhythm on track. Baier said the outcome of the session is subject to news, sports and weather. If there's a major game or a storm, what might have been a banjo orchestra can be reduced to a small combo. Regardless of size, it always heightens the experience for visitors.
"When casual visitors to the museum walk in, they experience a live music event that wouldn't be there on a normal day," Baier said.
Print headline: Take your pick, American Banjo Museum invites enthusiasts to its Open Bluegrass Jam Session.