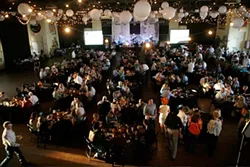 American Cancer Society / provided
American Cancer Society's 15th annual Cattle Baron's Ball is Friday.
Oklahoma City supporters might not realize they can make a local impact with the American Cancer Society since it is often seen strictly as a global organization used to raise money and awareness of cancer.
Each year at American Cancer Society's Cattle Baron's Ball, guests have the option of donating to a specific project.
This year's project registers close to home.
Those in attendance at the 7 p.m. Friday gala at The Criterion can contribute what is called a restricted gift to Hope Lodge, an upcoming project that will provide free housing for cancer patients traveling to OKC for treatments.
"The impact is something that we're very proud of. When someone donates to the American Cancer Society, they can do so in confidence, knowing the money given to us is going to go to life-saving research and local programs and services that support cancer patients and caregivers," said Lesa Foster, the executive director of community development for American Cancer Society's south region. "That can make an impact on any community."
Foster said 100 percent of the proceeds support the building, which is still in the financial planning stage. American Cancer Society's website lists 35 Hope Lodge locations across the country with an additional center in Puerto Rico.
In addition to Hope Lodge, Foster said American Cancer Society provides a transportation program in OKC to drive patients within a 50-mile radius to and from treatments. She said most people are unaware of the programs and services local patients can benefit from. The programs are used to take financial burdens off patients.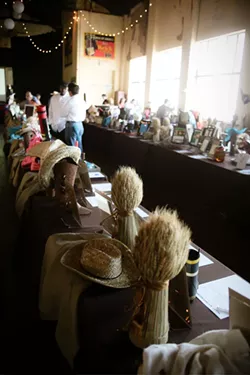 Frank Emge / American Cancer Society / provided
American Cancer Society's 15th annual Cattle Baron's Ball features a live and silent auction.
The event, which is celebrating its 15th year, isn't a typical suit-and-tie gala; instead, it has a Western theme of jeans and boots or skirts and boots for a more laid-back, casual feel.
"We refer to it as a party with a purpose," Foster said.
Foster said the night is a way to network for businesses or socialize with friends and family. The Miller Band will provide live country music, accompanied by a Taste of the Metro dinner that features local restaurants. When guests aren't dancing or eating, they can participate in a live or silent auction.
"What we do on the American Cancer Society depends on faithful donors, both big and small," Foster said. "That's one thing that has contributed to the longevity."
The gala has grown since 2002, when Janet Bates brought the concept from Houston.
"Every year, it gets a little bit bigger, a little bit better," Foster said.
She said a typical year at the Cattle Baron's Ball produces 400 to 500 guests and the goal is to raise at least $150,000.
Individual tickets are $250. A table of 8 costs $2,000 and one of 10 is $2,500.
"Money raised goes to support the overall mission of American Cancer Society, and that is to help fight back against cancer and celebrate and honor those who have been touched by cancer," Foster said. "Our goal is to be the organization leading the fight."
Visit cattlebaronsballokc.org.
Print headline: Funding Hope, American Cancer Society Cattle Baron's Ball returns for a 15th year.