Matthew Murphy / provided
Red Concepción plays The Engineer in Miss Saigon.
Miss Saigon
Jan. 14-19
Civic Center Music Hall
201 N. Walker Ave.
okcbroadway.com
405-594-8300
$27.16-$102.33
When Brandon Block first saw Miss Saigon, he was "taken aback by how much of a
spectacle it was." When he first performed onstage in the controversial Tony Award-winning musical, its most famous spectacular set piece almost knocked him down.
Presented by OKC Broadway, Miss Saigon runs Jan. 14-19 in Thelma Gaylord Performing Arts Theatre at Civic Center Music Hall, 201 N. Walker Ave. The nationally touring revival production of the musical features a 26-foot-tall, three-ton flying helicopter landing and taking off onstage in a recreation of the 1975 Fall of Saigon at the end of the Vietnam War.
"I really never get used to it," Block, who serves as the production's dance captain and swing, said. "You can feel the wind coming at you. … It's crazy how far technology in theater has evolved. Night after night, I look back at this thing and I'm in constant shock that there's a helicopter coming at me being pushed by no one. You can feel it. … You can see the lights. … It's just completely insane to me, still to this day. We've done 440 performances, and I look back, and I'm still in constant shock of what's happening."
While the helicopter's act two appearance is a potential showstopper, Block said the "very cinematic" effect does not detract from the musical's storyline, in which Kim (Emily Bautista), a 17-year-old Vietnamese orphan, watches helplessly from the ground as the helicopter carries away the American soldier who promised to take her with him.
"I really feel like the helicopter has its moment, and it happens and it's gone," Block said. "By the time the helicopter comes on stage, the actors have set up this entire world around the helicopter possibly landing. … By the time the helicopter lands, you're so taken aback by not only the scenic elements, but by the music that's being played and by the performance that the actors are giving. … In the rehearsal room where there's not a helicopter … I still was moved to tears because you see these people doing absolutely anything to try and get in because they're trying to start a life and also to save themselves."
Based on Giacomo Puccini's opera Madama Butterfly, composer Claude-Michel Schönberg and lyricist Alain Boublil's Miss Saigon is the tragic story of Kim's doomed relationship with U.S. solider Chris (Anthony Festa) after they meet in a nightclub and brothel called Dreamland. When Miss Saigon debuted on London's West End in 1989 and on Broadway in 1991, the musical was criticized for its casting — white British actor Jonathan Pryce originally played Dreamland's Eurasian overlord The Engineer — and its depiction of Asian culture. The current production, according to its press materials, features actors of Asian descent playing every Asian character, including Red Concepción, who plays The Engineer.
In July, Los Angeles Times critic Margaret Gray wrote that Miss Saigon has "gotten less culturally insensitive over its lifetime" but "still portrays the Vietnam War and its aftermath from an American point of view." In a 2017 interview with American Theatre's Diep Than, Qui Nguyen called the musical a "melodramatic white-savior fantasia claptrap."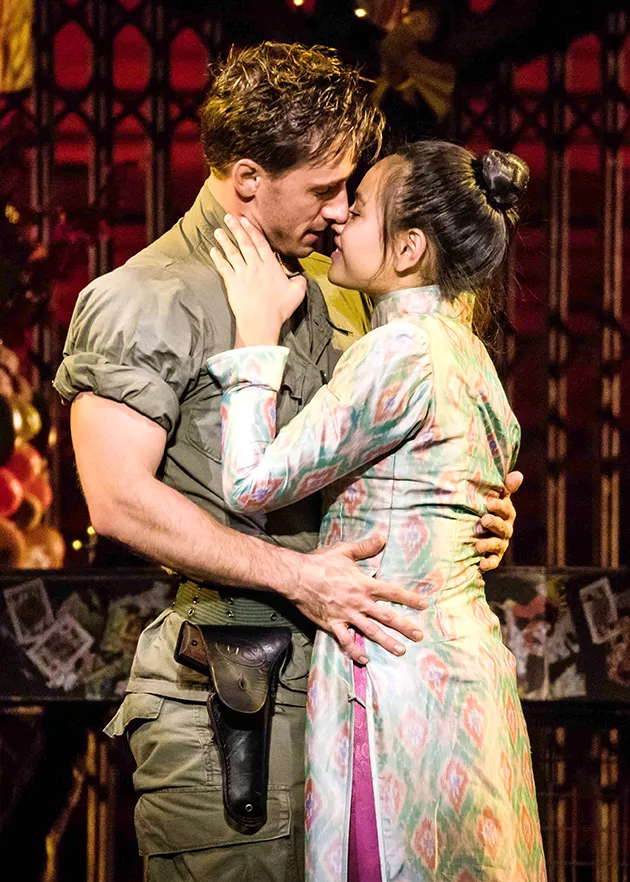 Matthew Murphy / provided
Emily Bautista plays Kim and Anthony Festa plays Chris in Miss Saigon.
Despite continued debates over the musical, Block said he thinks people need to know that people like Kim, who is left in the aftermath of the war to care for the child she conceived with Chris, really exist.
"I understand the controversy, but the problem is that we're telling a story that happened, a story that doesn't get told often, a story that can help, good or bad, shed light and understanding on what war does to you," Block said. "It's just a story that I still feel very much needs to be told today."
In order to help the cast understand the reality of the war, director Laurence Connor showed them films and had them write a final letter to a loved one from the perspective of their characters, Block said.
"We spent three full days of the rehearsal period doing nothing but watching war documentaries from both the American and the Vietnamese perspective," Block said. "[Connor] made us really dive in and do the research of what story we want to be telling and who we are in the world of Miss Saigon. … I actually ended up going to Vietnam on one of our layoffs. I went to Vietnam and Thailand just because I wanted to get more understanding. And I went to the War Remnants Museum, I saw the Hueys (military helicopters). I saw the propaganda. I saw the Vietnamese perspective. I spoke to Vietnamese people. It's hard — being in America, it's not something that we talked about often, and in schools, it's very short. Even my stepfather served in Vietnam, and it's something that he couldn't talk about to me. So I feel like that war in particular made me fully realize what war does to a country, both in Vietnam and also here. … To experience that eight shows a week, my understanding has grown so much."
Mr. Saigon
Block said the production — which features a 42-person cast and requires 10 trailers to transport it — is a "monster." As dance captain, Block, who graduated from University of Oklahoma in 2016, is responsible for teaching Bob Avian's choreography for the musical to its cast members, and as a swing, he has to know the parts of 21 cast members well enough to replace them at a moment's notice.
"We had the flu go through our company in one of the cities we were in, and we had 14 people out," Block said. "It's my job to figure out how I can give you guys the exact same show with the people I have. … It's not just learning as a dance captain from the movement perspective, but it's a lot of management because you're dealing with 42 personalities every day. It's a lot of front work because they're sending me the people that they cast, and I teach them the show from start to end."
Block said he has not been compared to the domineering Engineer, but his knowledge of the show has earned him a different nickname.
"When they give me new people, I sing the entire show by myself in a rehearsal hall," Block said. "It's me, a rehearsal pianist and whoever I'm putting in. I sing the entire show, all parts, from beginning to end. … It's so funny, people sometimes call me Mr. Saigon."
For all its glamor and spectacle, Block said, Miss Saigon depicts ugly truths about the realities of war, and though exploitation features heavily in the plot, the production takes steps to ensure the actors onstage do not feel taken advantage of.
"We stick a lot of young people enlisted in the army out in a new country, and it's a free-for-all; you don't know what's going to happen," Block said. "They're going out; they're trying to escape. They're trying to really shake off what's happening around them, and they're doing whatever they need to do that within their lives. I don't feel that we're trying to create any sort of unauthentic feeling from the audience, especially in Dreamland. A lot of is based in improv, and one thing that the audience doesn't know is that we have a very clear check-in system. The ladies are in control. … To be honest, we're a year and a half in, and I have not received a single complaint because we're talking. … We're existing in that world, but we're also checking in with each other."
Tickets are $27.16-$102.33. Call 405-594-8300 or visit okcbroadway.com.