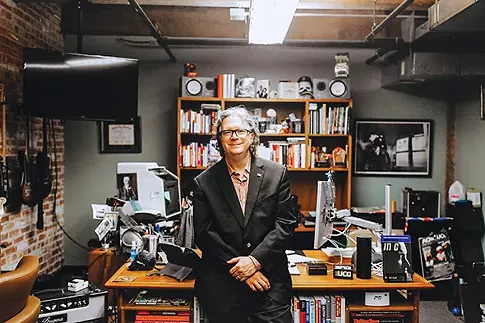 Alexa Ace
After 10 years, Scott Booker of ACM@UCO is seeing more musicians thinking of themselves as small businesses.
This year, the Academy of Contemporary Music at the University of Central Oklahoma celebrates its 10th anniversary. Built originally on a partnership with Academy of Contemporary Music in Guildford, England, the institution opened its Bricktown doors in 2009 to 160 students, a figure that would grow exponentially throughout the next decade. Curating a curriculum of technique, production, history and commercial practices, ACM@UCO keeps its finger on the pulse of trends in modern music while simultaneously preparing young professionals for an unyielding industry.
The brainchild of CEO and manager of The Flaming Lips, Scott Booker, the concept for the school came together at a meeting between Booker and Governor Brad Henry orchestrated by Creative Oklahoma.
"It's all really here so I can just continue to buy records," Booker said, laughing as his eyes wandered across a wall of framed albums autographed by music legends, many of whom once spoke at ACM's master classes including Roger Daltrey of The Who, Maynard James Keenan of Tool and Nile Rodgers of Chic.
Though his comment was in jest, Booker's passion for music is represented throughout his career, from his humble beginnings working at Sound Warehouse and Rainbow Records to the conception of World's Fair Label Group and his presence on the National Academy of Recording Arts and Sciences' hall of fame committee. However, Booker's inspiration for taking the helm of ACM and cultivating Oklahoma City as a ground for musical ingenuity and business is perhaps even more personal.
"When you're a parent, part of you always wants your kids close by," Booker said. "But there has to be reasons for them to want to be here. You know the old axiom about grass? Well, I wanted to make the grass greener on our side, right here in Oklahoma."
The Flaming Lips and its willingness to serve as a proponent of the state and its creative community helped catalyze the notion of the heartland as a legitimate beacon of the music industry even before ACM. However, the process of harnessing that raw, creative energy into something productive required an institution with the means of fostering such growth. To cultivate such dreams also requires a dose of determination and realism.
"I found throughout my experience bands would far too often not succeed because they had either preconceived notions or incorrect assumptions about how the music industry worked," Booker said. "They would break up early on, even after signed a record deal, simply because they didn't get rich immediately."
ACM instructors abruptly shut down any needless feelings of grandeur. Despite already having influence on numerous, budding players within the industry such as Dante Jones of THEY., the school is not an incubator for stars. Rather, it's an engine for individuals with the motivation and drive to make an impact in an industry, even if it does not involve performing music.
"Our school is an entrepreneurial program about music," Booker said, "not a music program that happens to involve business. Everyone that graduates from ACM is potentially a small business."
The mission of ACM could not be sustained without a curriculum that parallels the trajectory of the music industry itself. This involves professors still heavily involved with their craft. A quick glance at the school's directory yields names synonymous with Oklahoma City's creative community, such as rapper Jabee, multi-instrumentalist/Flaming Lips member Derek Brown and Sephra Scheuber of Shmoe Creative.
There might be few better representatives of the grit, determination and compulsion needed to make programs like ACM's thrive than Nicholas Ley. Drummer of Colourmusic, one half of The Flaming Lips' Brothers Grïïīn and program director of contemporary music business, Ley's 15 years of experience in the industry readily parleys into the curriculum he helps curate.
Though not initially expecting education to fall within his work's journey, the encouragement of his cousin, Tyler, helped Ley find parallels between his passion and the academic endeavor.
"I began to notice a lot of similarities between teaching and a performance," Ley said. "It's insanely similar, actually. Just like you would never get on stage under-rehearsed, you wouldn't want to get in front of a group of students underprepared for your own class. At the very least, you have to have a plan of what your rubric will entail and how you're going to lead students through it."
Graduating from Oklahoma State University with a degree in finance, Ley acknowledges that very few professionals within the music industry had a specific program to help guide them.
"You could curate your own mentors and curriculum, basically your own education in its entirety," Ley said. "However, if you ask anyone who has tried to learn this industry on their own, you'll discover it takes an exceptionally long time. Furthermore, just like with the music business, our program can't afford the rigidity of other programs. As an entrepreneur, you must be self-driven, but you also need a toolkit. The toolkit is what ACM provides."
Considering ACM as a "blend of academia and industry," Ley said the institution's purpose of instilling a sense of decision-making and critical thinking is essential for any successful music professional. In tandem with UCO's obligation to transformative learning, the power of ACM's mission is evident in the school's graduates.
An alumna of ACM and an actively touring country musician currently living in Nashville, Mallory Eagle wasn't particularly compelled by the typical collegiate trajectory many high school graduates gravitate toward.
"I seriously wasn't even planning on going to college," Eagle said as she prepared for a cross-country tour. "I just didn't think I was really of the mindset. However, I was encouraged to give ACM a chance. I toured the campus three times and just fell in love with it. It's a creative space but also a college, just on the music industry's terms."
Throughout her education, Eagle discovered a sincere willingness from her instructors to empower her class. Danny Hargis, for instance, insisted Eagle and her colleagues write their own music for their performances, forcing them to not only refine their technique but also their creative process.
"At ACM, you are never just a musician, just producer or just a manager. Honestly, you really shouldn't be," she said. "There are so many variables that make up this industry that you need to understand, a lot of things I wouldn't have been able to even grasp if it weren't for my professors, all active musicians and professionals just like I aspire to be, taking the time to show me the ropes."
ACM is not founded on visions of fame and celebrity, but rather the need to produce professionals who can make meaningful, artistic impacts in Oklahoma and beyond.
"Years ago, people were acting like the music industry was going to die," Booker said. "However, more people were actually listening to music in different way. At the time, we just weren't smart enough to see it. That's what excited me about my work for ACM. I get to be a part of developing the next generation, the generation who will figure out how to harness the way we digest music moving forward."
Visit acm.uco.edu.