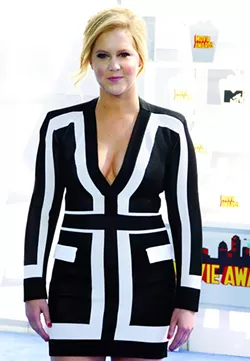 Bigstock
Amy Schumer at the 2015 MTV Movie Awards held at the Nokia Theatre L.A. Live in Los Angeles, USA on April 12, 2015.
Amy Schumer brings her standup tour to OKC 8 p.m. Friday at Chesapeake Energy Arena, 100 W. Reno Ave.
Schumer is best known for her award-winning Comedy Central television show Inside Amy Schumer and for writing and starring in the hit Judd Apatow film Trainwreck last year. She worked her way up to the top of the comedy heap by appearing on shows such as Live at Gotham, Last Comic Standing (where she came in fourth place) and Reality Bites Back.
Schumer is particularly noteworthy because she's not just funny; her work is viciously satirical and she has no fear of dark subject matters.
"I kind of go back and forth between being like 'I'm pretty; I know I'm pretty, but I know I'm not that pretty,'" Schumer said in 2011 of her standup act. "Then I'll talk about sex a lot, like I talk about being promiscuous, and I totally have been; I totally had a good amount of sex, for the wrong reasons, for the right reasons, and I talk about it openly and unapologetically."
While Schumer's characters are attractive and promiscuous, they are a far cry from the glamorous party girls presented on reality television shows; they are often depicted as superficial, self-obsessed, unhappy and prone to black out in public.
The dark side of Schumer's social satire goes so far as to joke about subjects traditionally considered taboo, like sexually transmitted infections, abortions and rape. (She plays the female character in a military video game only to watch her character sexually assaulted and sent to the Pentagon to do paperwork after reporting it.)
However, there is some debate over whether Schumer's views are "new feminism" or simply the same old jokes wrapped in a new, media-friendly package. Her line "I used to date Hispanic guys, but now I prefer consensual" received a lot of criticism, and the sentiment has since been echoed with an even darker tone in Donald Trump's 2015 statement on undocumented Mexican immigrants: "[T]hey're rapists, and some, I assume, are good people."
Schumer's response to the criticism was that it was a joke and people found it funny, which is true. Many great comedians regularly cross the line, such as Lenny Bruce's use of "inappropriate" language and subject matter in the 1960s or Richard Pryor's liberal uses of the N word in his comedy in the 1970s.
Schumer's work is definitely groundbreaking; where it falls socially will be debated for years.
The fourth season of Inside Amy Schumer premieres April 21 on Comedy Central, and a fifth season has already been green-lit by the network.
Visit amyschumer.com for more information.
Print headline: 'Inappropriate' feminism?, Amy Schumer brings her uncomfortably brave satire to Chesapeake Energy Arena.