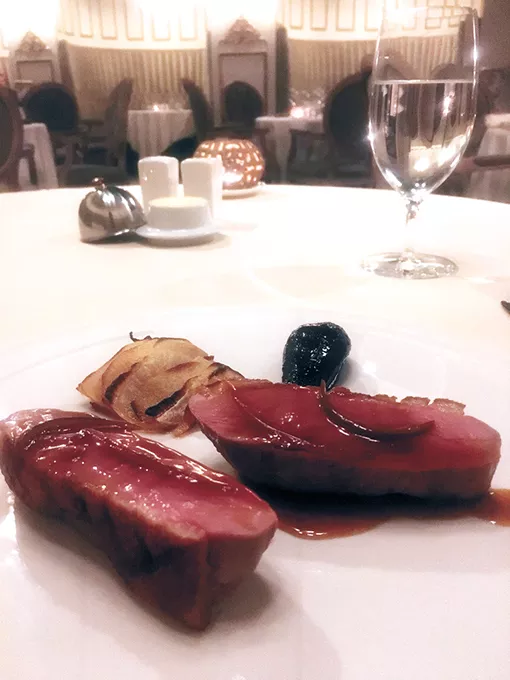 Jacob Threadgill
Seared duck in spiced honey and lime sauce with red wine poached pear and turnip-celery gratin.
As chef Olivier Bouzerand trained in Michelin-starred kitchens across France and eventually opened one of the top restaurants in the destination city of Cannes, he often dreamed of doing the same in the United States, but he never imagined it would be in Oklahoma.
Love has a funny way of changing plans.
Bouzerand became friends with Edmond native Susan Wedel while playing the popular mobile strategy video game Clash of Clans in 2014. They would often send messages in the group chat as they worked together in the same clan, but when Wedel abruptly left the group, she was surprised to hear from another friend that someone in the chat desperately wanted to contact her and asked Wedel to return.
It was Bouzerand.
"Olivier said to me, 'If that ever happens again, I need to know how to get in touch with you," Wedel said. "We started talking and he invited me to France. I said 'No, but if you'd like to meet me, you can come here.' That was November 2014, and we've been dating ever since."
The couple continued a long-distance relationship, building off the strength of friendship they created while playing Clash of Clans. Eventually, Wedel went to France to visit Bouzerand, first two weeks in Paris and then three weeks in Cannes, where he cooked for her.
"I was blown away by his cooking," Wedel said. "Every dish that he brought out became my new favorite thing."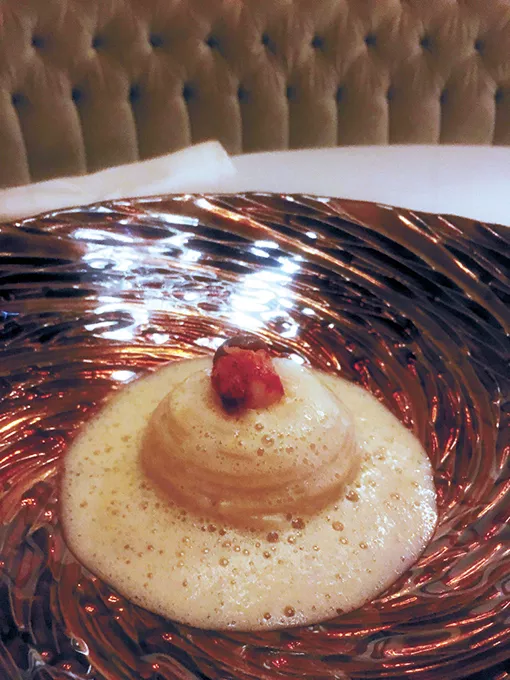 Jacob Threadgill
Lobster and mushrooms served inside a spaghetti roll with scallop mousse, topped with bisque.
Making of a chef
Bouzerand grew up in Burgundy and began cooking at the age of 6.
His professional career began at 2-star Michelin restaurant La Palme d'Or in Cannes. He continued at 3-star Michelin Ledoyen in Paris. After a few years working in Russia, he returned to France in 1997 and opened his first restaurant, Le Patio, in Saint-Jean-de-Luz, which was named the city's best restaurant by the Michelin Guide.
He opened Le Mesclun in Cannes in 2004. It was named one of the five best restaurants out of 750 by both the Michelin Guide and New York's The Daily Meal.
"In Cannes, I had a lot of customers from California because of the film festival, and they encouraged me to open a restaurant there," Bouzerand said.
Bouzerand asked Wedel if she'd like to go to Los Angeles, Miami or New York to scout locations for a restaurant. She'd go, she said, but she wasn't moving.
"OK. Well, Oklahoma it is," he replied.
When Bouzerand went to Paris to get his E-2 visa for five years in the United States, the clerk even asked him "Why Oklahoma?"
"I didn't lie; I told them that she wouldn't move anywhere else," he said.
Susan Wedel and Olivier Bouzerand opened Fait Maison in Nov. 2017. (Jacob Threadgill)
Restaurant rising
Wedel set out to look for a location for the restaurant, eventually settling on the space formerly occupied by Parkway Men's Wear. Wedel and Bouzerand entered as 50-50 partners in the restaurant, making the pact that their relationship wouldn't define their venture.
"It's a business, and I think it takes a lot of pressure off rather than 'If (the relationship) doesn't work, what is going to happen (to the restaurant)?'" Wedel said.
They decided to name the restaurant Fait Maison (French for "homemade") after Wedel saw the phrase on Bouzerand's Le Mesclun menu.
A remodel of the building included the installation of plumbing, gas and more electrical capacity. Wedel said the décor was designed to make guests feel as if they've been transported to France. Chandeliers line the ceiling and over each velvet-lined booth.
Fait Maison opened Nov. 16, 2017 at 152 E. Fifth St. in Edmond, and reaction from customers has been overwhelmingly positive.
"It's been a fabulous reception. Since two weeks after opening, we've been booked every Friday and Saturday night. We've had to turn down people at the door that walk in," Wedel said, noting that tables can be had for walk-ins most other nights of the week.
Full-service meal
The menu at Fait Maison changes every two to three months based on seasonal ingredients. Bouzerand makes no compromises in his food to American palates.
He said he is intrigued by the fact more wild game like Cornish game hen, venison and pheasant is available year-round in the U.S. rather than only a four-month window in France.
Fait Maison's New Year's menu included pheseant and quail inside of a pastry. Current entrees include salmon with minced fennel and yuzu ($27), turbot pan-fried in butter with a truffle cream sauce ($46), lobster roasted in a creamy champagne sauce ($50), seared duck in a spiced honey and lime sauce ($27), rack of lamb ($43), grilled filet mignon in a red wine sauce ($33-39) and chicken breast with Parmesan risotto ($25).
A meal at Fait Maison begins and ends with daily amuse-bouche from the chef. The server also brings out fresh baked bread arranged like a bouquet of flowers. Before the appetizer arrives, a bowl of butternut squash soup comes compliments of the chef.
An appetizer of lobster and mushroom served in a spaghetti roll with scallop mousse is covered in creamy bisque ($26) and allows the ingredient to shine enveloped in the creamy bisque.
The seared duck breast is medium-rare, in stark contrast to the overcooked duck often found on menus. The honey and lime sauce cuts through the natural gaminess of the bird without overpowering it.
"I tasted the duck and remember saying, 'Had I not really liked you, this would've been enough to make me like you,'" Wedel said.
The side of ratatouille ($10) is plated like a flower atop a tomato-based sauce that is worthy of the Pixar movie. A dessert of bourbon vanilla bean crème brûlée ($8) arrives topped with fresh berries.
"Having a restaurant is about pleasing people, and that's what we're trying to do," Bouzerand said.
Reservations can be made by calling 405-509-255 or emailing reservations@fait-maison-ok.com.
Print headline: Love, actually; An acclaimed French chef relocates to Oklahoma and opens Fait Maison.