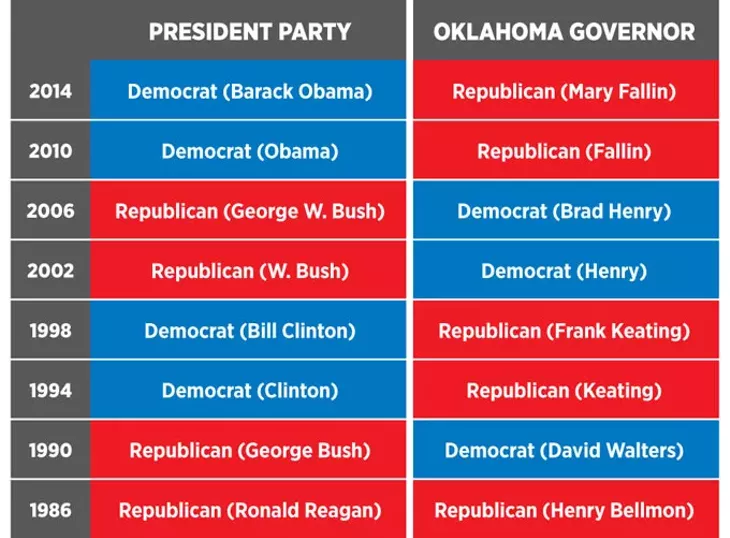 Over the past two election cycles, a combination of deep distrust of the president, a growing economy at home and Oklahoma's socially conservative values have made it impossible for Democrats to win the governor's seat.
In four years when Gov. Mary Fallin terms out, any shot at a Democrat win might mean action now, especially for a party still reeling from the Republican Party's dominance of the Nov. 4 elections.
"It will be easier," Ben Odom, former vice-chairman of the state Democratic party, said about his party's chances of winning in 2018.
"One way or the other, you will have a change in administrations and [Barack] Obama will not be president. Not having him as the president will not serve as the motivator for many Republicans like it does now."
Fallin capitalized on conservative voters' mistrust of Obama and attempted to link him to her challenger, Democrat Joe Dorman. Numbers from the Gallup research company show that the president's approval ratings in this state are consistently lower than the national average.
However, anecdotal numbers indicate that what may benefit Democrats more than President Obama leaving the White House might actually be a Republican replacement. The last time Oklahoma voters elected a governor from the same political party as the president was in 1986.
"It does make it easier having a Republican president," Odom said. "Not that I'm rooting for that."
Naturally, there are many other factors at play in any gubernatorial race, and Odom said Republicans have advantages here that could carry them through 2018.
For example, Dorman finished 15 points behind Fallin in the election. Indeed, Dorman lacked both name recognition and funds, as Fallin spent twice as much on her campaign. Even so, Odom thinks Democrats might have a chance in 2018 with a more well-known candidate.
"Right now, we really don't have much of a bench," said Joe Hartman, co-owner of Skyfire Media, which ran campaigns for several metro-area Democratic candidates. "Ask people who the leader of the party is and you may get 20 different answers."
Hartman said it will be important for Democrats to elected new candidates to the Legislature and other statewide seats in an effort to lead up to future gubernatorial races, especially since Republicans have more viable candidates, including Lt. Gov. Todd Lamb, who is an early favorite to run in 2018.
"We haven't been electing leaders at the local level of government who can build that experience and name recognition who can then run for governor," Hartman said.
Odom agreed.
"It has to start with name recognition," said Odom, who mentioned that Oklahoma's Democratic Party already is floating popular names like Dan Boren, Kim Henry and Brad Carson.
Carson and Boren are both former representatives from Oklahoma's second congressional district, and both are the most recent Democrats to represent our state at the federal level.
Henry is the wife of former Democratic governor Brad Henry, who served consecutive terms prior to Fallin's election.
Democrats believe the Henry name still carries a lot of sway. Earlier this year, in fact, proponents urged Brad Henry to run again, even though it would have required a specific interpretation of the law.
While Democrats might favor ancestry when looking for potential candidates, Hartford emphasized a need to develop new party leaders. Beyond name recognition and the influence of the nation's political climate, many Democrats also believe their party's message should be retooled.
"We need to unify our message a little more around income equality and quality of life and which party is advocating better for those things," said Forrest Bennett, a vice president of membership with Young Democrats of Oklahoma.
Bennett also believes the party needs to increase participation from key demographics, including young voters, because they tend to trend more progressive.
"We tried to make education a huge issue this year and I think that was important," he said. "But I think we have a lot to say on issue of the economy and strengthening the middle class."
Print headline: What's next?, Still stinging from overwhelming election losses, Oklahoma Democrats are spending more time reorganizing than licking their wounds.