Waters Edge Winery will host the third annual ¡Viva Sabor!, the Greater Oklahoma City Hispanic Chamber of Commerce's signature event that features Latin food, beverages, business and entertainment.
"In previous years, we have had as many as 300 guests," said Emma Dean Kratochwill of the Hispanic Chamber, "but we have to cut it off at 250 this year."
¡Viva Sabor! means "long live flavor," and the festival offers food, drink, live music, movie screenings and more 6-10 p.m. Friday at Waters Edge Winery, 712 N. Broadway Ave.
Tickets to this year's event can only be purchased in advance due to space limitations at the winery.
Several area restaurants will be serving food at ¡Viva Sabor!, including festival newbies Chiltepes Latin Cuisine & Bar and El Fogón de Edgar.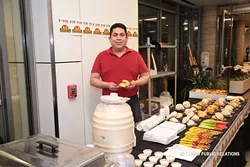 Admission includes food from participating restaurants as well as unlimited samples of premium tequila and imported beer provided by Byron's Liquor Warehouse and wine from Waters Edge Winery.
All ages are welcome, and guests age 21 and over will receive drink wristbands.
This year, ¡Viva Sabor! also features the first public screening of award-winning filmmaker Rogelio Almeida Marquez's new short film Habitos Curiosos (Curious Habits), a 20-minute comedy centered around roommates in what Marquez called a "when the cat's away, the mice will play" scenario.
Omar Godinez, a Mexican national and frequent Marquez collaborator, wrote the script.
The two teamed up for the award-winning La Mercancia (The Merchandise), an official selection for the DeadCENTER Film Festival that also won three awards at the 2013 Redbud Film Festival, an annual event sponsored by the University of Oklahoma College of Arts and Sciences.
La Mercancia also will be screened at ¡Viva Sabor!
Marquez said the film is about a boy who must choose whether or not to raise money for his mother's surgery by working for a drug dealer. It earned best actor for Omar Godinez, best cinematography for Marquez and audience choice awards at Redbud.
Both projects were filmed in OKC's Hispanic communities and are in Spanish.
"We're excited to premiere Curious Habits for the public," Marquez said. "As part of the event, we will also be promoting Oklahoma City's very first Latino Film Festival."
In addition to the movie screenings upstairs, the Samantha Rose Band will perform its blend of pop, country and Southern rock. Rose has been featured in the Chevy Music Showcase series in downtown OKC and has performed across the state.
Event sponsors include La Oaxaqueña Bakery, Cocina de Mino, El Fogón de Edgar, Chelinos Mexican Restaurant, Great Plains Coca-Cola Bottling Company, Byron's Liquor Warehouse, Waters Edge Winery and B&B Catering. Media partners include Tango Public Relations, El Nacional Media Group, El Latino American, Telemundo, Univision and Oklahoma Gazette.
For more information, visit okchispanicchamber.org or call Linda Piñon at 616-5031.
Print Headline: Viva partido!, ¡Viva Sabor! celebrates the best of Oklahoma City's Latin community.