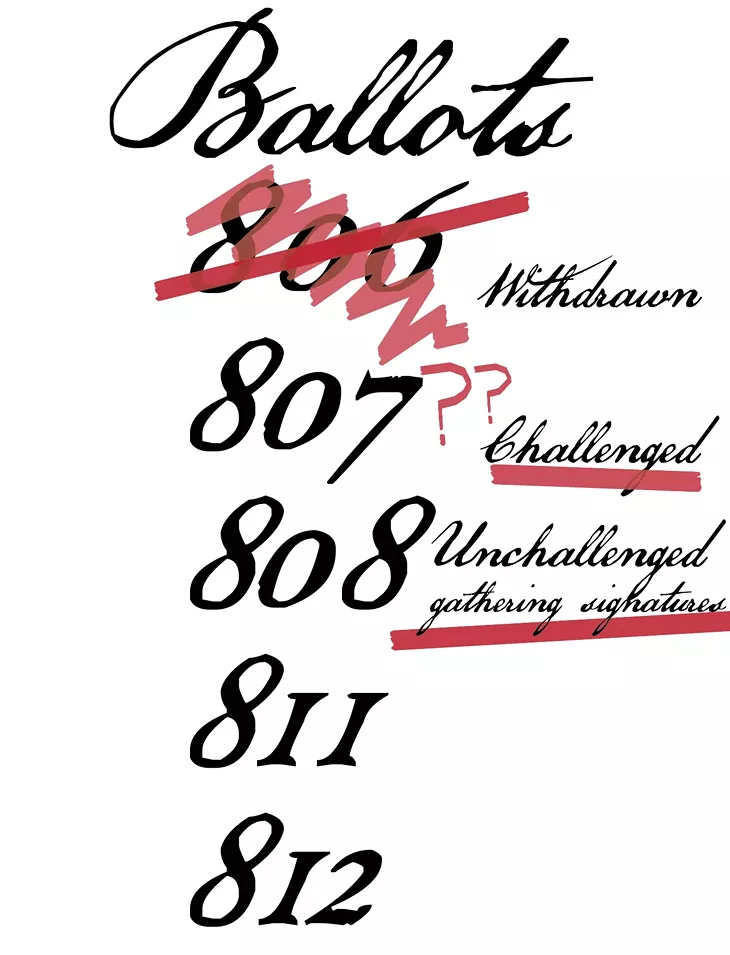 Phillip Danner
Two more cannabis ballot petition initiatives were filed last week.
Two new ballot initiative petitions regarding cannabis were filed this week without public fanfare.
State Question 811 is a constitutional amendment regarding the adult use of cannabis. The proposed ballot title reads, "This measure adds a new Article to the Constitution of the State of Oklahoma. This article will heal State Question 788 which the Oklahoma State Legislatures, the Oklahoma Medical Marijuana Authority, the Oklahoma Bureau of Narcotics and Dangerous Drugs, the Oklahoma State Department of Health, Local Governments, has desecrated since 57% of Oklahoma voters passed SQ788 on the history day of June 26, 2018. This article will not only heal the damage created by those named above, it will responsibly legalize, regulate and tax Adult-Use Marijuana for persons aged 18 or older under state law."
State Question 812 is another proposed constitutional amendment aimed at freeing all who have been convicted of cannabis crimes and expunging cannabis-related criminal records. It reads, "This measure adds a new Article to the Constitution of the State of Oklahoma. This Article shall decriminalize the following offenses: a. Possession of a Controlled Dangerous Substance (Marijuana); b. Possession of a Controlled Substance (Marijuana) with the Intent to Distribute; c. Possession of a Controlled Dangerous Substance (Marijuana) within 2,000 feet of a School or Public Park; d. Possession of a Controlled Substance (Marijuana) in the Presence of a Minor Child; e. Possession of a Controlled Substance (Marijuana) without a Tax Stamp and f. Possession of Proceeds Derived from a Violation of the Uniform Controlled Dangerous Substances Act, to wit any of the crimes listed in sections a through e herein. This Article shall cause the release of all offenders who have been convicted of the crimes named in this Article from all Oklahoma state prisons, city, municipal, county, township jails, correctional facilities and detention centers immediately upon the passage of this Article. This Article shall cause the expungement of all criminal records within the State of Oklahoma for the named offenses."
The constitutional amendment proposed in SQ811 is roughly 40 pages long. SQ812 is two pages and is described succinctly in the proposed ballot title. However, the language of SQ812 relies upon the article to the state constitution proposed in SQ811.
Both were signed by the same list of proponents: Danna Malone, R. Hendrix, Sherri Taylor, Monica Green, Chris McCoy, John Koumbis, Patrick Malone and Reese Lauren Childress. The individuals in the group each refer to themselves as "We Are 788" on the signature page. No attorney is listed in either filing.
The proposed amendment to the state constitution, Article 31, is summarized incompletely below.
It would place Oklahoma Medical Marijuana Authority (OMMA) outside the Oklahoma State Department of Health as well as employ a director who is "educated and knowledgeable on Medical Marijuana, this director shall not be anti-Medical Marijuana."
It would require OMMA board to open six positions and fill them with a licensed dispensary owner, a licensed owner of a processing company, a licensed owner of a medical cannabis grow, an Oklahoma cannabis attorney, an Oklahoma cannabis tax accountant and a recommending physician.
SQ811 would disallow adding any new licensing categories beside dispensaries, processors, growers, testing laboratories and transportation. It would also remove the certificate of compliance requirement as well as any restrictions involving location. It would strip the requirements for a mop sink and food permit from dispensaries.
It would allow cannabis users to consume smokeable products anywhere cigarette smoking is allowed and prohibit the state and cities from banning any form of advertising medium.
Persons "shall not be denied parental rights, custody of, or visitation with a minor child … unless the persons behavior is such that it creates a danger to the minor child that can be clearly articulated and substantiated."
No state or local government entity would be allowed to deny the right to own or possess firearms or ammunition based on cannabis usage.
Patients would be allowed to consume cannabis products while as passengers inside a vehicle and keep the same possession limits from SQ788, while those 18 and older would be allowed to possess 1 ounce of cannabis, 4 grams of concentrated cannabis and 24 ounces of edible cannabis products on their person, in their home or in their vehicle.
Sharing of smokeable cannabis among adults in social settings would be permitted, as would donations from home growers and businesses to processors "to manufacture Rick Simpson Oil (RSO) to be provided to terminally ill patients at little or no cost" and also to allow the donation of products to "patients who are in need at the discretion of the licensed business owner."
SQ811 would disallow drug testing for THC and its metabolites for employment for patients and prohibit employers to prohibit license holders from employment, but employers could still prohibit employees from being impaired on the job. "Impaired" is emphasized in the filing as well as a portion that reads, "A Safety-Sensitive job is any job that includes tasks or duties that the employer can articulate clearly and concisely and show the position is a dangerous position and can provide evidence that medicating while on the job could adversely affect the safety and health of the employee performing the task or others."
Medical cannabis license holders from other states would be allowed to purchase from Oklahoma dispensaries, and it would exempt taxes on all medical cannabis while imposing a 25 percent tax on adult-use products.
Dozens more pages outline a myriad of other issues, such as business licensing, inventory tracking and tax revenue allocation.
State Question 807, a revised version of State Question 806, is still under review by Oklahoma Supreme Court justices following a hearing with a court referee on Feb. 26. Paul Tay challenged the petition on the grounds that it violates federal law. He appeared via teleconference from the Tulsa County jail. Proponents Ryan Kiesel and Michelle Tilley appeared before the referee in person, along with attorneys D. Kent Meyers and Melanie Rughani from Crowe & Dunlevy. A request to file an amicus curiae, or friend of the court, brief was filed by Tulsa attorney Ron Durbin after the briefing deadline had passed. The defendants objected and the Supreme Court denied his application.
On Feb. 24, two days before the hearing, Tay filed a response to the denial.
Tay also filed State Question 808, his own version of an adult-use ballot petition. It was not challenged and the Oklahoma Secretary of State has given a deadline of 5 p.m. May 11 for the collection of signatures.