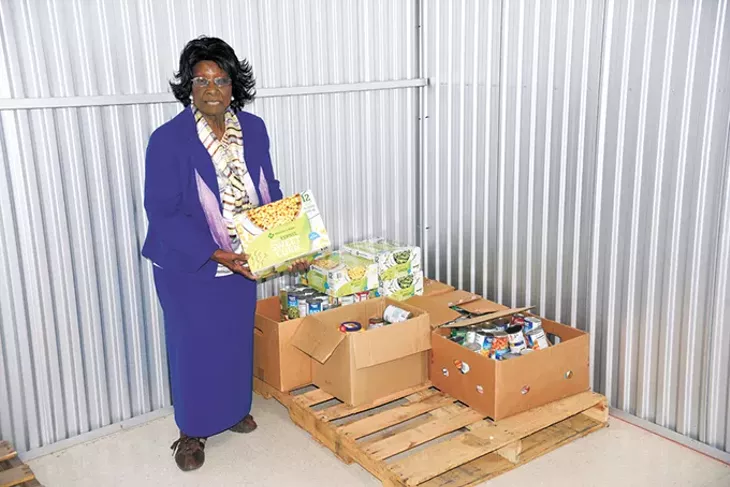 Laura Eastes
Sister Mable Stoss stands in one of three storage units that the Free Food Pantry and Educational Center uses to store donations.
Back in 1990, when Sister Mable Stoss founded the Free Food Pantry and Educational Center, she saw a need going unmet.
"I noticed that certain areas [of Oklahoma City] didn't have a pantry while the other areas were flourishing," Stoss said. "I found that there were a lot of senior citizens and people who were sick — shut-ins who had no one they could depend on for assistance."
Stoss did what she thought was necessary. She began accepting food donations and distributing to those in need in northeast Oklahoma City. Twenty-eight years later, she's still at it. Now, Free Food Pantry and Educational Center is a 501c3 nonprofit organization with a board and 20 volunteers. What the organization offers to its clients goes beyond canned goods, as volunteers' deliver donated clothing and furniture, including medical equipment
"We cater even today to those homebound senior citizens and the shut-ins," Stoss, founder and president of the board, said. "Their groceries are given directly at their door. … Our organization is very unique because the people who are seeking assistance do not have to get out. That's very beneficial for senior citizens."
Supported by community donations, Free Food Pantry and Educational Center maintains three storage units that contain food, clothing and furniture. Monday through Friday, from 11 a.m. to 4 p.m., Stoss and volunteers man the phones, accepting applications and arranging deliveries. The organization serves northeast Oklahoma City residents and northwest residents who reside east of N. Pennsylvania Avenue.
Word of mouth and referrals from northeast Oklahoma City churches are the most popular methods for finding out about the Free Food Pantry and Educational Center's services, Stoss said.
At times, when donations are strong, the organization expands its services to fit community needs. In the past, utility and rental assistance was provided to low-income households. Another former program, the Gift of Sight program, brought eye exams and glasses to locals who lacked access to vision care.
"We do try to equip them with the proper tools to help them help themselves," Stoss said. "As the old story goes, you give a man a fish and you feed him for a day. If you teach them how to fish, they can eat for a lifetime."
These days, Stoss said, donations are stagnant and needs are high. While a majority of Free Food Pantry's clients are senior citizens, volunteers deliver more grocery sacks to grandmothers raising their grandchildren than ever before.
With services like clothing and furniture, the organization helps the working poor with clothing for job interviews or work-appropriate attire. With donated lamps, sofas, mattresses, tables and chairs, volunteers make deliveries to domestic abuse victims and their families.
Free Food Pantry and Educational Center meets a variety of critical community needs, however, Stoss said, fighting hunger is at the top of the needs list.
"I would like the people to know that there is someone who cares and is concerned about their well-being," Stoss said. "My dream is to one day win a contest and purchase a building so that I can fill it full of food and give it to the community."
Call 405-721-6763.