Megan Cherie
At 37, Jonathan Fowler is president of Fowler Holding Company, overseeing his family's car dealerships.
In the august offices of Norman's Fowler Holding Company, 37-year-old Jonathan Fowler sits behind a heavy wooden desk surrounded by classic, stately décor. There are no posters for Norman Music Festival (NMF), the massive annual event he helped launch over 11 years ago, or any obvious indicators of his love for the music of local rapper L.T.Z., alt-country revolutionaries Drive-By Truckers or jazz innovator Kamasi Washington.
"If this looks like the office of an 80-year-old man, that's because it is," Fowler said.
His grandfather, Bill Fowler, occupied the office until he died in September 2016 at age 85. Fowler maintains it as a tribute to the man who opened Bill Fowler's Toyota in 1973, back when Japanese cars were still a novelty to many Americans. By example, he taught his grandson to try new things and to engage.
As president of Fowler Holding Company, which oversees Fowler dealerships in Norman and Tulsa as well as Colorado and Texas, Jonathan Fowler effectively made his first dealership, Fowler Volkswagen, a major sponsor of arts programs throughout the Oklahoma City metro area and then brought the rest of Fowler's dealerships along for the ride.
Fowler Automotive's continued sponsorship of NMF, Live! on the Plaza and other local events helped foster the music scene and the arts as a whole but also played matchmaker in the relationship that arts can have with business.
"It turned out that music can actually drive arts and culture in a community," Fowler said. "Well, arts and culture can drive economy and downtown growth in very positive ways. That can lead to tourism opportunities and external dollars. And that can lead to all kinds of different things."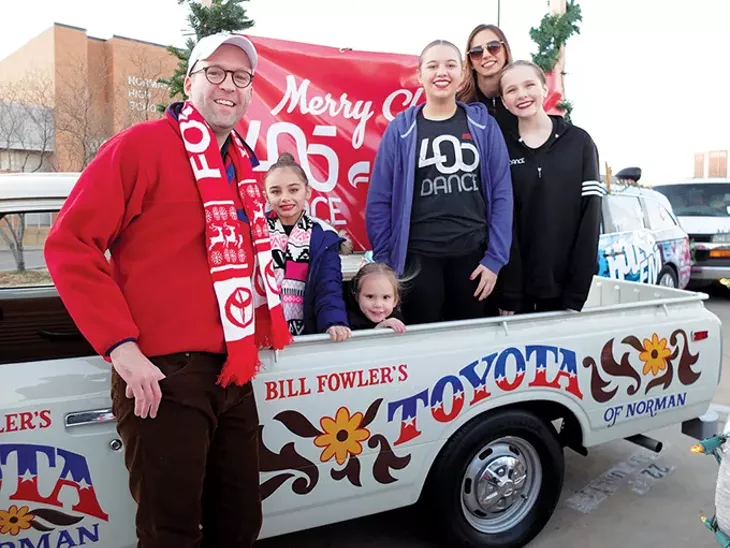 Fowler Holding Company / provided
Jonathan Fowler poses with a restored 1973 Toyota pickup at the Norman Christmas Parade. The pickup was restored with the same body paint used on one that was driven in the parade in the 1970s.
Accidental dealer
Fowler didn't excel in school, and after one year at the University of Oklahoma (OU), he bailed and exiled himself to Keystone, Colorado, where he hoped to live the life of a ski bum who played guitar in bluegrass bands. His family back in Norman did not understand.
"They hated it in the sense that it wasn't what they wanted for me," he said. "They didn't try to stop me from doing it, but it was like, 'Well, you can do this, but if you do it, you're on your own.'"
There were far better guitar-picking ski bums at Keystone, and so after one ski season and some time in Boulder, he returned to OU, where he reconnected with his future wife, Natalie. He graduated with a degree in letters but did not feel proud of his college career.
"I came out of college feeling that I hadn't taken advantage of my education the way I should have," he said. "I really hadn't shown the appreciation to my parents and my family for the opportunity they'd given me. I didn't like that."
In 2006, Fowler went to work for his family business as a financial analyst and was accepted into Norman Chamber of Commerce's next Leadership Norman class. That was when he showed up on Marta Burcham's radar. Burcham, who had recently become executive director of Norman Arts Council, approached Fowler to join the board of Norman Music Festival, which was in the planning phase for its daylong 2008 debut featuring one of Fowler's favorites at the time, The Polyphonic Spree.
While the festival doubled its projected attendance that first year, attracting more than 15,000 music fans to downtown Norman, some Main Street merchants were still not sold on the idea. According to Fowler, Burcham, whose husband was being transferred to South Carolina, served him up as the next president of Norman Arts Council and chair of NMF2 to ensure that the festival continued.
"Every volunteer opportunity that I've had in my entire adult life literally spawned from that," Fowler said.
Catching the bug
At first, Fowler did not love working in the family business, but being around his family in their natural environment worked wonders. He said his father, Mike Fowler, offered him a multiyear training plan to learn all aspects of the business, culminating in attending the National Automobile Dealers Association's Automotive Academy, where potential general managers learn the ins and outs of running a car dealership.
During his training, he built up Fowler Automotive's sponsorship of the festival and the company's cache of cool grew exponentially. Once he finished the academy, Fowler faced the real possibility of having to leave town to take on his first dealership, but then his father brought him a new opportunity.
"He came to me and said, 'Volkswagen's thinking of opening a "point" in Oklahoma City,' which is a new Volkswagen store that doesn't exist," Fowler said.
There was an application process and it was worth a shot, but Fowler's family thought he was probably too young and had too little experience to be awarded the dealership.
He got the "point."
With almost no budget, Fowler had to come up with ingenious but cheap ideas to build awareness for Fowler Volkswagen's May 7, 2010 opening. His PR executive Mary Ann Osko and her husband Zach built a wooden ramp at NMF3 and passed out Hot Wheels Beetles for kids to launch. For every Beetle that careened off the ramp, the kids would get a bag of candy for themselves and a coupon for a free oil change for their parents.
"My dad was like, 'I got a bill for 1,000 Hot Wheels?'" Fowler said, laughing.
Osko's next idea was a takeoff on Britain's Black Cab Sessions, in which bands perform in the back of a London Metrocab. Shot by Nathan Poppe in a 1978 VW Camper piloted by The Spy FM's Ferris O'Brien, the series has featured nearly 200 performers riding around the metro and playing mostly acoustic versions of their songs. It has been an enduring success that has provided visual calling cards for up-and-coming musicians, and for Fowler, it serves a dual purpose.
"The other thing about the car business is that, when we opened the store, I knew I'd be working 80- to 100-hour weeks because that's the nature of the business," he said. "I knew I wouldn't have a lot of time with my friends, and I knew I had to do weird marketing things, so any excuse I could come up for marketing that was tied to a live music opportunity, musicians, arts and culture, I chased it hard because it got me out of the dealership for work, and I'd tell employees, 'I have to go to this thing and represent the company because we're sponsoring it.'"
As a result of working with NMF and his other ventures, Fowler developed a knowledge base on how city government works and a desire to engage in civic organizations. He worked extensively with Norman's zoning initiative Center City Vision; is currently on the steering committee for Plan Norman, a long-term vision for the city's development; and serves on Oklahoma City Chamber of Commerce's transportation committee.
That outreach coupled with the huge success of Fowler Volkswagen resulted in his promotion to president of Fowler Holding Company on Jan. 1 after serving as vice president of operations since 2013. Now, all Fowler dealerships promote themselves the way Fowler Volkswagen does through arts initiatives and community action, a product of Fowler finding a way to hear his favorite bands while working in the family business.
"It all was the most selfish thing of me trying to hold on to music that I didn't want to give up and trying not to admit that I'm a car dealer," he said, laughing.