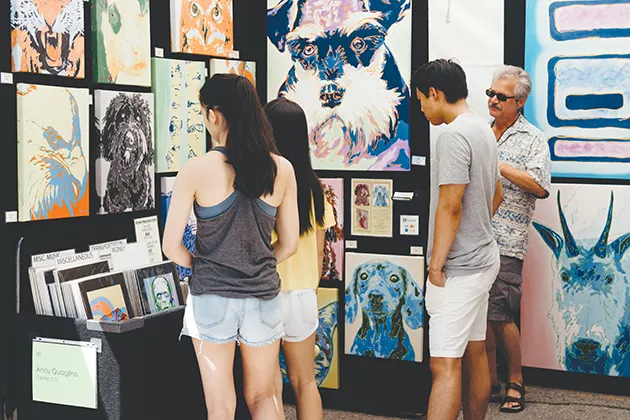 Provided
The 43rd annual Paseo Arts Festival takes place over Memorial Day weekend, May 25-27, in The Paseo Arts District.
Paseo Arts Festival
May 25-27
The Paseo Arts District
Paseo Street between NW 30th Street and Walker Avenue
thepaseo.org
405-525-2688
Free
From an artist's perspective, the difference between a good arts festival and a bad one sometimes comes down to the bathrooms.
Fort Worth, Texas-based mixed-media artist Laurie Aurand, for example, remembers having an uncomfortable experience showing her work at a recent festival that will remain anonymous.
"Most shows have some kind of artists' hospitality area," Aurand said. "This one had nothing. They had supposedly designated artists' bathrooms, but they closed them down, so now we're in line for the port-a-potties. I know that sounds silly, but you're away from your booth. They didn't have booth sitters to come and help you out. It was kind of a mess. That makes a long show."
It is the kind of experience Paseo Arts Association executive director Amanda Bleakley said she hopes none of the artists ever have at Paseo Arts Festival.
"We're an art festival that is for the artists, so we don't take a commission off of what they sell," Bleakley said. "We just charge them the booth fee. We set up two artist hospitality areas for them to have bathroom facilities, cold water and snacks. … One of them is our office, so we share. It gets kind of crowded sometimes, but at the same time, it's good to have them come in because then I get to talk to them and get immediate feedback about how things are going and what we can do different."
The annual festival, now in its 43rd year, takes place Memorial Day weekend, May 25-27, in Paseo Arts District, located on Paseo Street between NW 30th Street and Walker Avenue. Bleakley said making the artists the priority at the festival helps ensure that they return and tell others about their experience.
"I think that going the extra mile and making our artists feel welcome here and feel special is what keeps them wanting to come back and be in our festival," Bleakley said. "We're a small community festival. We can't really compete with the larger places, but we do focus on treating the artists well and making sure that this is about them even though this is a fundraiser for us. … A lot of these artists are local artists that are from Oklahoma, but some of them are from out of state, and we feel like we're the ambassadors for Oklahoma when we have our artists from out of state. They're our guests here, and we want them to go back and talk about how great Oklahoma is."
Quality art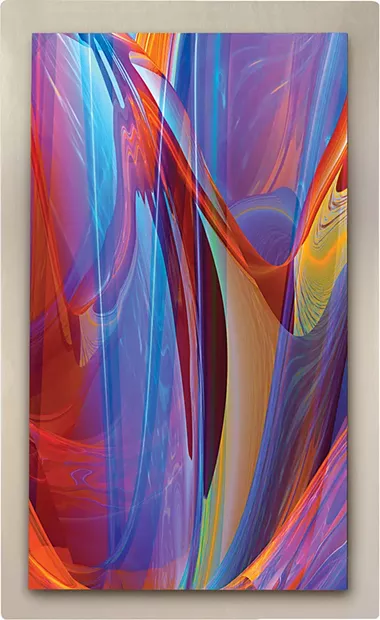 Provided
Barry Reithmeier's "Big Juicy"
Aurand, who will show her art at Paseo for the first time, said she was encouraged to apply for the festival because it has "a really good reputation as a show."
"The quality of the art is good," Aurand said. "They're careful about not having too many of the same kind of artists there. They treat the artists well. That's important when you're traveling for shows. There's nothing worse than going to a show where they don't acknowledge that the artists are there for something."
Aurand developed her own mixed-media technique through 20 years of experimentation, beginning with rubber stamping and moving onto collaging until she "got kind of bored" with it.
"Then I discovered texture," she said. "The thing that I love the most now is I find different ways to texture — different mediums, different sands and marble dust and all sorts of things. … For me, it's all about the texture and the way the color plays off the texture, but it's a slow transition. It's not like you wake up one day and say, 'I'm going to do this.' You try it for a while, and then you're like, 'Wow! I really liked that. Let me do that some more.' You evolve into that."
Rockford, Illinois-based digital artist Barry Reithmeier returns to the festival for his fourth year.
"The market always supports me," Reithmeier said. "It's very accepting of what I do, artwise, and I just love the city, love the people. I've developed some great relationships with clients. We get together, go out to dinner. I have breakfast at their house. They come to the show to hang out with me. It's kind of like a reunion of sorts with a lot of my clients and collectors in the area."
Reithmeier creates his "very wild abstract art" using a mid-'90s version of Bryce 3D modeling software and mounts it on brushed steel. He still uses the same version of the icon-driven landscape design software he originally started with, requiring him to scour eBay for old Apple computers capable of running the program.
"I am constructing an abstract world based purely on shapes, materials and textures, and then I light those with colored lights, almost like a photographer would do in studio," Reithmeier said.
Kim Taggart, also making her first appearance at the festival, calls the technique she uses to depict rural landscapes of the Flint Hills region of Kansas "extreme graphite," a tongue-in-cheek response to an athletic friend's love of extreme sports.
Provided
Kim Taggart's "Five O'Clock Shadows"
"I call it 'extreme graphite' because a lot of people, when they see it, they're like, 'Is that pencil?'" Taggart said. "I kind of almost approach my graphite like a painting because you can get super, super great detail with the end of a pencil point and each piece does have a concentrated area where there's really defined, minute details. However, I try to approach it painterly in that I try to soften my edges on the outside, and sometimes I even take a brush and soften the edge a little bit so it's not this hard, crisp edge."
Inspired by modern artist Charles Sheeler, Taggart also calls her work "emotional precisionism" because of the response her detailed landscapes get from viewers.
"I find a lot of older guys that have a farming or rural past will stop and stare at my stuff because they are making a connection," Taggart said, "so I think rural scenery is relatable, even to city-dwellers, because most people have a rural memory in their life. Everybody seems to have a connection with one or more of my pieces."
In addition to new artists, the festival features new food and alcohol options, and a new stage at The Paseo Plunge, 3010 Paseo St., features spoken word and standup comedy performances on Sunday, augmenting the traditional live music offered on the festival's north and south stages on all three days.
Bleakley said artists appearing at the festival typically just have one grievance.
"We do a survey at the end and find out what they liked," Bleakley said, "and basically, the only thing they complain about is the weather. So we're like, 'Sorry. That's the one thing we don't have any control over.'"
Admission is free. Visitors can park at First Christian Church, 3700 N. Walker Ave., and take a free shuttle to the festival. For a full schedule of events or to sign up to volunteer, visit thepaseo.org.