Provided
"Garden Gems" by Jody Ellison
Art is work.
"Everybody says it's so easy, but it's not," said impressionist painter Jody Ellison, recalling her time as an art student at the University of Oklahoma. "I took the life drawing; I took perspective; I took art history, art structure. It was really hard."
Ellison's work is included in the exhibit Between the Isms: The Oklahoma Society of Impressionists and Selected Oklahoma Expressionists on display at the University of Oklahoma's Fred Jones Jr. Museum of Art, 555 Elm Ave. in Norman, through Sept. 8. Ellison — a founding member of Oklahoma Society of Impressionists, which formed at a workshop in Taos, New Mexico, in 1987 — said she worked for several years to get the exhibit in the museum.
Between the Isms: The Oklahoma Society of Impressionists and Selected Expressionists
through Sept. 8
Fred Jones Jr. Museum of Art
555 Elm Ave., Norman
405-325-3272
Free
"Before my husband died, he said, 'I sure hope you get that show because it's so important to you,'" Ellison said of her husband, former federal district Judge James O. Ellison, who died in 2014.
Nick Berry, another Oklahoma impressionist included in the exhibit, said he was first drawn to the artistic style when he "was just a little boy."
"My parents had a coffee table book on [Pierre-Auguste] Renoir in their living room, and every time I'd pass it, I'd sit down and study it and became very taken with the work and didn't know it was called impressionism," Berry said. "But I just admired the style and the work, and then at the age of 15, I started painting and just was drawn more into the direction of impressionist style."
Having his portrait painted by Muskogee artist Gloria Schumann was a formative experience.
"When I was sitting for her, I really admired how her work evolved," Berry said. "She spoke to me a lot of religion and faith associated with painting, and her work, I would say, was a little on the side of impressionist, and I admired just that whole process of watching her paint and her philosophies."
Schumann painted many notable portraits, including the official inaugural portrait of President Richard Nixon, a copy of which Nixon presented to Queen Elizabeth II, but her artistic philosophy rooted in spirituality made the biggest impression on Berry's painting career.
"I've intermingled my desire to paint with my religious feelings," he said. "I feel that everyone is given a god-given talent, and if you're lucky enough to know what it is, how great. I just feel like my talent is to paint, so with each painting, I feel like I grow spiritually. I don't know if I grow in quality of work, but I certainly grow in spirituality. It makes me want to move on to the next piece and somehow do something good with it, help the viewer in some way … through inspiration, something that would trigger an emotion with the viewer, and maybe make them remember something in their own past or present that the viewers can relate with, something that's personal."
A painter, Berry said, "should never stop evolving." Though the exhibit was organized by Oklahoma Society of Impressionists, he said abstract expressionist artists have also been included because the style represents an evolution in painting.
"The expressionists just went a step further than the impressionists," Berry said, "the impressionists being looser than the artists before them and not as confined by rules. And I think the expressionists just went that much further than the impressionists, and they weren't afraid to push the boundaries."
Studying abstraction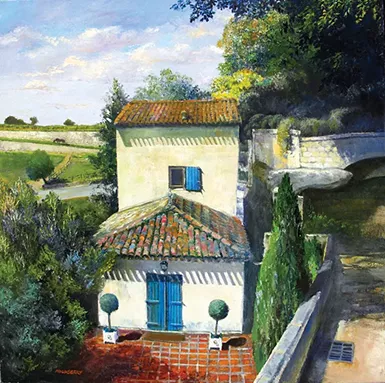 Provided
"The Open Window (Saint-Emilion, France)" by Nick Berry
Expressionist painter Beth Hammack, whose work is also included in the exhibit, said expressionism and impressionism share many of the same roots, and leaving an element of mystery for the viewer to interpret is the "common denominator."
"There's an emotional element that's hard to explain, but it's there, and humanity likes it when it's not too simple to read," Hammack said. "I think an important thing is most of the expressionist artists started out, obviously, with realism. We're not naive; we do know how to do still lifes, and my case, I did a lot of early portraits of people and figure drawing. I'm speaking a lot for myself, but I feel like you have to know the basics. … I always use [Pablo] Picasso as an example, His early work when he was 16, 18 was superb as far as realism goes, but once you kind of think you conquered it and you've got that, there is this magic. I've been told you're either born an abstract painter or you're not, but there is a hunger to say, 'I'm going to take it to the next level,' and that's kind of what the Ism show is about, taking art in general to the next level."
Hammack, whose abstract work draws inspiration from nature, said Claude Monet's series of oil paintings of the water lilies in his garden are an important link between impressionism and expressionism.
"To me that is straight abstraction, in truth," Hammack said. "That's a lot of brushstrokes about one little miniscule section of a big painting. If you're born to be an abstract painter, that talks to you — a lot of colors, lots of layers, and most importantly, it's freedom to go any way you want to go with it. ... You have realism as your core, but you're free to put whatever paint, whatever pattern, whatever color you want to put in it. But ultimately, you have to have good composition."
Provided
"Frontal" by Beth Hammack
A common criticism of expressionist painting, Hammack said, is "My third-grader can do it," but creating an engaging work with no real-life reference point is more difficult than non-artists realize and increasingly important in a world in which high-resolution photography is so ubiquitous.
"There's no set of trees and mountains or a still life, like a lemon and lime and a banana, to paint, so you're coming up with it from scratch," Hammack said. "Why would you want to try to replicate what can be done so much better, computerized or digitized? Abstraction is a 180 from all that tight, fixed, pixel mindset."
Ellison said that in order to be meaningful, expressionist art needs to be more than just a decoration.
"People are buying big, ugly abstracts, but they don't have any structure," Ellison said. "I don't know how to describe a good design, but you've got to have a center of interest. … It can't just be paint slapped on the canvas like most people are doing now. It's a scam. … People just do whatever the gallery owner or interior decorator tells them and then people come into my studio and want me to match the sofa. Well that's not where it's at. You don't match the sofa."
Admission is free, but museum hours have recently been reduced due to budgetary concerns at the university. The new hours are 10 a.m.-5 p.m. Tuesday-Saturday and 1-5 p.m. Sundays. Visit ou.edu/fjjma.