Oklahoma City Museum of Art / provided
Sonic Free Family Day at the Oklahoma City Museum of Art offers free admission to everyone noon-5 p.m. Sunday.
Thanks to a donation from a drive-in restaurant known for its cheeseburgers and chili dogs, scores of 19th-century British artworks, some appearing outside the U.K. for the first time, can be viewed for free noon-5 p.m. Sunday along with a Disney cartoon featuring a talking candlestick. Sonic Free Family Day at Oklahoma City Museum of Art offers free admission to everyone, and special activities are planned for guests that day.
In addition to the museum's other current exhibits, visitors are invited to view Victorian Radicals: From the Pre-Raphaelites to the Arts and Crafts Movement, presented by the American Federation of Arts and Birmingham Museums Trust with support from the National Endowment for the Arts.
Featuring 144 revolutionary and avant-garde works created during the Victorian era, the exhibition offers an extensive overview of a significant period in British art history.
"It's a lot," said Becky Weintz, director of marketing and communications for the museum. "It's very cool though. It's all different mediums, so it's not just painting. There's also metal work and glasswork and pottery and even clothing. It does feature the Arts and Crafts movement, so there are a lot of different objects and you can really see the history of what was going on during this time period in Birmingham and England."
Arising in the 1860s, the Arts and Crafts movement called for a return to handmade goods created in the tradition of medieval tradesmen as a reaction to the perceived inferior quality of mass-produced products in the Industrial Age. In order to make Victorian Radicals more accessible to younger visitors, the museum is offering visitors the chance to make their own crowns and patterned prints in the style of textile designer William Morris and his Arts and Crafts movement compatriots, but the method guests will use to make the prints — dipping cutout Styrofoam into gold ink and pressing it on black paper — has been modified from those used by 19th-century artists.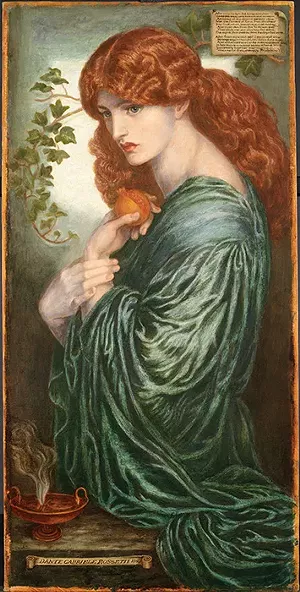 Oklahoma City Museum of Art / Birmingham Museums Trust / provided
"Proserpine" by Dante Gabriel Rossetti.
At 2 p.m., visitors are invited to watch Disney's 1991 Oscar-winning animated film Beauty and the Beast, which ties into two works on display: John Dickson Batten's tempera painting of the same name, and Edward Burne-Jones' painted tiles "The Prince (formerly The Beast)" and "The Merchant's Daughter (Beauty)."
Birmingham Museums and Art Gallery, which provided Batten's painting for the exhibition, describes it as depicting the moment in the folk tale when "Beauty recoils in horror as she first lays eyes on the beast." Eventually, the description continues, "her fear gives way to pity, then love, which breaks the spell." Burne-Jones' tiles, part of a larger series originally designed for installation above a bedroom fireplace, depict the moment the fairytale couple live happily ever after.
Artists from the Pre-Raphaelite brotherhood and those they influenced drew inspiration from literature as well as everyday life and favored a vibrant style over the more restrained works in fashion in the mid-1800s. Weintz said she knows from personal experience that the artworks featured in Victorian Radicals are engaging to younger viewers even without the additional crafts and cartoon tie-ins.
"The exhibition is very brightly colored, so I actually had my infant son — he's 10 months old — I walked through with him a few weeks ago, and he just loved looking at the colors and the faces," Weintz said. "I think that's something that kids like and can identify with."
The Pre-Raphaelite painters, who wanted to revive the bright and realistic style of late-medieval and Renaissance period art and emphasized the humanity of even the most sacred subjects, might enjoy efforts to make the works more accessible to everyone.
"They painted their friends in a lot of the paintings, so they were painting real people," Weintz said. "When you look at the paintings, you'll see these are not stylized, idealized bodies. They look like your friends or people you would know."
The rapidly changing world Pre-Raphaelite artists and their associates were reacting to, questioning class and gender identity along with artistic methods, might also be relatable to modern-day viewers.
"They were facing a lot of the same issues that we're facing today," Weintz said. "How do we balance the handmade with the machine-made? Obviously, our machines are very different now, but there still is an aspect of that."
And, Weintz added, some of the local artisans in the area seem to be motivated by similar ideas.
Image Oklahoma City Museum of Art / Birmingham Museums Trust / provided
"Design for the 'Moxon Tennyson'" by Dante Gabriel Rossetti.
"I think that here in Oklahoma City, we're seeing a resurgence of Arts and Crafts," she said. "And if you walk around some of our districts, you see shops that have returned to the handmade, the hand-designed, the hand-sewn."
Unfortunately, the environment in which the Victorian Radicals created these works would also be familiar to modern-day viewers.
"Pollution was happening during the Industrial Revolution," Weintz said, "and pollution is something we still are dealing with today. So I think there are a lot of parallels with this exhibition in current life, and I hope that comes across."
Other activities include sketching in the first-floor galleries, chances to win prizes and a pop-up library hosted by Metropolitan Library System. Guests can also view the museum's other exhibits, including Masterworks of British Painting, featuring works from the Georgian (1714-1837) and the Victorian (1837-1901) eras; The New Art: A Milestone Collection Fifty Years Later, including longstanding museum highlights and rarely exhibited works purchased from the Washington Gallery of Modern Art in 1968; and Dale Chihuly: Magic & Light, one of the largest collections of the famous glass artist's works, including the 55-foot Eleanor Blake Kirkpatrick Memorial Tower in the museum's atrium.
Visit okcmoa.com.